Rumble and Weather Talk
Counting The Volcanoes of Central America
Costa Rica has its share of volcanoes but is not alone nor even the leading country of Central America in that count. In fact it only comes in 4th.
A Volcano in Nicaragua
The isthmus comprising Central America, which is the connector of North and South Americas, comprises seven countries with a total of 90 volcanoes. By country they are, in order of descending number of volcanoes: Guatemala (29), El Salvador (22), Nicaragua (19), Costa Rica (13), Honduras (4), Panama (3) and Belize (0). The good news is that many of these volcanoes are inactive (I hesitate to use the word dormant). These are all within a land mass only about 15% longer than California.
At this writing Costa Rica's Turrialba is starting to show sizable activity again and national parks at both Turrialba and Poas are still closed. The locals are very concerned as their tourist operations are also shut down and there is little income.
Rain Green Alert Issued for Costa Rica
Late in May the government issued a "Green Alert" indicating we should expect heavy rains because of storm action in the Atlantic. Part of the concern was an effect here from Tropical Storm Alberto which was positioned at the time 90 km off the Yucatan Peninsula. Subsequent to the issuance of the warning, several strong rains hit our area and other parts of Costa Rica received even stronger downpours.
The rainy season, and the tropical storm/hurricane season are upon us.
Check Out Recent Earthquakes Around the World Posted by the

U.S. Geodetic Survey:
Recent Quakes
---
Search the Golden Gringo Chronicles Archives for Topics That Interest You
You can use our Archives to search for anything that has been written in more than 220 feature articles of the Golden Gringo Chronicles plus find Broken News items and ROMEO restaurant reviews. Enter your topic or item to search in the Google Search Routine below and follow the links offered from the search results. Suggestion: Enter only a simple, precise and unique as possible keyword or two in order to narrow the number of references retrieved:
Golden Gringo Chronicles - Enter Search Here
Readers: Our publication is open to suggestions regarding future articles and will accept pieces written by others but we reserve the right to decline anything that the editorial staff (that's GG) thinks is inappropriate for this format. Send proposals, comments, suggestions, ideas, meaningless statements and jocular observations concerning the Chronicles to GG here: gg@goldengringo.com.
---
Mt. Arenal


(Volcano With a Personality)
GGC Publications Logo
Volcan Arenal is one of the best known volcanoes in the central mountain range of Costa Rica and a favorite site for visitors of all types from many countries.
GG now understands why.
OK, so I have been coming to, or living in, Costa Rica for 15 years and somehow never before visited Volcan Arenal. Mea culpa amigos. Half way along that time line GGC Publications even incorporated the photo of Arenal into their logo and trademark (the current logo header is to the right).
To be honest, I've never been a big fan of volcanoes. In the 1970's, GG and his future ex-wife visited Naples, Italy for a few days, staying with relatives. One day we had the pleasure of driving from Naples to Mt. Vesuvius (photo below) in a Fiat 500 driven by a friendly and enthusiastic parish priest named Fr. Colluzzi.
Mt. Vesuvius Near Naples, Italy
He drove us all the way up the access road shown in the photo, straining the little car's transmission to the point I thought it would break, but we made it. Never doubt a priest in a tam with rosary beads hanging from the mirror - he has extra faith and perhaps a better connection to the almighty.
When we got to the top we were on the edge of this magnificent crater, a hole in the earth with several steam vents and a small, green acid lake. I found it physically impressive but a bit of a letdown compared to the driving fun with Signore Colluzzi. After counting the steam vents several times (there were six or seven - big woop), we retreated to Pompeii where the archaeological artifacts that have been uncovered from the ash and lava that covered the area in the eruption of 79 A.D. were incredibly more interesting to me. Lunch was good too. So GG's experience with dormant Vesuvius colored my thinking during all this time that volcano inspection was a rather boring way to spend an afternoon.
A few weeks ago GG got an email from a friend (Don B.) who lives in Miami but who has visited Costa Rica many times over the last 20 years. He said he was planning another visit to Ticoland in early May and had Volcan Arenal in his sights; would I like to join him? I had to say yes because Arenal has been on my bucket list (albeit on the bottom) for what seemed like forever and also because I would be sharing the experience with a good friend. We set the date as Saturday, May 12 to meet and drive to Arenal giving us Sunday and Monday to explore and get back to Quepos/Manuel Antonio.
New SJO Domestic Terminal
On Saturday GG took the 6:55 AM Colectivo from Quepos (the type that stops at any and all bus stops where a person wants to get on or off), arriving at Juan Santamaria (SJO) at 10:30. With my amigo's flight not arriving until 11:40, that gave me time to inspect the new domestic air terminal mentioned in the Broken News section above.
The terminal was not quite yet open to the public but a visual inspection from the outside showed it to be a modern and bright facility, a significant improvement to the current small and crowded SANSA building. Unfortunately, the new terminal is situated even farther away from the main terminal than the old one so a transfer will still have to walk out of the main terminal, turn left and walk down a sidewalk about a hundred yards or more to get to the new domestic terminal. Where's the tunnel amigos?
After getting together, Don and I were whisked off to car rental row about one mile from the airport where we picked up a Hyundai 4x4. We then headed west on the General Cañas highway (opposite direction from San José). After about an hour we exited north. The route would take us through San Ramón (population 10,700), La Fortuna (population 15,300) and a half dozen small villages interspersed with those larger towns as well as a good deal of mountainous country.
Fortunately Don had brought his phone loaded with the Waze pathfinder and a charger that works off the car cigarette lighter. That saved us a lot of guesswork as Alexa (that's what we nicknamed the lady's voice from Waze - no spite intended against the Amazon girl) guided us through a myriad of turns. The oversimplified map that had been given us at the car rental office would have gotten us lost for sure.
Arenal from Near La Fortuna
Tourist in Official
Golden Gringo T-Shirt
As we got closer to Arenal we assumed the appropriate role as gawking tourists, stopped the car, jumped out in the midst of traffic and began snapping digital images. As we progressed, on every turn, the photo opportunity got better and better.
At one point we even caught the unsuspecting tourist left who was wearing an Official Golden Gringo Teeshirt. I wonder where he got it?
As we got near La Fortuna we were given our first glimpse of Arenal up close (photo right). Notice the steam rising from the caldera (funnel bowl - see definition in What's-in-a-Word section below); it seems to shroud the funnel and sometimes it creates some rather artistic renditions for the mountain that cry out for capture by an artist's canvas.
Lake Arenal encompasses an area of some eighty nine square kilometers or roughly thirty five square miles (think 2 x 18 miles in dimensions). The lake orientation runs from the southeast to the northwest and is surrounded by mountains on all sides; it is worth a visit onto itself.
We stayed at the Arenal Lodge which is located just beyond the bridge that goes over a gorge at the southeastern end of the lake. We were pleasantly surprised to find that the access road from the main road to the lodge was a winding, mostly paved, one lane strip 2.4 kilometers long. Kool.
At the Lodge, which we had reserved online, we were given a "junior suite" which was basically a large room with two queen-size beds and a porch. It had all the basic comforts including air conditioning, which we never needed to turn on during the weekend (real mountain air amigos).
Lodge is a good name for the place, as opposed to a motel or hotel, as the motif is heavy on the beautiful woods of Costa Rica both in the public areas and the guest rooms. Look closely at the reception area (#2 below) and you will see an excellent wood carving under the glass table top in front of the fireplace. The area in the background of that photo encompasses the restaurant and other rooms for the spa and for massage. Beyond them is the pool and jacuzzi areas. All of those locations have a direct view of the volcano.
We enjoyed a good dinner there on Saturday night. It was nothing terribly fancy but quite tasty, varied in selection and reasonable priced. I kept wanting to give the place a ROMEO rating of 4.5 sloths, 4.0 dollars and value index of 125 - guess I've been to too many ROMEO reviews.
The view from our guest room, or more specifically from the porch, was stunning (shown in #1 below). We found ourselves often just sitting in the rocking chairs provided, mesmerized by the volcano. After a while one starts to see that Arenal has a certain personality, that it changes and presents itself differently at different times of the day. For example, #1 below was taken in the morning - notice the thick steam clouds from the caldera that settle around the top - sort of like icing on a cake. The photo below (#3), on the other hand, was taken near dusk on a cloudy day yet the mountain appears bathed in a golden hue. Occasionally, half or more of the mountain appears gray as it is hidden by rain clouds.
#1 View from Lodge Room
#2 Arenal Lodge Reception Area
#3 Arenal at Dusk
#4 Tabacón Thermal Stream
#5 Tabacón Thermal Water Pool (Note the Fellow Swimming at the Right)
On Sunday we opted to motor down to an area that was about half way between the lodge and the volcano. This area is virtually contiguous with the nearby National Park. We had gathered information that there were several trails of different difficulty. We chose the red trail which we had been told was the least difficult and was about 1.5 kilometers in length. Both those descriptors sounded good to GG who had had a rather grueling recent experience falling on a mountain trail some twenty miles east of Quepos (Los Campesinos). Complete recovery from that fall and the ensuing infection took more than two months.
In Many Places The Red Trail Was Steeper and Rockier than This
About the red trail; we either misunderstood or were misinformed. It turned out to be 4 km long, 2 km of which were rocky paths difficult to negotiate (for GG) particularly on the downward side. On the descent, quite tired and having lost the good natural balance of his youth, the old goat managed to fall three times. The good news was that I was wearing a backpack that had only a bottle of water in it and that I fell backwards each time. The backpack provided a cushion of air on each fall and minimized the effect of hitting the rocks.
OK, that's it for GG amigos, no more mountain trails for the Golden Gringo. Niet, never again, nunca.
After the trail we headed to the Tabacón, a hotel and resort named after the thermal river (heated by Arenal) that flows through the area and through the hotel. The waters that run through here are 100-104ºF and were perfect for restoring my overly-exerted corpus. Check out #4 and #5 above.
A day-pass here is $85 ($52 if you have a cédula residency card) and includes lockers, towels, use of any of the several natural pools as well as a man-made one and includes a lunch (quite nice) or dinner. A very welcome respite after the trail affair. By the time we got back to the lodge we were both exhausted but satisfied that we had explored Arenal as best one could do in a day.
The next day after breakfast we headed out to home using Alexa, our Waze guide, along a northern route around Lake Arenal. We probably could have saved some time if we had gone south back through San Ramon and even further south until we hit the autopista that runs over to Orotina. But the northern route did give us many good views of the lake and mountains. When we reached the Interamericana (Route 1) we went south, crossed over to the costanera (Route 34) at El Robles and proceeded further south to Jacó where we had lunch at one of my favorite restaurants, El Hicaco.
This was indeed an enjoyable three day jaunt around central Costa Rica. GG came away with two resolves: 1) never prejudge a natural and popular tourist attraction, investigate it instead and 2) watch where you walk, particularly on mountain trails.
¡Solo Bueno!
---
¿Que es Eso? Department (What is That?)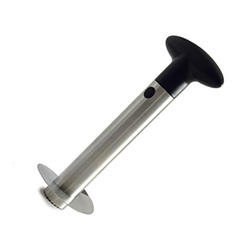 So What is That Strange Apparatus to the Left?
A Device to Take Samples at an Archaeological Site?
A (human) Mole Remover?
An Interstellar Communication Device?
Answer in What's-in-a-Word section below.
¡Solo Bueno!
---
Golden Gringo University
(How to Use the Golden Gringo Chronicles as a Resource)
The idea behind Golden Gringo University is to present educational topics of wide interest to expats who have recently moved to Costa Rica, or to future expats who might be thinking of moving here, or to those who simply visit here frequently.
Our goal and objective is to provide accurate information that readers will find helpful in their efforts to be a good expat resident or visitor in Costa Rica.
For additional topics that have been covered under the GGU theme go here: GGU Archive.
This Month's Topic: How to Use the Golden Gringo Chronicles as a Resource
Using the Archives
Sidebar Menu-Archives Section
With this edition of the Chronicles (#118) we have reached almost ten years of gathering and sharing information about Costa Rica much of which is of interest to expats, both resident and aspiring. The information contained in these 118 editions (over 500,000 words) encompasses many topics about the Costa Rican experience and should be viewed as a resource.
One way to find information in the Chronicles is by using the Archives, of which there are three: Archived Editions, Topical Index and Restaurant Archives. All three of the archives have direct links to the front page of a Chronicle edition or directly to the pertinent article. There are also direct links to the website page at www.goldengringo.com. The archives and search routine can be found at the bottom of the sidebar menu on each of these pages (photo left).
Archived Editions. This is a simple, short extract of topics in each of the editions organized chronologically, latest edition first. The link on the left side of the edition number will bring you to the top of the edition.
Topical Index Archive. This is an archive composed of some 240+ feature articles arranged in 14 areas of interest, namely: About Quepos & Manuel Antonio, Agriculture, Costa Rica Wildlife, Costa Rican Culture, Getting Residency, Golden Gringo University, Health/Medical, History of Costa Rica, Legends of Costa Rica, The Beaches, Weather and Tremor Tales, Other Places in Costa Rica, Other Latin American Countries, and Miscellaneous.
The average Chronicle reader is likely to find the Topical Index Archive the most useful of them all because of its broad range of specific topics. Each link presented takes you to where the article appeared in the Chronicles.
Restaurant Archives. This archive maintains links to ROMEO reviews for some three dozen restaurants done in the past three years. Most of these are restaurants in the Quepos/Manuel Antonio area but visits to restaurants beyond are included when appropriate. After three years in this archive, or a change in owner or management, the restaurant is relegated to a list for re-review at a convenient date. A restaurant not currently active in the restaurant archive can always be searched separately using the GGC search routine described below.
GGC Search Routine
Every Golden Gringo Chronicle edition has a Google Search Routine, including this one, that is positioned about half way down the page. You can enter any topic, name or phrase and the entire GGC website including the archives will be searched for that item. It is suggested that you enter a concise and specific term to ensure the best, most efficient and and most successful search.
Reader Input
The Chronicles editorial board (guess who that is) encourages reader inputs on any topic or suggestions on how to improve the format and content. Direct your comments to gg@goldengringo.com.
Thanks
The Golden Gringo Chronicles was originally a set of monthly emails sent by GG back home that commented on my experience living in Costa Rica. It has since become an an interesting and fun retirement pastime. It also has been educational for me as writing the Chronicles required that I had to learn more about the Country and its culture in a faster manner than I would normally have done on my own.
For that I thank my readers who now number in excess of 1,400.
¡Pura Vida!
---
Health Stuff
Note: The information given in this section is offered as news information only and does not indicate GGC confirmation or denial of the accuracy of the treatment or a recommendation to pursue it, nor can we or do we guarantee the efficacy of the results nor validity of the conclusions proffered. (How's that for a disclaimer?)
World Life Expectancy Map (Sorry-Use Your Magnifier)
Evidently life expectancy in Costa Rica has reached a new high, not the highest in the world but actually the highest in Latin America and on a par with developed countries. The current level is set at 78.2 years and has increased a full three years from the level reported thirty years ago (1988 - 75.2).
The improvement in the delivery of health care here via additional hospitals and a clinic system had a lot to do with it. So did a significant increase in pre and post natal care, also a result of increased use of hospitals and clinics. The infant mortality rate in Costa Rica declined in the last thirty years from 16.8 deaths per 1,000 live births to 7.7 this past year. For reference, the current infant mortality rate in the U.S. is 6.2 and in Canada it's 5.0.
While these are facts Costa Ricans can be proud of, there are a new set of problems related to a more affluent, developed country, namely obesity and diabetes. For more on that go HERE.
¡Pura Vida!
---
Travel Quote of the Month
---
What's-in-a-Word



"Tell me and I forget; teach me and I remember; involve me and I learn"
–

Benjamin Franklin

Answer to Que Es Eso?

During the visit to Tabecón Thermal Waters resort reported on in the article on Mt. Arenal above we were sitting at the pool bar enjoying the warm water from the waist down when GG noticed the bartender pull out the tool in the picture. He proceeded to slice the top off a pineapple and then gently but firmly press the tool into the pineapple in a steady rotary motion.
Norpro Pineapple Corer
The gadget is a pineapple corer amigos. Dude, what a kool tool!
I process pineapples at the rate of approximately one every two weeks and include the fruit in my breakfast meal three to four times per week. This tool leaves the core and the shell behind and also reduces the possibility of slicing my finger off while trimming the shell.
The tool is made by a company called Norpro and is available on Amazon and at Walmart and restaurant/kitchen suppliers near you.
I couldn't wait for an Amazon shipment so on a recent trip to Chepe (the Costa Rican nickname for San José) I found one at TIPS, a Costa Rican chain of stores specializing in restaurant and kitchen tools and supplies. Tips Restaurant and Kitchen Supply is located on Avenida Segunda across the street from the main office of Banco de Costa Rica.
Now that's some nifty engineering.
Caldera
This is one of those handy-dandy words used as is in both English and Spanish simply because its origin is in Spanish or Latin. The official definition is "a large, basin-like depression resulting from the explosion or collapse of the center of a volcano". We might also think of it as a "cauldron".
---
ROMEO Corner
(Retired Old Men Eating Out)
El Puerto Escondido - Manuel Antonio
Location: From the main road to Manuel Antonio beach and National Park, turn left at the Marlin Restaurant and go 200 meters. Turn left into the alley just before the Hotel Villabosque and proceed 20-30 meters; the restaurant is part of the Hotel Playa Espadilla on the left.
Hours: 7 AM to 10 PM Monday thru Sunday
Parking: Adequate at the hotel.
Contact: Tel: 2777-0903; Fax: 2777-5052; Email: hotel@espadilla.com; Website::www.espadilla.com
Reviewing ROMEOS: Alma L., Bertelle R., Bob N., Jerry C., Julia S., Marshall R.
To Review Our Rating System and Procedure, go here: R.O.M.E.O. Rating System
ROMEO Group at Work
The hidden port is a good name for this restaurant as it's definitely off the beaten path. It's the primary restaurant for Hotel Playa Espadilla located up an alley from the road to the National Park in a quiet part of the rain forest. The restaurant was last reviewed by the ROMEO Group a little over three years ago and received a sloth rating of 5/5, a cost rating of 4$/5$ and a Value Index of 125.
The setting is an open-air dining room in a quiet area at the back of the hotel surrounded by lush green gardens. The dining room itself is somewhat typical of local restaurants as it displays the woods of the area (including those not-so-comfortable hard wooden seats). The room is lightly decorated with plants and tasteful pictures and the lighting is subdued (GG has gotten used to pulling out is phone-flashlight to read menus in places like this).
For ambiance/atmosphere the group gave El Puerto Escondido a composite score of 4.6/5.0 sloths.
The menu is substantial with a couple of pages of "entradas" or appetizers and four pages of entrées including meats, seafoods and pastas with some very interesting combinations of those items.
Two of us selected an entrada of mussels on the half shell awash in cream sauce accompanied by asparagus, the vegetable being cooked "au point" as the French say, i.e., just to the point of tenderness. Excellent. The same two ROMEOs followed this with a lomito (filet) of pork combined with pulpo (breaded, fried octopus) in an indeterminate but very good sauce. Again outstanding.

Other ROMEOs ordered seafood dishes including lobster and combinations such as salmon and shrimp as well as a seafood casado. Reports were of good flavor although one person reported their dish arrived cool to cold.

The composite score for food quality came in at 3.9/5.0.

.4

$$$.9

Value Index= 111
One of the things noticed by us was the artful presentation of various meals and courses (a good example is the photo above of the lomito of pork and octopus)
If there was a disappointment in the meal it came towards the end when the offering for desserts was limited to what GG likes to call "the MA Troika"), namely 1) coconut flan, 2) brownie with ice cream or 3) tres leche, sponge cake soaked with three types of cream and milk. The brownie I chose was, however, more flavorful than most and better presented. A second weakness was the coffee which was not up to rich Costa Rican standards.
We were served primarily by a waiter named Ronnie who was attentive, courteous and friendly. The composite score for service was 4.6/5.0. That made the complete score for ambiance, food quality and service 4.4.
GG had a papaya/pineapple smoothie, a coke with the main meal, the mussels appetizer, the pork with octopus and a brownie with ice cream (ROMEO dinners move me to order all courses). The bill including requisite tax and 10% tip came to just over 27,000 colones (about $48). I find that better than average for that kind of extensive meal in Manuel Antonio. Our composite score for cost came in at 3.9$ and yields a Value Index of 4.4/3.9x100=111, putting the restaurant in the middle of our surveys of local restaurants for value.
The ROMEO Group can recommend El Puerto Escondido for an artfully presented meal at a reasonable price.
¡Pura Vida!
---
Opt-In Here to Receive Your Free Copy Monthly
The Golden Gringo Chronicles is a free newsletter that is non-political, non-commercial and, hopefully, entertaining. By signing up you will receive an email each month around the first of the month giving you the links to the latest edition as well as to each individual feature and departmental section.
or Email me at gg@goldengringo.com, and see our Website at: www.goldengringo.com

---
Bob Normand, Editor
& The Golden Gringo
Pura Vida!
To Contact GGC World Headquarters (yuk, yuk) to make comments, suggest topics or criticize my bad jokes, just send an email to: gg@goldengringo.com.
Be pithy but kind; I'm sensitive. (center)


Unsubscribe from Golden Gringo Chronicles