Rumble and Weather Talk
Rain, Rain and More Rain
The plain in Spain where all the rain falls has nothing on Costa Rica this year. Last report I saw was that the "Tropical Wave" count was up to 45. Tropical Waves are rain-rich storms that come off the seas, principally the Caribbean and tend to last 1-3 days. It's just another way of measuring and expressing a very rainy season. In late October yellow alert warnings were still in place in south central and pacific coast areas although the weather had turned a little for the better. The earth is so saturated that strong additional rainfall can precipitate flash floods in many streams.
Rumble, Rumble Everywhere
Cordillera Central
Rain saturation was not the only thing happening in October. Various eruptions occurred in several spots along the cordillera central (central mountain spine). That includes a half dozen volcanoes that have demonstrated activity in recent times, a few of which are showing signs of activity again.
Volcan Poás, located only about 20 miles northwest of San José as the ash flies, released toxic gas on October 9-10 temporarily closing the park. This was shortly after it had reopened from an extensive closing due to previous emissions which included very large ash plumes. During the earlier shutdown, more extensive monitoring devices and improved evacuation routes were installed before it was reopened.
A few days after the Poás action, Volcan Turrialba, which is about 20 miles to the west of San José, had two close eruptions within a few hours. The ash plume from this eruption reportedly reached about 1,000 meters or about 3,300 feet. Volcanologists monitoring this bad boy have said that it's become more active since August.
Not to be outdone by its southern brothers, Rinco de la Vieja located 170 kilometers or 100 miles northwest of San José but less than 20 miles from Liberia put out an ash plume similar to the Turrialba eruption a few days after the latter blew.
Ah, no rest for the wicked or the pure of heart when living on the Pacific Rim.
Check Out Recent Earthquakes Around the World Posted by the

U.S. Geodetic Survey:
Recent Quakes
---
Search the Golden Gringo Chronicles Archives for Topics That Interest You
You can use our Archives to search for anything that has been written in more than 220 feature articles of the Golden Gringo Chronicles plus find Broken News items and ROMEO restaurant reviews. Enter your topic or item to search in the Google Search Routine below and follow the links offered from the search results. Suggestion: Enter only a simple, precise and unique as possible keyword or two in order to narrow the number of references retrieved:
Golden Gringo Chronicles - Enter Search Here
Readers: Our publication is open to suggestions regarding future articles and will accept pieces written by others but we reserve the right to decline anything that the editorial staff (that's GG) thinks is inappropriate for this format. Send proposals, comments, suggestions, ideas, meaningless statements and jocular observations concerning the Chronicles to GG here: gg@goldengringo.com.
---
Cartagena, Colombia


(

Spain's Original Gateway to South America)
Some fifteen or sixteen months ago a couple of GGC ROMEOS planned to make a visit to Cartagena, Colombia in May of 2017 but for various reasons the trip never happened. As part of the preparatory work for that trip, GG wrote three articles about the history of Colombia covering Pre-Columbian times, The Spanish Period and the Modern Era. These articles can be found using the links below and are suggested as good background reading for this month's edition:


Edition 104-History of Colombia Part 1 Pre-Columbian
Edition 105-History of Colombia Part 2 Spanish Times
Edition 106-History of Colombia Part 3 Modern Era
The trip to Cartagena finally did occur in October 2018.
Modern Cartagena
Modern Cartagena Seen from the Old City
Let's start the process of understanding Cartagena by first remembering that the English name of Christopher Columbus is Cristoforo Colombo in Italian and Cristóbal Colón in Spanish. That's the reason the country that was named after Columbus is always spelled Colombia.
The city of Cartagena, the most common pronunciation of which is car-tah-hey-nah, was not the original permanent Spanish or European settlement on the American continent. Columbus made his last trip to the new world and first exploration of the Caribbean coast of Central America in 1502 and on that trip he traversed from what is now Belize in the north to an area in the northern part of Panama, a few hundred miles south of Belize. That's as far south as Chris ever went on his four trips to the new world.
Columbus left his brother Bartolomeo in Panama to establish a permanent settlement but it didn't last. Bart wandered away from the settlement for some unreported reason shortly after arriving there (indigenous girls maybe?). The local indígenas wished to do the remaining troops great harm so the troops were forced to abandon the post, barely escaping with their lives. It appears that Bart sailed on to eventual obscurity after his brother's death.
Alonso de Ojeda
The first Spanish explorer to actually see current Colombian territory was one Alonsode Ojeda who briefly landed in the country in 1499, three years before Columbus made his last trip, yet he did not start a settlement. Ojeda was a very adventurous explorer and also visited Guyana, Venezuela (which he is credited for naming), Trinidad, Tobago, Curaçao and Aruba.
Vasco Núñez de Balboa
The honor of establishing the first permanent settlement on the American continent, happened in Colombia, and was accomplished by Vasco Núñez de Balboa who in 1508 led a group of conquistadors and founded Santa Maria la Antigua del Darién southwest of where Cartagena would later be settled and near the current border of Panama to Colombia. Note that this settlement occurred 99 years before the founding of Jamestown, Virginia by the British.
Then in 1525, conquistador Rodrigo de Bastidas founded a permanent settlement in Colombia at Santa Marta near the northern most point of South America (see map) and northeast of Cartagena. Santa Marta is currently the oldest surviving city in Colombia.
(Damn, GG would look good in one of those outfits don't ya think?)
Pedro de Heredia
(gotta get me one of those hats)
Cartagena, also known as Cartagena de Indias, was founded on 1 June 1533 by Spanish commander Pedro de Heredia. Heredia did so by forcing subjugation of the indigenous tribe that lived there in what is now the site of the Old City. Heredia named the place Cartagena in honor of the port city of the same name in Spain where many of his sailors hailed from. The Spanish Cartagena, in a much earlier turn of events was founded by the Phoenicians in 228 BC, some 1,750 years before.
The Colombian version of Cartagena quickly grew in significance and wealth. It was a perfect place for many Spanish adventurers, merchants and nobility to become wealthy because of two primary reasons:
First, it was a natural point to assemble the gold and jewels that had been plundered from the indigenous cultures throughout the Americas including in the North (Mexico) as well as Central and South Americas. Logistically it was a logical and central point to ship from. Treasure hunters are still on the prowl for Spanish galleons shipped from Cartagena that sunk laden with gold in Caribbean storms.
Secondly, Cartagena served as an important disembarkation point for slaves imported from Africa and sold to plantations throughout the Americas. It is estimated that as many as one million slaves were traded through Cartagena in the 16th and 17th centuries enriching the slave traders coffers. Not one of the brightest moments in history, eh what?
Sir Francis Drake
Of course, in the sixteenth century all this wealth buildup attracted even more adventurers, particularly pirates. In the 16th century alone, Cartagena was besieged five times by pirates.
One of the more famous of these battles was won by that English rogue Sir Francis Drake. History tells us that: "He sacked the port in 1586 and 'mercifully' agreed not to level the town once he was presented with a huge ransom which was paid out of Spanish government funds and which took years for the city to pay back." Drake took the loot back to England but it's not clear how much he was able to keep versus turning it over to the Virgin Queen Elizabeth I.
Blas de Lezo
During the 17th century the town built up a series of forts around itself to discourage pirates and adventurers. That was the prelude for the worse attack against Cartagena of all time which occurred in 1741. The enemy forces were led by English Admiral Edward "Old Grog" Vernon with at least 20,000 English soldiers and a fleet of 186 ships. On the defense was Spanish officer Blas de Lezo and his 2,500 less-than-crack-troop locals. The valiant defenders stubbornly outlasted the English who eventually went away to find easier pickings elsewhere.
Going into the battle, Blas de Lezo had already lost an arm, a leg and an eye in earlier fighting; after this battle Blas had lost the other leg. Couldn't of been much left of old Blas and he died shortly after the battle. Blas de Lezo rightly became known as the savior of Cartagena and his statue can be seen outside the San Felipe Fortress. (My oh my this town wreaks of stories that were eventually made into Errol Flynn thrillers)
The early 19th century saw the break-up of the Spanish American empire with the declaration of independence by virtually every one of the Spanish controlled countries. Cartagena quickly rebelled against the crown and was one of the first cities to proclaim it's independence, doing so in 1810 which encouraged Bogotá and others to do the same. In 1815 the Spanish sent a force to reconquer Cartagena and laid a four month siege that resulted in the death of some 6,000 people from starvation and disease. The city would not be retaken by patriot forces until October of 1821.
Simón Bolívar
In 1819 Simón Bolívar, the most famous criollo (American patriot of Spanish descent) of the anti-Spanish revolution throughout Latin America, defeated the Spanish at Baracuyá in what is now southern Colombia. This signaled the end of the Spanish American Empire and by 1821 all the former Spanish colonies had gone independent including Costa Rica. Bolívar coined the nickname of Cartagena as "La Heroica", the Heroic City.
Bolívar (officially: Simón José Antonio de la Santísima Trinidad Bolívar y Palacios Ponte y Blancowent), better known as  El Libertador, was the son of an aristocratic political and military Spanish family, born in Venezuela and educated in Spain and France. Bolívar ended up liberating Venezuela, Bolivia, Colombia, Ecuador, Peru and Panama. The monuments to Señor Bolívar are as prolific in Latin America as are those of Mr. Washington in the United States (we even have a Plaza Bolivar in Quepos).
Because of it's strategic location and the indomitable fighting spirit of the Cartagenses (people from Cartagena), after the revolution the city resumed it's place as an important center of commerce and trade. Cartagena continued to grow as a port and is now the largest port in Columbia and the fourth largest in South America after Santos in Brazil, Colón in Panama and Balboa in Panama.
More on today's Cartagena and GG's personal impressions on a recent visit to the city are given below.
¡Solo Bueno!
---
¿Que es Eso? Department (
¿

What is That?)
Is This What Happens to a Centipede When it Overeats?
A Sea Urchin With a Bad Sunburn?
Is it an International Space Station Photo of a Meteor?
Answer in What's-in-a-Word section below.
¡Solo Bueno!

---
Cartagena Up Close
(Living a Few Days in La Heroica)
As mentioned above, GG had the opportunity of visiting Cartagena in October. These were my personal impressions:
Travel from Costa Rica
Hotel Aeropuerto
Getting to Cartagena, at least from Costa Rica, is pretty easy. I booked two one hour plus flights, one from San José to Panama City and then one to Cartagena from there, both on Copa the Panamanian national airline.
Having some concern about the ongoing "huelgas" (labor union strikes) that are most evident in San José and might affect getting to the airport, I elected to stay at the Hotel Aeropuerto the night before flying. This place is just ten minutes from the airport and offers free shuttle service to and from. GG has stayed there several times in the past and found it pleasant, quiet and with a good restaurant. The hotel hasn't changed in that regard. Good news: there was no problem with the huelgas in the vicinity of the airport on either day.
Got up early the next morning and took the hotel shuttle at 6 AM, allowing two hours for processing through exit fees and security to meet my 8:20 flight. One person at the hotel said I might want to give three hours leeway for an international flight but I thought that a little excessive. On arrival at SJO I learned pleasantly that Copa Airlines includes country exit fees in their ticket price so I didn't have to wait in that line (which was short anyway). I processed through the Copa desk and security and found myself having a muffin and coffee at a cafe just 50 feet from the departure gate at 6:40. I languished there until boarding the plane around 7:50, cleaning up telephone messages knowing it would be some time before I had direct phone access again.
The flight boarded and left on time, arriving in Panama City (PTY) a few minutes early. The fifty minute connection flight was only three gates away from our arrival. The second flight also left on time, depositing us in Cartagena on schedule. The total distance by air had been less than 600 miles. One of the interesting things I discovered when researching this trip was that Cartagena is actually about one degree north of Quepos, being 10.5ºN, the same latitude as Liberia, Costa Rica. Quepos is 9.5ºN.
First Impressions
Cartagena airport (CTG) is not that large, seeming to me to be about half the size of San José. I went through passport control and customs quickly. I had managed to get all my stuff into one backpack eliminating the need for baggage claim. I was traveling on an unstamped renewal passport I had just received two months prior. I chuckled a little when I thought, should my next trip be to the States, what the passport people in the U.S. would think when they saw that the first and only two stamps were from Colombia and Costa Rica in that order.
Cartagena Coat of Arms
A taxi driver was helpful to me in pointing out where the Cajero Automaticos (ATM's) were. I guessed he was a portador or pirata, i.e. a pirate taxi, by his demeanor. The current exchange rate is about 3,100 pesos per U.S. dollar. It reminded me of the days before the Euro when Italian Lira were about 2,000 to the dollar. That means that even with the lowly colone, there are slightly more than five Colombian pesos per colone. After withdrawing some 600,000 pesos (about $180) I was ready to take on the town.
I went back to the taxi driver who had helped me and said: "OK Amigo, let's go" even though I knew he was a pirata. He then confirmed such by leading me two blocks away from the airport to where his car was parked, an unmarked, vintage Toyota. I quickly realized that licensed taxis, like the reds in Costa Rica, are all yellow here and many of them are Kia compacts. Uber is available there also but my telephone was not yet operational. The adventure began.
Unfortunately the driver didn't have the foggiest Idea as to the location where I was staying (Calle 29, #25-35, Bolivar, 130001), so we began to explore the city. An hour later the driver finally pulled up in a neighborhood and paid a lady 1,000 pesos to use her phone and he called the owner of the Airbnb on the number I have him and got directions. I would realize later that Cartagena taxi drivers navigate much like in San José, i.e., by landmark and mine was the DIAN Building (the Colombian equivalent of the IRS) and that it was in a district called Mange. Even though Bolivar appears in the address, everyone refers to the area as "Mange.".
The street numbering system, at least in the newer areas is quite simple (sure it is Bob): Called, which we usually translate as streets, are more like avenues in Cartagena (or at least in Mange. and are abbreviated Cll on street signs (photo left). Crossing the Called are Carreras (abbreviated as Cra) which we would normally think of as streets. So, implied or translated therein by the address (Calle 29, #25-35, Bolivar, 130001) is that it's on Calle 29, #35 on the block where it crosses Carrera 25; the 130001 evidently being the zip code. Just for fun and interest Calle 29 is also known by long time residents as Avenida Cuatro or "Fourth Avenue".
On the return trip to the airport with a taxi driver suggested by my host, and who picked me up at Calle 29, #25-35, the trip took 20 minutes compared to the hour and a half on the incoming trip.
Town Layout
As mentioned, the apartment is located in a section of Cartagena called Mange. which is a district located between the Old City and the western end of the peninsula including Bocagrande. Bocagrande, also referred to as the "new city", is ultra-modern, looking much like Miami or Panama City. The official population of Cartagena is just under one million but I would have guessed it to be more like two million if not told that. Over the centuries the city has expanded outward in all directions from the Old City. The Mange. district is home to a good deal of the port facilities including naval vessels and cruise ships.
Airbnb
Got to the apartment where I had rented a room through Airbnb by mid-afternoon. I was met by my hosts Jessica and José who turned out to be a delightful young couple. They presented me with a key to my room (I never felt the need to use it) and to the front door. We spent some time telling each other about our "histories", as the Latinos like to put it. Jessica works for a development company that offers local investment opportunities in Cartagena. From the looks of the recent growth in the city I suspect she'll be quite busy.
José and Jessica
José, a native Colombian who has lived in the States, teaches English as well as manages two other Airbnb properties. José was very helpful later in helping me decide how to get around including a trip to an island south of the city. Jessica and José are very industrious people and very personable; it was a pleasure staying with them.
This was my first time using Airbnb but it won't be my last. The system works quite easily and well and makes you feel more like you're actually living in the city rather than just occupying another hotel room; although I still do like boutique hotels. I spent a lot of time on business in Hiltons and Intercontinentals in my past business years but I like the idea of being a part of where I'm staying. Viva Airbnb!
Attractions
New City As Seen From The Old
Clock Tower Entrance to Old City
A Street in the Old City
One of Many Old City Squares
Hop On Hop Off Tour Route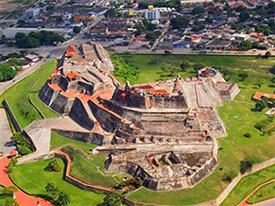 Castillo San Felipe de Barajas
The biggest mistake I made in visiting Cartagena was to leave only two days for sightseeing. The city has many castles and forts (one tour guide said over 20), historical monuments, boutique shops and restaurants. There's no way you can get a real impression and experience all that is going on in that time period. I guess that's what happens when over 500 years of history is forged together by the experiences of conquistadors, pirates, competing national interests of European superpowers and independent minded locals.
One quickly comes to the conclusion that the core of all this is best displayed for the visitor in the district called the Old City. This is the original area where the natives were suppressed by the conquistadors. Today it contains the melange of cultural places and activities mentioned above, all tucked away behind the original wall that surrounds the town which was built by the Spanish for defense.
The wall has a number of portals or entrances and one of the best known is the clock tower entrance (left). In the Old City you will find an almost endless array of buildings with colorful facades and streets that lead to interesting squares where there always seems to be a church and often ladies in colorful costumes with bowls of fruit or whatever on their heads.
On my host's advice I opted for the Hop On - Hop Off tour (45,000 pesos or about $15 - the pass is good for 48 hours). This is a red double-decker bus that circulates around and through the Cartagena area from the Old City all the way down the peninsula that completes Cartagena (see tour route map left).
Beware Tourists in Orange Sneakers
You can get off at any of the approximately 13 stops along the route including a half dozen of the Old City wall entrances. You can stay as long as you want in any area and resume the tour when you want knowing that the buses are on 45 minute cycles. That makes it quite convenient for the disorganized tourist like myself.
GG was able to make about three of the stops including two of the wall entrances (Boquanillo and La Torre Reloj or clock tower). One of the most dramatic stops is Castillo San Felipe de Barajas which is the sight of the mega battle mentioned in the history article above where Blas de Lezo, with 2,500 locals, held off an English force of 186 ships and 20,000 men. Blas' statue is just outside the fort.
In the 17th century the Spanish crown grew weary of pirate raids on Cartagena, English or otherwise. It poured a great deal of money into strengthening the fortifications of Cartagena and Castillo San Felipe was one of the results among several other major forts that ran along the shore of the port.
San Felipe fort is very impressive with high, sloping walls that would prove to be impregnable, at least during the 17th century. The castle-fort sports 68 heavy long range cannons that point towards the bay it protects (but not at the Old City - an interesting precaution on the part of city managers methinks). One could easily spend a half day or more seeing all the particulars of San Felipe; GG restricted himself to about
an hour due to other commitments. Gotta go back sometime; that will teach me not to make a cursory tour of an incredibly interesting and historical city.
Playa Blanca As Seen On The Internet
Playa Blanca on a Typical Day
For my last touring day in Cartegena and being the beachophile that I am, I hired a taxi to take me an hour south of the city to an Island called Isla Barú. I wanted to see once more that clear, warm water that is the Caribbean (I have been to the Puerto Viejo area in Costa Rica three times and had vacationed on the island of Guadeloupe once for a week).
I had picked out Isla Barú because of photos I picked up on the internet showing remote, mostly people-less sandy coves with clear, turquoise water. I had been told that Playa Blanca, a well known and popular beach in the area was great but quite busy and I wanted to get away from it all.
As it turned out Playa Blanca was the main beach on Isla Barú, and it was busy. Nevertheless, the water was electric blueish to turquoise, crystal clear and the waves were small, a feature that old dudes like GG appreciate. The sand is what we call sugar sand in Florida, a very fine white powder. Incredibly beautiful here and finding the same kind of beach without the crowds is a good subject for another expedition.
Food
My First Arepas - Yummmm
Restaurant Candé
Main Course At Candé
Dessert and Coffee at Candé
Of course GG had to investigate the food options in Cartagena but I doubt that I even scratched the surface of what's really available.
It all began the first morning when I was walking down Calle 29 and I came upon a corner restaurant four blocks from my apartment building (at Calle 29 and Carrera 22). It was a very simple place, open to the atmosphere and street traffic, with a small bakery and two ladies who were deep frying something. I felt compelled to investigate.
I saw a pastry that looked a bit like an empanada but shaped more rounded, like a flying saucer. I ordered one and the lady brought me the one that is shown in the photo to the left (half eaten). She also offered me a thick sauce that seemed to be made of liquid yogurt spiced with cilantro.
I learned the name of these little disks is Arepas. The particular one I chose was stuffed with a hard-boiled egg, ground meat and what appeared to be slivers of yucca. It was absolutely delicious seasoned with the sauce, so much so that I had them for breakfast two more times. Cost with drink: 4,000 pesos (about $1.25).
I grabbed a couple of lunches on the run over the three days and no matter what or where I bought food it was fresh and tasty.
On the last night in Cartagena I picked a restaurant called Candé out of a listing that my hosts had thoughtfully provided. It was located in the Old City but don't ask me how you get there and, fortunately, this taxi driver had no problem finding it.
The restaurant is charming inside, reminding me of a New York bistro; a long line of tables with seats to the wall that I found very comfortable while providing a view of everything going in the place. They had a small floor show that night consisting of two Colombian dancers (photo left with dancers waving there hats).
I ordered a dish described as prawns with a "black sauce" which were served over a bed of fried coconut and rice. I encountered delicious rice and coconut mixtures in several restaurants in the short time I was there - they've got that technique and flavor down to a science. The black sauce (small porcelain pitcher in the photo) was not black and the spices were not familiar to me but they simply tasted elegant, delicious and not spicy (my stomach is a bit sensitive to hot spice).
The waitress suggested a fruit drink (in the photo) that had as its main ingredient a red berry with a large nut in it. Not a cranberry but seemingly in that family and just a little sweeter. For dessert I opted for an ice cream made from the same berry plus a muffin that was glazed with a pureed coconut. Rich Colombian coffee completed the dessert and the dinner.
The bill came to 105,000 pesos or just over $30. If I were doing a ROMEO review on this restaurant I would give it 5 sloths for ambiance, food quality and service and a 4$ cost rating yielding a Value Index of 5/4x100= 125. Excellent. Sorry, once a ROMEO, always a ROMEO.
My guess is that one could discover at least a couple of dozen more excellent restaurants in the Old City before needing to branch out into other barrios.
As I mentioned before that I gave myself only five days including travel for Cartagena but it requires and deserves more that that to see it properly. Next time I'll correct that mistake.
Cartagena is a beautiful city full of historical and cultural wonderment and while I wouldn't move there at this stage in my life (I'm now incontrovertibly Tico at heart) it might have been different in my younger years. This beautiful city is a place worth going out of your way to visit and enjoy.
¡Pura Vida!
---
Health Stuff
Note: The information given in this section is offered as news information only and does not indicate GGC confirmation or denial of the accuracy of the treatment or a recommendation to pursue it, nor can we or do we guarantee the efficacy of the results nor validity of the conclusions proffered. (How's that for a disclaimer amigos?)
Rabies? It Can Happen
In Costa Rica there hasn't been a case in over four years (and only 11 cases in the last fifty years) of a human being contracting rabies in Costa Rica but just this past month there was such a diagnosis. As it turned out the new case actually came about because of an incident in August.
The rabies virus takes time to gestate and may take weeks or months before symptoms appear that are much like a flu (fever, headaches, muscle aches, loss of appetite and fatigue). Within a few days after that the symptoms progress to  "cerebral dysfunction, anxiety, confusion, agitation". It can be fatal if not treated correctly in a timely fashion.
Rabies is a virus often association with bats, although it can also be transmitted by squirrels, raccoons, rats and other animals. The case in discussion was from a bat. One gentleman, a biologist, was bitten by a bat on August 15 while touring a cave in the Dota coffee region. He treated the wound himself and never consulted medical people. Last Sunday he was admitted to the hospital "paralyzed from the neck down and currently has kidney failure".
There's a lesson here amigos: If you are bitten by any animal, even an insect, consult the professionals please; this beautifully wild place we live in also has its dangers.
¡Pura Vida!
---
Travel Quote of the Month
---
GGC Bookshelf
GGC Publications Group is the parent organization that publishes the Golden Gringo Chronicles as well as a number of books and paraphernalia related to the Chronicles and Costa Rica. The GGC Bookshelf also includes works from a number of other authors that belong to the Quepos-Manuel Antonio Writers Group in which GG has been a founding member.
Here are the books currently on our bookshelf:
The Chronicles as a Narrative
Mariposa - English
Mariposa - Español
Small Business Guide
Read More
Read More
Leer más aquí
Read More
Overcoming Drinking
Making Time Count
Spiritual Love Connection
Murder or Suicide?
Read More
Read More
Read More
Read More
There's Room for More on the QMA Writers Group Bookshelf
There's Room for More on the QMA Writers Group Bookshelf
There's Room for
More on the QMA Writers Group Bookshelf
Getting Around the Capital
Read More
All of the above books are available on Amazon.com and the "Read More" links above will lead you to them. You can also find them all on our GGC Publications Page.
GGC Publications also offers some accessories and paraphernalia related to the Chronicles and with Costa Rican themes, to wit;

T-Shirts:
a. Golden Gringo Chronicles with Logo,
b. Official Golden Gringo with Monkey on Banana Hammock,
c. ¡Quepo en Quepos! ("I Fit In Quepos!") with Photo of Quepos,
d. Wanna Monkey Around? - Come on Down! with Photo of White Face Monkey,
e. It's OK to be Slothful with photo of Three-Toed Sloth.
The t-shirts are available in several colors, styles and sizes. See them HERE.
Coffee Mugs: a. Golden Gringo, b. Wanna Monkey Around?, c. OK to be Slothful
See them all HERE:
What's life without a great cup of Costa Rican coffee? And it tastes even better in a Golden Gringo Chronicles mug!
---
What's-in-a-Word


"Tell me and I forget; teach me and I remember; involve me and I learn"
–

Benjamin Franklin

Answer to Que Es Eso?
The mystery photo above is of a mamon chino.
This is the height of the mamon chino season in Costa Rica, also called mamones. Mamones are fruits biologically closely related to, but not technically the same, as lychee nuts. The common translation of mamon chino is "Chinese sucker". It's also known as rambutan and is an indigenous plant of Indonesia and Southeast Asia. It was introduced by the Dutch into Suriname in South America and eventually spread to coastal areas of Central and South America.
Mamones are widely grown in Costa Rica and at this time of the year may be found on many street corners being sold out of the back of small pick-up trucks (most local supermarkets don't carry them). Typically, a small plastic bag containing about a dozen to a dozen and a half pieces of fruit goes for 1,000 colones (about $1.70). Great eating amigos, and healthy!
The sophisticated mamon chino eater grasps the fruit in the right hand and twists (or gouges) the top of the shell off with the other hand exposing the translucent fruit. It can then be extracted either by continuing to break away the shell or simply biting the fleshy part and pulling it away from the shell. Be aware that there is an inedible and sizable nut in the center of the fruit that can be denuded of its flesh with your teeth while in the mouth and then discarded. The flesh is sweet and four ounces of the fruit contains about 70% of your daily Vitamin C requirement as well as other minerals.
Cartagena
Cartagena Coat of Arms
The name is simply pronounced car-tah-hay-na. The etymological roots of the name go back to the original city of Cartagena, Spain located some 243 miles, as the Spanish national eagle flies, southeast of Madrid on Spain's southern coast.
The origin of the name relates to the aristocracy of the same name, the earliest records of which first were reported for Alonso de Santa María de Cartagena who was born in Burgos in 1384 and was a politician, poet and philosopher. Befitting its place in history, the coat of arms features castle symbols at the center and around the edge of the shield.
---
ROMEO Corner
(Retired Old Men Eating Out)
Le Papillon at Hotel La Mariposa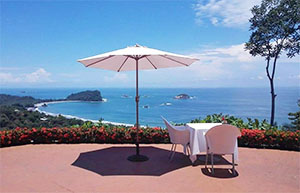 Location: 70 Meters Past the Promerica Plaza Down the Road to Arenas del Mar
Hours: Everyday for Breakfast (6:30 to 10AM), Lunch (11AM to 5 PM) and Dinner (5-10 PM)
Parking: Ample On site with Attendant;
Contacts:Tel.: 2777-0355;
Email:(from website);
Website: https://lamariposa.com/le-papillon-restaurant/
Reviewing ROMEOS: Bob N., Charlotte H., Glen N., Jerry C.
To Review Our Rating System and Procedure, go here: R.O.M.E.O. Rating System
Le Papillon of course is French for butterfly whilst La Mariposa is Spanish for the same thing. So this is the butterfly restaurant at the butterfly hotel.
I remembered from previous visits that this restaurant has one of the most striking views of the Pacific, and it hasn't changed a bit. You are treated to a panorama ranging from the southern mountains reaching into the sea beyond Punta Catedral (Cathedral Point shown in the photo above) all the way north past Punta Quepos. All the while you're dining some 1,000 feet above the ocean. If not the best view in Manuel Antonio it has to be in the top three.
The dining area is simply decorated with white furniture, white tablecloths and basic eating utensils. One would not describe it as elegant; a better word might be "smart".
Our group gave Le Papillon a solid 5.0 out of 5.0 for ambiance.
The lunch menu presented to us was only one page front and back but included a nice variety of appetizers and main courses including seafood, pastas, salads and even hamburgers. For lunch, these ROMEOs restricted themselves to seafoods and pastas.
For starters GG went with the fish fingers which were not exceptional but tasty in a basket with fries. Another ROMEO had the onion rings and classified them as "real", which I gather is a high compliment.

GG had a blackened medium rare tuna steak for the main course. It was served with three little mounds of what they described as mashed potatoes,actually pureed potatoes with a touch of pineapple in them and decorated with fresh vegetables (photo - the butterfly is painted on the plate)

Excellent.

$$$.9

Value Index= 128
Other ROMEOs selected 1) pasta bolognese, rice with shrimp and a mahi-mahi filet. All were pronounced excellent. GG was the only one to order dessert (hey, I don't get out that often anymore) described as a "banano caramelo", a banana puree that had been caramelized and served with a dollop of vanilla ice cream and drizzled with caramel. Yup, I could do that again. The composite score for food quality was 4.9/5.0.
We were served by a friendly, courteous and helpful young man named Diego who hails from San Vito, a small town in the southern mountains of Costa Rica. Diego was very professional and the composite score from the ROMEOs for service was 5.0/5.0.
This also resulted in a composite average for ambiance, food quality and service of 5.0. There have not been many restaurants in this area that we've reviewed that have received composite scores for ambiance, food quality and service of 5.0/4.9/5.0.
Of course GG consumed the most and had the biggest bill. For a pineapple/sandia naturale, the fish fingers, the blackened tuna and the banano caramelo with coffee the bill with taxes and service came to just over 24,000 colones or just over $40. For the food amount and quality given that's pretty good in this area. Evidently the others thought the same about their meals as the composite score for cost came in at 3.9 and yielded a Value Index of 5.0/3.9=128. That puts Le Papillon in the top third of restaurants we've reviewed in this area for value.
The restaurant at La Mariposa continues to be a very pleasant experience where you can have a good meal at a reasonable price while visually engaging the beautiful natural wonder that is Costa Rica.
¡Solo Bueno!
---
Opt-In Here to Receive Your Free Copy Monthly
The Golden Gringo Chronicles is a free newsletter that is non-political, non-commercial and, hopefully, entertaining. By signing up you will receive an email each month around the first of the month giving you the links to the latest edition as well as to each individual feature and departmental section.

CLICK HERE TO SIGN-UP FOR THE GOLDEN GRINGO CHRONICLES
or Email me at gg@goldengringo.com, or use our Website at: www.goldengringo.com

---
Bob Normand, Editor and & The Golden Gringo
Pura Vida!
To Contact GGC World Headquarters (yuk, yuk) to make comments, suggest topics or criticize my bad jokes, just send an email to: gg@goldengringo.com.
Be pithy but kind; I'm sensitive.


Unsubscribe from Golden Gringo Chronicles