Rumble and Weather Talk
Rain, What Rain?
I've been looking out at the hills surrounding Quepos for two months and all I see is green. I'm always amazed at how it stays green in this area even during the several months of dry season. I don't think we've had a centimeter of rain since late December (well, there might have been a couple of centimeters in the middle of the night on February 20). Summer is great while it lasts but I'm hearing more often, as we get drier and drier, that it would be nice to have a little rain.
Poas Was the Bad Actor This Past Month
When you live on the Pacific Rim with at least four active volcanoes coursing through your country you can expect anything or at least not be able to forecast much. It wasn't long after the National Park at Poas recently reopened that it's funnel activity increased again.
On February 11 at around 2 AM the volcano erupted with a display described this way: "The surveillance cameras recorded incandescence and a lot of gases escaping from the volcano in addition to several eruptions during which the volcano tossed rocks 50 to 100 meters into the air."
There also was an acidic volcanic "smog" smelling of sulfur. The park was closed for a day but then, on February 13, it was closed conditionally.
The Comisión Nacional de Emergencias (CNE) issued advisories, including one on living with ash fall:
Keep pets indoors with water and clean food.

Keep closed all doors and windows of your house or office.

Clean the roofs frequently, to lessen the stress of ash accumulation

Remove the ashes from your car with water and avoid the use of brushes.
So that's how you do it, eh?
But it wasn't just Poas. By the middle of the month Turrialba had joined the chorus and issued a column of gas and ash that rose over 1,000 meters or 2/3 of a mile into the air. Recall that Turrialba is to the northeast of metro San José and close enough that it has been sporadically responsible for airport closings due to ash fallout. It hasn't reached that level recently but everyone keeps watching.

¡Pura Vida!
Check Out Recent Earthquakes Around the World Posted by the

U.S. Geodetic Survey:
Recent Quakes
---
Search the Golden Gringo Chronicles Archives for Topics That Interest You
You can use our Archives to search for anything that has been written in more than 250 feature articles of the Golden Gringo Chronicles plus find Broken News items and ROMEO restaurant reviews. Enter your topic or item to search in the Google Search Routine below and follow the links offered from the search results. Suggestion: Enter only a simple, precise and unique as possible keyword or two in order to narrow the number of references retrieved:
Golden Gringo Chronicles - Enter Search Here
Readers: Our publication is open to suggestions regarding future articles and will accept pieces written by others but we reserve the right to decline anything that the editorial staff (that's GG) thinks is inappropriate for this format. Send proposals, comments, suggestions, ideas, meaningless statements and jocular observations concerning the Chronicles to GG here: gg@goldengringo.com.
---
Expat Adjustment Time


(Appreciating the Cultural Differences in Costa Rica)
GG recently read an article in the local electronic press that was written by an American expat who has lived here for over 20 years. In this article the resident gringo pretty much excoriated some of his fellow gringos who visit or immigrate here, especially those that complain about everything they come in contact with: utilities (more expensive and less reliable), mandatory service charges (like the 10% in restaurants), taxi drivers (scheming), all drivers (crazy), food (oh, for a great steak again), drinks (where do you get a decent martini?), weather (sometimes too hot, sometimes too wet), bad roads etc., etc., etc.
I feel myself in empathy with the author's position in that article. If you really want things to be like they were back home amigo, then go back home where you can find things that you're used to even though you may freeze your nuckies off enjoying them. As an alternative you might just try overcoming those gringo-perceived shortcomings and maybe even enjoying, or at least amiably tolerating, the cultural differences.
Because customs and practices here are somewhat different from those in the U.S. it took GG considerable time to feel comfortable with the daily living rules, both legal and unwritten. So I thought it might be interesting to review some of these, especially those related to public transportation and incidental contact.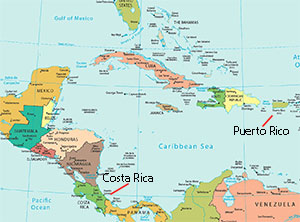 First, let's get one geographical thing straight mis turistas amigos: Costa Rica is not an island. My earliest experience with that gem was when I mentioned to a visitor that, way back when I made the decision to move down here, I was thinking of driving from Sarasota, Florida to Quepos. "You can't do that says the uninformed turista, how would you get onto the island". No Dorothy, Costa Rica isn't an island. Says I: "Bet you're probably thinking of Puerto Rico; you know, Puerto Rico as opposed to Costa Rica" (see map left).
Costa Rica is a small country (80% the size of West Virginia) and is located in Centroamerica, positioned as a wide spot on the Interamericana Highway, that famous road that runs the entire length of America all the way from Alaska to Argentina. Costa Rica is a landlocked part of the Central American Isthmus, bordered by Nicaragua to the north, Panama to the south, the Pacific Ocean to the west and the Caribbean Sea to the east. OK, is everybody with me so far?
Transportation Guidelines for Ticoland
The general unwritten rule here is that he who has the largest vehicle has the right of way, making pedestrians the lowest on the totem pole and giving buses and Mack Trucks, of which there are many, pretty much free reign. One should step into the street where there is no light-controlled cross-walk only with care and prudence; that's good advice even if there is a pedestrian light. (There are no such lights in Quepos by the way). I've personally known pedestrians that have been killed by buses, cars and motorcycles in the ten years GG has resided here.
Trains, available only in the GMA (Grand Metropolitan Area - think San José) are the one exception to the size rule. Nobody gives them due respect and even where there are traffic barriers at cross streets (not all train crossings have barriers by the way - listen up for the loud horn) they are still not held in high regard as a solution to traffic problems nor are they held in respect by many private vehicles. And when a train physically and unexpectedly meets a bus it seems that neither has given due diligence in their thinking nor come to the conclusion it might be better to yield (see photo above).
For autos, right turn on red has recently been instituted (I want to say legalized in the same way that term is used with marijuana, that is, there's now a regulation for something many have been doing anyway). Traffic accidents are the 8th highest cause of death in Ticoland and totaled 719 in 2017, ranking the country 120th in the world of 204 countries and giving us a rate of 13.9 deaths per 100,000 population. That's a little over 27% higher than the U.S (10.9 rate, #138 in the world). (The worse country in that list is Libya with the unenviable ranking of #1 at a rate of 73.4!). The Ticos also can point to being the second lowest death rate by auto in the seven Central American countries: Belize (24.4 rate), El Salvador (21.1), Guatemala (19.0), Honduras (17.4), Nicaragua (15.3), Costa Rica (13.9) and Panama (10.0).
Intricacies of Horn Beeping
Looks Like a Good Place
for an In-Car Meeting
Ticos, being one of the friendliest people on earth, necessarily have a constant need for conversation. Therefore expect Alberto, going in one direction, to pull up next to Miranda going in the opposite direction, both managing to block a two-lane street. They will stop abreast of each other, roll down the windows and begin a vigorous conversation of the upcoming fiesta, probably because they are cousins or neighbors of long note, each wanting to make sure the other will be attending. The street-centered stop is also a technique that works well for conducting short business meetings or negotiations or to transfer important papers between vehicles.
The above is often an opportunity for drivers to test if their horn still works. In a situation like that, common practice demands the use of the one and a half second beep by those caught behind the blockaded cars. It is to be used even before you have actually stopped, when you first figure out your vehicle will be required to slow down. Failure of the blockaders to wrap up their conversation and move on will, of course, result in more frequent and longer blasts on the horn as the blockade time lengthens.
But this is only one way the horn is used as a communication device here. There also is the tenth of a second, tenuous tap on the old blaster which is designed to make you look up. This is a favorite among taxis (both formal and collectivo) to signal that they are open to either a full fare or even a shared fare. I can't count how many times in the early days that I shook my head to such a signal until I finally learned how to act as an authentic Tico; you just look the other way and ignore the horn.
The TOAST (Tenth Of A Second Tenuous) horn beep can also be used as a signal that a pedestrian has succeeded in crossing in the midst in a potentially perilous situation. You know, you start to cross the street and as you're half way there a taxi comes screaming around a blind corner and you skoot rapidly to make it across in time. Just as the taxi passes you he salutes you with a TOAST. Some of the drivers here mount an extra set of speakers in the front of their cars to be more effective (and louder) like the front end in the photo above, thereby creating sort of a master-blaster effect, particularly good for those longer blast needs.
There is one more periodic use of the horn. When the Sele (National Selection Team of Futbol) happens to win a big game it is mandatory that as many vehicle owners as possible form an impromptu car parade around Quepos, and every other pueblo in Costa Rica, blowing horns and shouting. Thank God they have enough Imperial beer along to wet their throats from all that screaming.
That's enough for now but in the future we'll have to discuss other interesting cultural differences including incidental contact mentioned at the start of this article, you know, like sharing sidewalks and public spaces and common etiquette and behavior while standing in lines, as well as several other aspects of cultural adjustment that expats and potential expats might enjoy.
For more info about rules and near-rules with regard to walking around Costa Rica see an article I wrote some seven years ago (including a helpful list of study questions for the driving exam) called Pedestrian Pedantics.
Don't miss that list of helpful study questions, it's a gas.
¡Solo Bueno!
---
¿Que es Eso? Department (¿What is That?)
Phhfffft!
So that's what I think of you humans!
So who am I and what's wrong Here?
Answer in What's-in-a-Word section below.
¡Pura Vida!

---
Golden Gringo Chronicles Nostalgia
(We've Come A Long Way Since 2008)
It's hard to believe but GG has been writing the Golden Gringo Chronicles now for almost eleven years. We (I'm using the royal we here) issued Edition 00 in September 2008 shortly after arriving here to assume retirement. That edition is one of the funnier ones in that it Chronicles GG's failed attempt at trying to drive from Sarasota through Mexico to Costa Rica.
The current edition, March 2019, is the 127th monthly blurb since ground zero.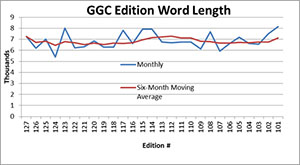 An interesting tidbit about the Chronicles is that the first three editions averaged less than 1,400 words but the monthly average for 2018 was 6,873, almost five times the early editions.
Of course, the original editions were nothing more than emails sent back to my family and friends in the States, the total monthly distribution in the first three months being about 50. The distribution of the current edition will come in at almost 1,650. In recent years the size of the Chronicles has leveled out to a consistency that makes it easier to manage and easier for the reader to recognize the format.
The format also has changed and expanded along with the word count over the years. The form of the Chronicles has assumed a more professional look with sections and departments, a logo and the addition of a set of archives to allow readers to review the the past articles as a resource. GG is particularly proud of the Topical Index Archive which houses almost 260 GGC articles that have been grouped into 14 categories: (the number in parenthesis in the following is the current number of articles listed in that category) About Quepos & Manuel Antonio (26), Profiles in Quepos (2), Agriculture (19), Costa Rica Wildlife (23), Costa Rican Culture (37), Getting Residency (9), Golden Gringo University (8), Health/Medical (18), History of Costa Rica (21), Legends of Costa Rica (12), The Beaches (13), Weather and Tremor Tales (15),Other Places in Costa Rica (14), Other Latin American Countries (29), and Miscellaneous (11).
Menu On Every Chronicle
In addition to the Topical Index, there are two more Archives:
1. - The Chronological Archive which is simply a synopsis of each monthly edition, most recent month first. Most readers will find the Topical Archive of more interest but the Chronological Archive is one that greatly helps me personally to identify where I've put things.
2. The Restaurant Archive where we keep a running three year list of about 36 local restaurants (and a few non-local) that we have reviewed under the R.O.M.E.O. banner (Retired Old Men Eating Out). This archive is particularly handy for visitors.
One more possibility when you're looking for something about Costa Rica, and in particular Quepos-Manuel Antonio, is to use our Google Search Routine which is available in every edition. You can pick out a pertinent word or phrase (using the more specific terms is best to minimize the number of references you get) and the system will find anything pertaining to that topic across the entire Chronicles Archives. With the three Archives and the search routine GG hopes to make the Golden Gringo Chronicles a true resource for the reader whether you are a first-time visitor, a recurring snow-bird, someone contemplating relocation here or a current resident.
Favorite Articles
In looking over the archives GG asked himself this question: among all this writing what are your favorite articles? After scanning the Topical Archives; can't read 'em all - my guess is the total words in all additions runs somewhere between 500,000 and 600,000 and at 200 words per minute standard reading rate it would take me 42-50 hours to read 'em all. So I picked a half dozen of the ones I had the most fun with, to wit:
Edition 00 - Crossing the Rio Grande. I have a soft spot in my heart for this story because it is a classic case of the uninformed gringo taking on the world. Despite a good old college try at driving through Mexico on the way to Costa Rica, GG came back to reality at the Mexican border when he discovered he was short one important document.
After two tries at passing two different border points on the Mexican side of the Rio Grande I met some nifty cowboys in Brownsville, Texas who were well experienced in driving in Mexico and Central America. I told them my story and travel plan and waited for their advice. Finally, the more senior of them in age and Latin American experience said: "Sell the f...ing car and take a plane Bob". That's just what I did.
Edition 49 - Soy Tico (I am Tico). After living in Costa Rica for almost four years I tried to put to words my understanding of the Tico psyche. As you can see in this article I voted for Ticos as being very friendly, helpful, gentle and romantic.
These traits far outweigh their supposed negatives also listed in the article. Most of these negatives would better be characterized as "cultural differences".
Edition 50 - Terremoto Terror. On September 5, 2012 GG found himself on the first floor of the (then) ten story Puntarenas Hospital getting scheduled for an eye exam when the second largest earthquake in Costa Rican history hit about 20 miles away in the Nicoya. The Richter level at 7.6 was second only to the 1910 disaster in Cartago (7.7) which killed 500 people. Fortunately, largely due to improved building codes, there were no fatalities this time. Being in a building that shook so violently that the facade popped off the front of the building as a brick shower was a new experience for GG and one which I don't care to repeat.
The damage in the Nicoya Peninsula was substantial, with a drop in the peninsula level along the southern shelf of up to ten feet (photo). Puntarenas Hospital later had it's top eight floors razed as they couldn't be repaired and the building is now serving as a two-story general medical services facility while a wholly new hospital is being built nearby.
Manuel Antonio? - Uh-Uh
Edition 52/54 - Who Was Manuel Antonio? In my early days here GG wrote a number of articles on the history of the Quepos-Manuel Antonio area. During this process I started to ask myself just who was this dude named Manuel Antonio?
This article (Edition 52), and its follow-up (Edition 54) does not answer the question of who was this mystery dude because simply, it is a very common name and nobody really knows if, or who, the name might be referring to. A local resident whose family was one of the first to inhabit MA near the main beach in 1948 told me there was a squatter with that name who inhabited the woods there at that time. This was long before the existence of the Park (1969).
Some of the travel websites have spread a rumor that the area was named after a Conquistador who is buried in the park. Really? The conquistadors were out of Costa Rica by 1821 and the park started in 1969. Where was the body in the intervening years when the MA jungle was virtually impassable? Then I asked a couple of the older guides here, ones who have families dating back to the earliest days; where was Manuel Antonio's grave? One of them looked at me, smiled and said "Which one?
2014 National Team of Costa Rica
(Navas in Green)

Edition 71 - Chaos in Quepos Soon after GG moved to Quepos in 2008 I noticed a large building about a block and a half away from my apartment. Then one night I wandered down that way to discover that the building is Barrio Los Angeles' Futsal, the indoor emporium for local futbol (soccer). When in town I often still venture down there to work off dinner and watch the young men play; and boy do they play enthusiastically.
Over more than ten years I've watched the kiddies who were 6-10 years old when I first got here, and who came out onto the field during game breaks to kick the ball around to each other, develop into really good and competitive team players aged 16 to 20. I know a goodly number of them by name and they know me as Bob or "Bob Marley".
Futbol is not a sport in Costa Rica, it is a way of life. GG tries to keep up, or at least stay somewhat aware of what the major teams in the country are doing and I've committed to being a Saprissista - a fan of one of the best known teams from San José. Then there's the most famous futbol player of Costa Rica, Keylor Navas, a goalie for Real Madrid in Spain ($5.7 mil per year) - after his exceptional performance in helping his team reach the quarter finals in the 2014 World Cup people were naming their babies after him.
So there's no way GG can write a Chronicle these days without mentioning futbol. Goal!!!
Edition 109 - Quepos Qonvenience That's not a spelling error; it's just that sometimes I have an irresistible infatuation with silly alliteration in headlines. Spurred on by an article request from an international expat magazine and an editor-imposed limit of 1,000 words (which I exceeded by only a hundred words or so) I republished the article in the Chronicles.
Writing about if and why you love where you live is not always easy, especially when you're limited to 1,000 words (about 5 minutes reading time for the average reader), I could easily have gone on for another 1,000 words but I did get in a description of the Golden Gringo's daily life. It boils down to small town convenience, small town attitude (people who look to help rather than take advantage of you), friendliness, of which Ticos have an international reputation and an easy living style that doesn't require a lot of "stuff" to have a great day.
Never been happier, says the GG.
¡Solo Bueno!
---
Health Stuff
Note: The information given in this section is offered as news information only and does not indicate GGC confirmation or denial of the accuracy of the treatment or a recommendation to pursue it, nor can we or do we guarantee the efficacy of the results nor validity of the conclusions proffered. (How's that for a disclaimer amigos?)
Sciatica Redux
Somewhere around 1980 GG suffered a slip on an icy porch, catapulted and ended up three steps down on a cement sidewalk on his lower back. A few weeks later some vigorous exercise at the club that included bicycling caused me to wake up the next morning unable to move. I was evacuated to a hospital, mylogrammed (dye-infused x-ray pictures) and was soon in surgery. I had cracked my cervix and extended the L1 disc - half of which was removed. Then again around 1995 I slipped on ice again and kicked off another round of severe Sciatica which was ameliorated by two weeks of steroid treatment. I'm thankful that I no longer have ice to slip on (pieces of half-eaten fruit and iguana droppings will have to suffice from here out).
About three years ago I had a mild re-occurrence of sciatica and went through a dozen or so physical therapy session at the local hospital which fixed the problem once more. Of course GG was given some daily exercises to strengthen the muscles in the lower back and, of course, GG being GG, did them for a while but then abandoned them because I was feeling so good. Now an echo plagues my head from Sister Domatilla, my seventh grade teacher: "Robert, sometimes you don't have the good sense that God gave a goose!". Thanks Stah.
In early February the sciatica returned and I'm busy again doing the exercises I should have been doing all along. It'll take some time to get back to normal, I'm hoping not toooo long.
Inquiring Minds Want to Know
If you've been following this section of the Chronicles you know that GG is on a crusade to learn about and if possible, prevent, the onset of Alzheimer's, a disease that has taken two of my siblings. In doing research (read that as a good friend of mine sent a book my way) I found a book entitled "Grain Brain, The Surprising Truth About Wheat, Carbs and Sugar - Your Brain's Silent Killers" by one Dr. David Perlmutter, a neurosurgeon/nutritionist. (For previous writings about this topic go here: Edition 125 and Edition 126).
Here's a general rule from Dr. Perlmutter's website on food: "If it can go bad, it's good for you. If it stays good, it's bad for you." GG found this berry, berry intuhresting.
During an appearance on the Dr. Oz show two years ago Dr. Perlmutter had this to say: "I was asked to highlight what I would consider to be the three items we should all be working into our diets more frequently to help support better brain health. Not knowing how popular it would later become, I outlined my 'Anti-Alzheimer's Trio',  three foods high in brain-healthy fat including":
Grass-fed beef

Avocados

Coconut Oil
How bout dat! So much for corn-fed beef (and all the feed additives that go into it). The last two items made me laugh because I live in an area where both avocados and coconuts are locally grown and easily obtainable at my local grocery throughout the year (I can easily get locally produced coconut oil).
Do I need to change my lifestyle? You bet my (hurting) butt I do. GG will have more to say on this book in future Chronicles as I get into this new way of life.
¡Pura Vida!
---
Travel Quote of the Month
¡Solo Bueno!
---
GGC Bookshelf
GGC Publications Group is the parent organization that publishes the Golden Gringo Chronicles as well as a number of books and paraphernalia related to the Chronicles and Costa Rica. The GGC Bookshelf also includes works from a number of other authors that belong to the Quepos-Manuel Antonio Writers Group in which GGC has been a founding member.
Here are the books currently on our bookshelf:
All of the above books are available on Amazon.com and the "Read More" links above will lead you to them. You can find more detail on all of them on our GGC Publications Page.
GGC Publications also offers some accessories and paraphernalia related to the Chronicles and with Costa Rican themes, to wit
T-Shirts:

a. Golden Gringo Chronicles with Logo,
b. Official Golden Gringo with Monkey on Banana Hammock,
c. ¡Quepo en Quepos! ("I Fit In Quepos!") with Photo of Quepos,
d. Wanna Monkey Around? - Come on Down! with Photo of White Face Monkey,
e. It's OK to be Slothful with photo of Three-Toed Sloth.
The t-shirts are available in several colors, styles and sizes. See them all HERE.
Coffee Mugs:
a. Golden Gringo, b. Wanna Monkey Around?, c. It's OK to be Slothful
See them all HERE:
What's life without a great cup of Costa Rican coffee? And it tastes even better in a Golden Gringo Chronicles mug!
---
What's-in-a-Word


"Tell me and I forget; teach me and I remember; involve me and I learn"
–

Benjamin Franklin

Answer to Que Es Eso?
We are young howler (Congo) monkeys that nearly perished but we were fortunate to have been saved by our friends at the Refuge for Wildlife one of the many important private animal refuges in Costa Rica.
Privately funded, they are located in the Nicoya peninsula in Guanacaste Province. Another similar organization that GG is personally familiar with is: Kids Saving the Rainforest (KSTR) located just outside Quepos.
All these people do a great service for our environment and culture.
Etymology of Gringo
This from an online source:
"The etymology or origin of the Spanish word is uncertain, although it is likely to have come from griego, the word for "Greek." In Spanish, as in English, it has long been common to refer to an unintelligible language as Greek. (Think "It's Greek to me" or "​Habla en griego.") So over time, griego's apparent variant, gringo, came to refer to a foreign language and to foreigners in general. The first known written English use of the word was in 1849 by an explorer.

One bit of folk etymology about gringo is that it originated in Mexico during the Mexican-American war because Americans would sing the song "Green Grow the Lilies." As the word originated in Spain long before there was a Spanish-speaking Mexico, there is no truth to this urban legend. In fact, at one time, the word in Spain was often used to refer specifically to the Irish. And according to a 1787 dictionary, it often referred to someone who spoke Spanish poorly."
I have also read the "urban legend" about the Spanish-American War and the Yankee uniforms: "Green-Go" says that legend. Of course the "It's Greek to me" source is technically correct as it happened (1849) long before the Spanish-American war (1898) but the Urban Legends are more fun, don't ya think?
English Conundrums
From a dissertation by an English teacher:
Let's face it - English is a crazy language. There is no egg in eggplant, nor ham in hamburger (this teacher obviously has never been to Costa Rica - Ed.); neither apple nor pine in a pineapple. English muffins weren't invented in England or French fries in France. Sweetmeats are candies while sweetbreads, which aren't sweet, are meat. We take English for granted. But if we explore its paradoxes, we find that quicksand can work slowly, boxing rings are square and a guinea pig is neither from Guinea nor is it a pig.

And why is it that writers write but fingers don't fing, grocers don't groce and hammers don't ham? If the plural of tooth is teeth, why isn't the plural of booth, beeth? One goose, 2 geese. So one moose, 2 meese? One index, 2 indices? Doesn't it seem crazy that you can make amends but not one amend? If you have a bunch of odds and ends and get rid of all but one of them, what do you call it?
Now that that's been made perfectly clear . . .
¡Pura Vida!
---
ROMEO Corner
(Retired Old Men Eating Out)
Victoria's - Manuel Antonio
Location: Top of Manuel Antonio Hill Across the road from Tulemar.
Hours: Monday thru Sunday: 07:00 am – 10:00 pm
Parking: Limited in Front of Restaurant
Contacts: Tel.: 011-(506)-2777-5143; Email: info@www.victoriasgourmet.com; Website: https://www.victoriasgourmet.com/
Reviewing ROMEOS: Anita M., Bill M., Bob N., Chris F., Dean S., Dennis R., Helen F., Jerry C., Julia S., Lorraine C., Mark G.
To Review Our Rating System Go Here: R.O.M.E.O. Rating System
Victoria's was last reviewed by the ROMEOs in April 2017; see that review HERE. We are reviewing it again this month, somewhat short of our three year cycle, because we were advised it is under new management (Tulemar) so we thought we'd update our previous review.
With regard to the dining room GG can't improve on what I wrote about it back in 2017: "Physically, the dining room hasn't changed much, it's still a warm combination of good local woods, earth colors and indirect lighting that quickly gives one a comfortable feeling. The tables are unadorned and the chairs do have some padding (GG's back thanks you for that)."
The room is open to the atmosphere and edges on the jungle; very pleasant. The composite score for ambiance came in at 4.4 out of a maximum 5.0.
The menu has a rather broad selection of appetizers, salads, seafood, pastas and pizzas (after all, it bills itself as Italian-Gourmet). Portions were described by ROMEOs as being from small (a salad) to adequate or "just right".
GG, on a light eating kick because of health considerations, decided to go straight for a pizza labeled Victoria's California and described as "Grilled chicken, freshly cooked bacon, spinach, cherry tomatoes and mozzarella cooked in our brick oven then topped with fresh slices of avocado and our creamy chive sauce". That's light isn't it? The small version (12") was much more than adequate for one person and I only finished half of it. Very tasty, even rich.

Other ROMEOs ordered two different versions of pizza, two different salads and three different pastas. The overall rating for food quality came in the same as the ambiance level at 4.4/5.0.

.4
$$$$.0

Value Index= 111
Service was provided by a waiter whose name I failed to get but he was the biggest dude in the restaurant. I was particularly impressed by the wait staff's quick and positive reaction to us showing up with a party of 11 without a reservation. The composite score for service came in at 4.3/5.0 yielding an overall rating for ambiance, food quality and service of 4.4/5.0.
My bill was for two people and included a small California pizza, a large chicken pesto & pepperoni pizza and two ginger-ale/machilado soft drinks and came in at a little over 30,258 colones or just under $50. The ROMEO composite score for cost came in at 4.0$, yielding a Value Index of 4.4/4.0 = 111 putting Victoria's value index in the low end of the middle third of restaurants we've reviewed in this area.
Victoria's continues to be a good selection for quality food in a pleasant dining setting offered at full Manuel Antonio pricing.
¡Solo Bueno!
---
Opt-In Here to Receive Your Free Copy Monthly
The Golden Gringo Chronicles is a free newsletter that is non-political, non-commercial and, hopefully, entertaining. By signing up you will receive an email each month around the first of the month giving you the links to the latest edition as well as to each individual feature and departmental section.
or Email me at gg@goldengringo.com, or use our Website at: www.goldengringo.com

---
Bob Normand, Editor
& The Golden Gringo
Pura Vida!
To Contact GGC World Headquarters (yuk, yuk) to make comments, suggest topics or criticize my bad jokes, just send an email to: gg@goldengringo.com.
Be pithy but kind; I'm sensitive.


Unsubscribe from Golden Gringo Chronicles