---
The Golden Gringo and the entire staff at GGC Publications wish all Costa Ricans the best of everything on Labor Day 2019 (Monday, May 1st).
¡Felicidades Amigos!
---
Broken News


(All the News That's Fit to Reprin

t)
The Boats Keep Coming
The number of cruise ships docking in Costa Rica is on the rise. The cruise season here is typically measured from August of one year to July of the next. Press reports have noted some 203 vessels have docked during this season with another 46 scheduled before the end of July for a total of 249 for the year and an increase of 9.2% versus last year.
Two Passenger Ships Docked in Puntarenas
Cruise ships visit five ports in Costa Rica: Limón, Caldera, Quepos, Golfito and Puntarenas. Although Limón is the only port on the Caribbean Coast it is the largest for this type of ship. Port facilities in Limón for commercial shipping traffic have increased substantially as a result of the new industrial terminal, leaving more space for cruise ships in the old port.
The other four ports are on the Pacific Coast with Puntarenas being the largest. Quepos does not yet have dock facilities for large ships so they anchor just off the new marina and ferry passengers into the marina area. GG must admit he has mixed emotions about seeing a ship in genteel little Quepos disgorge 1,500 people.
Local merchants of course couldn't be happier. Statistics show that the average expenditure by cruise ship passengers runs about $137 per day so if 1,500 descend on poor little Quepos that could mean over $200,000 per day pumped into our little economy, quite a significant number in this small community. For the estimated 355,000 cruise visitors expected this year for all five ports the bump is about $50 million.
GGI keeps wondering when the Marina is going to add large docks?
Venezuela Update
The stand-off between the military-backed Maduro government and the Assembly-backed Guaidó interim president continues. Conditions for the people also continue to worsen with shortages of food and medicine common common. Maduro continues to block any medicine and food aid the U.S. sent via Colombia at the border.
There are frequent power outages and shortages of drinking water. Maduro announced on March 31 that there would be electricity rationing on a month long program with specifics to be defined. At the same time his education minister announced that school activities would remain suspended and normal business hours would end each day at 2 PM. That's one way to run a country.
Venezuelans Storming the Bridge at Tachira
Angry citizen protests included burning tires and barricades near the presidential palace and have become routine in Caracas. Other similar demonstrations are breaking out in regions outside of Caracas. Maduro barricaded several bridges into Colombia but a great number of people stormed at least one of the barricades and crossed the bridge seeking food and medicine. The Tachira river, often easy to wade or swim across, recently became impassable because it was swollen from torrential rains (photo right).
Russian Plane at Caracas Airport
The Russians recently moved in military aircraft and personnel raising tensions further. The Russian government warned the country and others not to try and oust Maduro.
GG's hoping that Maduro will finally get the message and take himself and his closest cohorts on one of those Russian planes back to Moscow. A group of protesters in downtown Caracas expressed the situation best:
Airport Improvements
The national government recently announced spending plans for the next two years of approximately $46 million to improve secondary airports. The allotment for these projects is shown on the table to the right.
Tobias Bolaños is the second airport in San José located in the Pavas district and seems to be rapidly becoming the central domestic and short haul (Nicaragua and Panama for example) airport for the country. That may change if the large new international airport is eventually accomplished near Orotina which will likely make the current primary San José airport (Juan Santamaria) secondary.
It was good to see the money in there for Quepos airport (XQP). The airport closed in December 2017 and shortly thereafter the government canceled the contract with the builder because they were "not able to comply with the work specifications". Apparently the runway expansion was largely completed (yet not surfaced) but terminal and aircraft service areas still need to be done.
Come on amigos let's finish her up, we love our XQP.
Costa Rica Still #1 on Happy Planet Index
For the second year in a row Costa Rica has secured #1 spot over 139 other countries in the Happy Planet Index ranking of the happiest places on the planet to live (I guess that's why they call it the Happy Planet Index - duh). We beat out Mexico (#2) and Colombia (#3) to win the trophy (not sure there is one). To develop this index, HPI ranks a large number of factors in four categories: Life Expectancy, Wellbeing, Ecological Footprint and Inequality.
To see a more detailed list of the factors and rankings by country go here: http://happyplanetindex.org/. Pura Vida!
IBM Expanding in Costa Rica
IBM this year is celebrating its 15th anniversary in Costa Rica and in honor of its 5th year operating a cybersecurity center here the company announced a major expansion of that center. For an investment of $21 million the Cybersecurity Center will triple its capacity and become the "largest security operations center for IBM in Latin America". Expected increase in employment numbers were not given.
IBM Cebersecurity Center
According to their website, IBM Cybersecurity Services offers a range of services "From strategic advisory consulting, incident response, design and deployment services to cloud and managed security services". Basically they help their clients keep the bad guys out of their electronic devices, a problem that seems to be driving a burgeoning industry these days.
We're seeing more and more technical investments of this type in Costa Rica due to an increasing pool of highly trained technical personnel, largely in the Central Valley, which come out of the area's higher education system.
Side story. GG had a business in computers and computer supplies from 1983 to 1993 during the dawning ages of the PC. Every time I see the IBM logo I remember a scene in a movie of that period that depicted Bill Gates, who had a startup company he came to call Microsoft operating out of his garage. The scene depicts Gates and Company trying to sell senior managers at IBM their new Windows product (which the film implies MS stole from Xerox). The IBM dude asks: "How much is this thing going to cost per machine?" Says Gates: "$5". The IBM guy says: "That's OK, the real money is in the machine."
Ha, ha, ha, ha, ha, ha, ha, ha, ha. In 2018 Microsoft had sales ($32.5 Billion) 50% greater than IBM and their net profit margin was almost three times the rate of Big Blue (26% vs 9%).
But then IBM and others have not always been perceptive of major trends (check that here). Current copies of Windows 10 sell for $119 in the Home version and $199 for the Pro version. Ha, ha, ha ,ha.
¡Pura Vida!
Just How Dry Is It?
Guanacaste Corn Field in March
Dry enough to cause the government to release nearly $7 million in emergency funds to: "...contract machinery, humanitarian assistance in shelters, provision of water and purchase of food and medicine for animals". That may not sound like much to a gringo in the scheme of things but adjusted for population that's equivalent to the U.S. releasing $430 million, and on an adjusted federal budget ratio basis, it would be equivalent to about $2.6 billion.
La Sabana Lake, Top-Normal, Bottom-Recently
The summer or dry season here runs nominally from mid-December to mid-may. Typically there is often no rain during January, February and March in most places in the country and this year was no exception. It is not unusual for the northwestern area of Costa Rica (Guanacaste) to turn brown during this season. The area is composed more of high plains and deciduous woods than the mountainous and jungle covered southern regions; the net result is that it dries out more easily.
But the shortage of water these days is not just in the high plains; the gradual increase in population and growth of industry in Costa Rica has brought home a necessary awareness of water. That's what happens when you have shortages. Check out the photos of the lake in La Sabana in the center of San José to the right. The article in the press report that gave these photos noted that in past years that lake, normally supplied by rainwater, was fed by potable water sources during dry periods but now, due to shortages and a stronger drought than usual, that source is unavailable.
Public Works Water Waste
Other press reports noted that some 100,000 people in the Capital area were on periodic rationing. Still another report detailed a startling fact: only about 52% of the water supplied can be verified as being received by the user. Where did the rest of it go? Probabilities listed by the Water Company (called A y A here or Aquaductos and Alcanterillos): illegal connections, leaks, thefts, alteration of meters, waste from public works projects (MOPT) and water used in hydrants which is not counted as "consumed".
As a simple civilian observer, GG has always been a bit in awe at how much plumbing standards here have little regard for water conservation. How many times have I seen unmoderated open faucet taps in public places, the kind that gorge forth huge streams of water with no regulator, and poorly designed toilets that require two and three flushes to work. Necessity being the mother of invention, perhaps this new awareness of how important our fresh water sources are will pervade our thinking in the future. Let's hope so.
¡Pura Vida!
Check Out Recent Earthquakes Around the World Posted by the

U.S. Geodetic Survey:
Recent Quakes
---
Search the Golden Gringo Chronicles Archives for Topics That Interest You
You can use our Archives to search for anything that has been written in more than 260 feature articles of the Golden Gringo Chronicles plus find Broken News items and ROMEO restaurant reviews. Enter your topic or item to search in the Google Search Routine below and follow the links offered from the search results. Suggestion: Enter only a simple, precise and unique as possible keyword or
two in order to narrow the number of references retrieved:
Golden Gringo Chronicles - Enter Search Here
Readers: Our publication is open to suggestions regarding future articles and will accept pieces written by others but we reserve the right to decline anything that the editorial staff (that's GG) thinks is inappropriate for this format. Send proposals, comments, suggestions, ideas, meaningless statements and jocular observations concerning the Chronicles to GG here: gg@goldengringo.com.
---
Legends of the Mot-mot
(And Other Ramblings Concerning Costa Rica and Central America)
Virtually every country's culture has, sometime in its history, developed its own set of legends. These stories and myths attempt to explain the unexplainable or to guide the behavior of their populations with stories that are intended to inspire or to instill life lessons out of fear.
Blue Crowned Mot-mot
Costa Rica is no exception. The country has many, many legends, a good deal of which were developed before the Europeans settled here in the 1500's and many that involve the incredible biodiversity in Ticoland. The Mot-mot is one of the many beautiful native birds found in Costa Rica and it has rightly taken its place in the folklore here, including a legend that puts the bird at the creation of the world.
There are 9 different species of Mot-mots in Central and South America and 6 can be found in Costa Rica. They occupy an area that runs from the southern tip of Mexico in the Yucatan region down the Central American isthmus and into South America.
The most common variety is known as the blue-crowned Mot-mot (photos left). It is found along the entire west or Pacific side of Costa Rica and into the Central Valley, often perched on power lines (more on that special tail below). Not sure why such a pretty bird as the Mot-mot prefers nesting in holes in the dirt but they do, so they dig their nests on the sides of riverbanks, and roadsides.
Turquoise Browed Mot-mot
(With Lunch)
Also found on the Pacific Coast is the turquoise-browed Mot-mot right - Eumomota Superciliosa (supercilious is a good description for this bird as we shall see), and is seen in the drier forests of the Nicoya Peninsula mainly in Guanacaste Province. Just how dry it can get is described in the Rumble and Weather Talk section above. The turquoise-browed Mot-mot version dominates all the way south to near Orotina (where the pacific coastal road known as the Costanera Sur meets the highway or Autopista from San Jose to Caldera).
Mot-mots not only offer beautiful plumage but also a tail that is unique in the aviary world. Two long feathers thin out to the diameter of a wire or bone and then, at the end of each bone, there appears a large round colorful circle of feathers. Truly a unique and distinguishing trademark, this tail is often called a "racket" tail because of its shape (OK I guess, some people play with two rackets).
Mayan Ruin in Cop

á

n, Honduras
It's not only in Costa Rica that Mot-mots have inspired legends.
To the north in Honduras, the ancient city of Copán, with a current population of about 400,000, was named by the Mayans after the Mot-mot. Dude, so why didn't they call it Mot-mot? (see What's-in-a-Word section below for the etymology of Mot-mot) This city, rich in Mayan culture, was occupied as early as 2200 BCE and the Mayan culture flourished there between the 6th and 9th Centuries.
Chichén Itzá Ruins
Only a few hundred kilometers north of Copán in the Yucatan Peninsula of Mexico, where there are literally hundreds of Mayan ruins such as Chichén Itzá, there are other versions of the Mot-mot legend. In this area the turquoise-bowed Mot-mot is the dominant type.
In Mexico they refer to the Mot-mot as the "clock bird" supposedly because its two long feathers are similar to the pendulums on a grandfather clock (this seems a little specious an explanation to me or at least maybe its a modern explanation as grandfather clocks were not around when the Mayans were). This description is further enhanced by the fact that the bird has a tendency to swing it's tail to and fro like a pendulum for some purpose, perhaps communication or as a mating ritual.
Baax the Chachalaca
In Mayan country, where the Mot-mot is called Toh, one of the favorite legends includes the bird taking on human attributes, which the Mayas did with many animals. In this legend a great storm is brewing and all birds gather to jointly build a structure to protect them from the storm. Oc the king vulture would supervise the building, Chujut the woodpecker, Panchel the toucan and Mox the parrot would collect timber. Baax the chachalaca and Cutz the wild turkey would carry the heaviest branches while the Colibri (hummingbirds) would collect grass, herbs and leaves for the roof. Other birds would gather fruit and seeds for food to tide them over the storm.
So what about Toh? According to the Mayan legend Toh thought himself to be an aristocrat and above the menial tasks involved with the shelter. When the storm hit, Toh hid himself in the crack of a rock with his tail exposed and went to sleep. When he emerged "all that was left of his beloved tail were two bedraggled and naked barbs with a small clump of feathers at the end". And that's how the Mot-mot got his unusual tail according to the Maya.
GG's Boruca Máscara de Diablito
In Costa Rica the legend is a bit different. First remember that two major tribes dominated before the Spanish came; the Borucas and the Bribri. The Borucas were and still are located in the mountains of Southwestern Costa Rica in Puntarenas Province in and around a town called Buenos Aires (less than a two hour drive from Quepos).
The Borucas are best known for their annual festival called Fiesta de Los Diablitos or Festival of Devils where they wear elaborate máscaras (face masks - the one in the photo is in GG's home - I always put it on when I feel like a devil). The folklore of the Borucas, however, is primarily based on another incredibly beautiful bird, the Quetzal not the Mot-mot.
The Bribri were and still are based farther east and a bit north of the Borucas in the Talamanca mountains east of Puerto Viejo. The Bribri indeed paid a good deal of attention to the Mot-mot. Their legend is a twist on the Mayan legend. The great god Sibó asked all creatures to help him make the world. All the birds joined in the effort except the Mot-mot (I have to believe at this point the Quetzal must have said something like "You ain't that good looking Mo").
When the other birds saw that the Mot-mot was being lazy they picked the feathers from the Mot-mot's tail but left the feathers at the tip. (see, it seems all the legends have to account for the unusual tail) After they all had finished building the world Sibó gave them a rest. Soon the Mot-mot appeared and began boasting about how hard he had worked. But his tail betrayed him. Sibó then banished him to living in a hole in the ground which is where they've taken home ever since. So there, pick a version of the legend that suits you but remember, the Mot-mot may be beautiful but it's also lazy and lives in a hole in the ground.
by Celia Bonaventura
Birds continue to mesmerize humans by their freedom, their beauty and what we can learn from them. Take the poem to the left offered by one of our Writers Group members that focuses on a tanager.
Celia Bonaventura lives part time in the hills of Escazu outside San José and part time in North Carolina. She loves the mountainside here and the frequent visits her home receives by tanagers.
Having been a cancer survivor herself she interpreted a recent incident concerning a red tanager as a parallel to her own experience and wrote it down in a poem she called "Expect the Unexpected". She introduces it this way:
"The ruby red feathers and fancy black trim of the Eastern Summer Tanager is often seen in the trees surrounding our hillside home on the Caribbean side of the mountains. Our colorful tanager visitor today was soaring high, and didn't see an obstruction – the clear glass of a high window pane.
The bird recovered, but left behind a lesson for living." 
Amen.
¡Solo Bueno!
---
¿Que es Eso? Department (¿What is That?)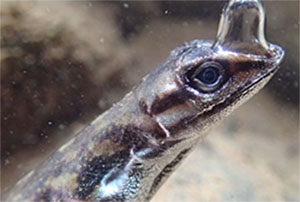 It's a Large Water Bubble on Its Nose?
Maybe the Poor Reptile has a Tumor?
Answer in What's-in-a-Word section below.
¡Pura Vida!

---
Carla and Jim
Living in Costa Rica tends to make one more appreciative of all kinds of animals, not just birds. Jim Henahan and his lady, both long time residents of Key West, Florida and long time dog lovers recently moved here. Jim and Carla are members of our Quepos-Manuel Antonio Writers Group and are working on a suspense thriller based on their knowledge and experience of Key West.
Jim and Carla, also long-time dog lovers offered the following story about their recent Costa Rican experience and impressions when they temporarily housed some dogs for our local animal shelter know as PAWS (Pets of Aguirre Welfare Shelter.
Puppy Tales

(from Two Dog Lovers of Costa Rica)
by Jim Henahan
Having a dog in the family is as natural here in Costa Rica as drinking fresh coconuts or supporting the local soccer team. Like anywhere else, having a dog, or dogs in the family entails a certain amount of responsibility. Feeding, cleaning , housing and healthcare for the perro are daily responsibilities and are for life. There is a tremendous joy and satisfaction from caring for our beloved dogs, because inevitably the love and devotion shown is unlike any other human experience.

Carla and I have been dog lovers for many years, and have raised many a puppy, rescued mutts, and been intimately involved in the canine circle of life; including, unfortunately the inevitable passing of our canine family members.

We decided early in our (potentially forever) Costa Rica adventure not to bring a new dog into our lives until we had settled completely, and could commit to the 15-odd years required to properly care for a permanent family member. But, we could not live without dogs completely, so we volunteered to foster dogs in need.

Costa Rica has a noticeable overpopulation of dogs, as can be seen on the streets and beaches of many towns. Some are happy scavengers, others frightened and starving or ill. The thing is, though, that the dogs continue to reproduce, exacerbating the problem. The puppies who survive are likely to continue the cycle in short order.
That is where animal rescue organizations like PAWS in Quepos comes in. When we contacted PAWS at their stand at the feria in Quepos some time ago, they welcomed our request to volunteer enthusiastically. At that very moment, however, the director was out of the country, so they took our information, with a promise to contact us with any volunteer opportunities.

Not long afterwards, we received a call from Dominique, the director, and had a lengthy chat about how PAWS worked, and what their needs are. It boils down to: Rescue, fostering, birth control, grooming, and healthcare. All of this requires a fair amount of money,( all donations!) and a great deal of human support.

Dominique explained how she and other families would foster rescue dogs, and litters of puppies until forever homes could be located. All of the dogs in their care were brought up to date on immunizations, parasite control, and had their medical needs attended to. In addition, all the rescue animals are spayed or neutered prior to delivery to their new family.

We told Dominique that we were available to foster a dog at any time, since we were renting a well fenced property that was very pet friendly.

Apparently there had been a local population explosion, because she said she had two litters totaling 13 puppies in her care, seven more at another site, and 6 more plus their mama that had nowhere to go! We jumped at the chance. What could be more fun than a puppy? How about six puppies?! They were so young, they would be sleeping most of the time, anyway, right?

We asked for, and got a great big box from Mini-Price; when we said we had puppies, they were super helpful! We got creative, and made a puppy palace, with swinging door for mama to come and go as she pleased. We put the palace in the main living area, so we could keep a good eye on things.

This worked out well for about 4 days, when the vitamins must have kicked in. We woke up to a floor strewn with puddles of pee, their bedding pulled every which way, and each puppy investigating a different piece of furniture. Time to move outdoors. We had 1 meter tall cardboard barrier surrounding the puppy palace now, and kept the whole unit in the back porch- well shaded, protected from critters and other dogs. But those cute little fur balls grew quickly. And learned that there was an outside world, too!

Within a couple of weeks, we concluded we would need a much larger pen, so we acquired some chicken wire fencing and created a new state of the art pen to make any puppy nanny proud. We fixed it up with a door that only opened in, and was too high for the pups to escape from. Again, this worked fine until the next growth spurt, and we continued to strengthen and reinforce all the escape routes, using zip ties, gorilla tape, scraps of lumber, and whatever ingenuity we had remaining. These pups were infernally clever, and were quick to outwit us, as they grew larger and smarter with each passing day.
Mama and Her Pups
On many occasions, we would call or text with Dominique as to what to do about Mama dog disappearing for hours, or when to start feeding solid food, or whatever. As it turns out, the puppies and the Mama are very much in control. If Mama wants to see or feed the puppies, wild horses will not stop her. If the puppies are hungry, they form an undeniable chorus line until they are satisfied.

Dominique reminded us that it is all a natural, instinctive process, and not to worry! She and another volunteer came by to vaccinate the pups and Mama against distemper, and treat them for potential parasites. All were given a clean bill of health.

On the subject of puppy poo, there are clear stages. Initially, there is very little to see, and the mama does a very thorough job of keeping the pups and their area clean. In the next phase, there are small piles or clumps that miraculously disappear if left alone (Mama again!) Next, however, is when things get sticky, literally! Once solid food is a regular part of the diet, the game is up, and one had better be prepared to devote a portion of every morning scooping, rinsing and deodorizing the living space. Their floor is smooth concrete, so hosing it down is not a problem. Also, the pups collective consciousness inclines them to leave their piles away from their sleeping hut, and in more or less the same quadrant.

After another couple of weeks, and another couple of growth spurts, the puppies were ready for the next pen expansion. Now they could sleep, play, eat and poop in more or less defined areas. They were now strong and nimble, and plotted like fiends. We had a few panic episodes, when one or another would elude us for one reason or another, but everyone eventually came back to ground. The manure issue was now extremely intimidating. The aroma was overpowering, and the substance like walking through a minefield of stinky mush. I began to call their yard the Augean stables, and my daily labor that of Herculean proportions!

We had promised ourselves not to become too attached to the little pups, or their Mama for that matter. We were just there to help them on their way. But their personalities developed, and we could not help but find something special in each one as they grew. At first, it was all we could do to keep a headcount. They all looked like, well, puppies! But soon it was obvious that there were striking differences, not only in appearance, but in temperament and demeanor as well.
Soul Sister
The white one became known as Squeaky, for obvious reasons. The brown one became Boxer, the snuggly one became Lover, the dark one was Waggy Jo for a while, then became Soul Sister for her soulful eyes. Then there was Trouble, aka Slim Shady. Probably could have called her Houdini for her escape prowess. And last, but not least, was the only boy in the lot. He took his time getting his act together, but became a real favorite with us and everyone who met him. We called him Big Fat Mac Daddy, because that's what he was!
Big Fat Mac Daddy
That brings us to the point of the story. As foster parents, we were responsible for raising the pups up to the time when they could be spayed or neutered, and ultimately given a new home and family The day arrived when the pups were due for the next round of vaccinations. We found out this would also be when Big Fat Mac Daddy was to be "fixed". And a family had claimed him, so after the procedure, he would be going home to a different location, without any of his soul mate sisters.

We were to gather up all the puppies, and meet at a location in Naranjito (about 15 minutes east of Quepos - ed.), where a veterinarian would be conducting a clinic.

Kristin, another volunteer from PAWS, came by on the appointed day, and we each took two puppies in our arms for the 45 minute ride. The puppies were strangely calm, which helped keep us from getting too emotional.

When we arrived, we saw other dogs being unloaded from various vehicles and brought into the building. All the other dogs were in crates, and they also were strangely quiet.

A woman outside approached me and asked in Spanish if this were a castration clinic. She seemed pleased to hear that it was, and inquired of Dominique if she could bring her dog. It turns out they do regular clinics, but you must make arrangements prior to the date.

The scene inside was stark, but clean, and unexpectedly air conditioned. The crated dogs were lined up on one wall, while we sat in folding chairs by the door. The vet arrived in a few minutes, and had a brief strategy discussion with Dominique and her mother (another very dedicated PAWS volunteer). All the dogs would be vaccinated, and then all the crated dogs would be fixed, that is, castrated. And finally, it would be Mac Daddy's turn. All the dogs were vaccinated in short order, and again, the puppies remained calm and quiet.
I gazed anxiously around the room, as the reality set in. This procedure was going to permanently sterilize our Mac Daddy! All of our intentions to remain adult and unemotional went out the window, and Carla sobbed quietly as the process began.
Puppy Surgery
Then things got serious. Dominique and the masterful vet gathered up the dogs in the crates, and sedated them swiftly and silently. Again the dogs did not squirm or complain. We squirmed and held our puppies close. Dominique came over for Mac Daddy, and returned him after a quick shot. While he began to doze, the procedures began in earnest. The vet had set up an operating theater on a table covered with clean sheets, and assembled the necessary tools and cleansers, etc. He also used a table lamp, and had a portable stereo playing salsa music.

One by one the puppies were taken, given another shot of anesthetic, and the operation was performed in under two minutes. About fifteen dogs later, it was time for Mac Daddy. We surveyed the floor of the room. All the other dogs were unconscious, and laid out in rows on absorbent pads on the floor. It was not unlike a scene from a battle zone, the little soldiers laid out awaiting the rescue choppers.  Carla clutched Mac Daddy close, and gave him a big kiss before letting Dominique take him to his fate. Two minutes later he joined his mates on the floor, sleeping peacefully. After spraying the affected areas with a disinfectant, the vet calmly packed up his gear, shook hands all around, and disappeared.
"What Did You Think of That Guy Cutting Us Sis?"
Our emotions were raw already, but we now had to surrender our boy to Dominique, who would bring him to his new permanent home. She assured us that Mac Daddy was going to a loving family with little children, and that she would make sure all was well. A few more tears a a final tender hug , and we rode home with one less puppy, but also with an unforgettable and moving experience to remember and share. Our hearts go out to all our canine friends, and those who care for them!

Epilogue: Since I wrote this, the puppies grew more in every way. We became very attached to their diverse personalities and their daily antics. Eventually, however, we had to let them go, to be with their new forever families. We sleep well knowing they have been raised well, and that they will be safe and happy. They will provide love and companionship in their new families, but since they have all been spayed, will not contribute to the overpopulation problem in Costa Rica.

Our house is pretty quiet at the moment, but not for long, I'm sure, as we expect another call from Dominique any day now!
¡Pura Vida!
---
Health Stuff
Note: The information given in this section is offered as news information only and does not indicate GGC confirmation or denial of the accuracy of the treatment or a recommendation to pursue it, nor can we or do we guarantee the efficacy of the results nor validity of the conclusions proffered. (How's that for a disclaimer amigos?)
Inquiring Minds Want to Know
GG first started this section ((Inquiring Minds Want to Know) under the Health banner in January of this year after losing his last sibling (of 5) to Alzheimer's. I came across a book called "Grain Brain" by David Perlmutter, M.D. that had an interesting slant on diet. For better mental health says he, consider: "reducing carbohydrates, eliminating gluten and increasing the consumption of high-quality dietary fat". Dude, increase fat???
I was intrigued by that assertion because I had reduced carbohydrate intake substantially during a six-month period in the early 2000's losing 68 pounds while experiencing a substantial increase in energy. Like many I had gotten away from that effort due to considerable business travel and laziness. Could carbs really be tied not only to weight but to aging problems such as dementia and Alzheimer's?

Intrigued, I began reading the book and noted in the Chronicles that I would try to post a review as I read it each month. Unfortunately, some other ailments, in the form of pneumonia and an attack of sciatica, got in the way. I'm coming back now and will try to summarize by chapter each month or second month the key points this book makes. This month it's the Introduction Section (18 pages).
INTRODUCTION  Chapter (Against the Grain)
Notable comments and quotes in this chapter:
The success of the book was not propelled by marketing but by enthusiastic support of those who tried the life changes suggested (more than 1,000,000 copies now in print).
Gluten is a bad actor retarding neurogenesis (growth and development of brain cells) and causes inflammation.
"The rates of dementia, including Alzheimer's disease, continue to rise sharply on a global massive scale."
The most common form of dementia is Alzheimer's, it affects one out of 10 people in America aged sixty-five and older.
Current spending on dementia is $215 billion (globally $1 trillion) – much of that could be saved with simple life style changes made at younger ages.
"Numerous polls taken around the world indicate that people fear dementia more than cancer…" Fear of death itself takes a back seat to the prospect of dementia".
"I'm here to tell you that the fate of your brain is not in your genes…it's largely in the food you eat."
The shift during the last century from high fat – low carb diet to low fat – high carb diet is the main culprit in escalating disease factors such as dementia, Type II diabetes, chronic headaches, insomnia, anxiety, depression, epilepsy, movement disorders, schizophrenia, ADHD and serious cognitive decline.
Perlmutter is not only an M.D. but an FACN (Fellow of the American College of Nutritionists) and is on their board of directors.
"There is little doubt that one of the largest and most wide-ranging events in the ultimate decline of brain health in modern society has been the introduction of wheat into the human diet."
"Having diabetes doubles your risk for Alzheimer's disease."
Perlmutter, a neurosurgeon and FAN (above), is on a persona crusade because his father, also a neurosurgeon, died after a long bout with Alzheimer's.
The book has three parts: Part 1 discusses "friends and enemies" of your brain " turning the classic and obsolete food pyramid upside down"; Part 2: Science that supports healthy brain, particularly supplements, exercise and sleep; Part 3: Menu plans, recipes and weekly goals.
Stay tuned amigos. Next month: How to do a self-assessment.
¡Pura Vida!
---
Travel Quote of the Month
¡Solo Bueno!
---
GGC Bookshelf

GGC Publications Group is the parent organization that publishes the Golden Gringo Chronicles as well as a number of books and paraphernalia related to the Chronicles and Costa Rica. The GGC Bookshelf also includes works from a number of other authors that belong to the Quepos-Manuel Antonio Writers Group in which GGC has been a founding member.
Here are the books currently on our bookshelf:
All of the above books are available on Amazon.com and the "Read More" links above will lead you to them. You can find more detail on all of them on our GGC Publications Page.
GGC Products Store
GGC Publications also offers some accessories and paraphernalia related to the Chronicles and with Costa Rican themes, to wit:
T-Shirts:

a. Golden Gringo Chronicles with Logo,
b. Official Golden Gringo with Monkey on Banana Hammock,
c. ¡Quepo en Quepos! ("I Fit In Quepos!") with Photo of Quepos,
d. Wanna Monkey Around? - Come on Down! (shown) with Photo of White Faced Monkey,
e. It's OK to be Slothful with photo of Three-Toed Sloth.
The t-shirts are available in several themes, colors, styles and sizes. See them all HERE.
Coffee Mugs:
a. Golden Gringo, b. Wanna Monkey Around?, c. It's OK to be Slothful
See them all HERE:
What's life without a great cup of Costa Rican coffee? And it tastes even better in a Golden Gringo Chronicles mug!
To see ALL the products available in the Golden Gringo Store go here: GGC Store.
---
What's-in-a-Word


"Tell me and I forget; teach me and I remember; involve me and I learn"
–

Benjamin Franklin

Answer to Que Es Eso?
That funny little lizard shown in the Que Es Eso section above is called an anole lizard. It's nickname in many parts is the scuba lizard or scuba-diving lizard because of its ability spend a long time underwater which it usually does to avoid a predator. That grey beauty with the air bubble shown above is a species common in Costa Rica. There are reportedly over 450 species of anoles across the tropical and near-tropical regions of the Americas including ten southern U.S. States ranging from North Carolina to Texas.
The one with the pretty purple tank shown here is a specie found in Florida that carries his air in a pouch under his head rather than a bubble on top.
Etymology of Mot-mot
It appears that the use of the word Mot-mot dates to around the year 1625 and was first used by the Spanish in Latin America. Popular belief has it that the word sounds like the call of the bird, namely "mot", "mot". Really? Judge for yourself by listening here:

https://www.youtube.com/watch?v=GAFPvneHJHM
Supercilious
My trusty online dictionary defines this character trait, which is also part of the official latin name for the Mot-mot (Eumomota Superciliosa) as "haughtily  disdainful or contemptuous, as a person or a facial  expression" with these synonyms: bossy, cavalier, cocky, condescending, contemptuous, disdainful, egotistical, haughty, imperious, lofty, nervy, overbearing, patronizing, proud, scornful, superior, uppity, vainglorious, high-and-mighty.
Yup, that's our Mot-mot, except it's also very beautiful.
Speaking Spanish in 10 Seconds
Who said you couldn't learn or speak Spanish quickly. Here's an easy to remember list of seven responses you can learn in less than ten seconds.
¡Solo Bueno!
---
ROMEO Corner
(Retired Old Men Eating Out)
Perizoso Sushi Bar, Hotel San Bada, Manuel Antonio
Location: Next door to the entrance of Manuel Antonio National Park.
Hours: Main Restaurant Monday thru Sunday Breakfast, Lunch and Dinner, Rooftop Bar and Restaurant with Limited Menu After 2 PM Daily ( $20 All-You-Can-Eat special - Mondays only.
Parking: Adequate in rear lot (shown in photo left).
Contacts: Phone: (506) 2777-5333; Website: http://www.hotelsanbada.com/es/;
Emails: info@hotelsanbada.com /  reservations@hotelsanbada.com
Reviewing ROMEOS: Anita M., Bob N., Charlotte H., Glen N., Pat H.
To Review Our Rating System Go Here: R.O.M.E.O. Rating System
This is one of the larger hotels in Manuel Antonio and strategically situated next door to the national park. At the suggestion of one of our ROMEOs we specifically targeted a Monday evening knowing that on that day of the week they provide an all-you-can-eat sushi fare for $20. We found out that there are two restaurants, a more formal and larger dining room on the first floor across from the huge pool and a smaller bar/restaurant known as the Perizoso (sloth with an overtone of being slow) Sushi Bar on the top and sixth floor where the sushi special is offered.
The building is modern but with a warm, earthen color scheme. The Perizoso Sushi Bar is a lounge on the top of the building with an excellent view of Manuel Antonio beach and the Pacific which we were able to catch just before sunset. The bar dining room is sleek modern with simple tables and chairs in the classic local tradition (heavy wood, no set cushions). The composite score for ambiance came in at 4.0/5.0 sloths which would turn out to be the highest single rating of the four areas on which we give a rating (ambiance, food quality, service and cost).
For the eat-all-you-can items we were presented a menu of sushi rolls of over a dozen varieties. We were also presented a separate menu of separately riced items.

GG selected a sushi roll with shrimp and smoked eel from the separate menu. Other ROMEOs selected Edamame (soybeans in the pod) which was shared amongst the group, Tuna Tartar, Philadelphia Roll (South Philly), pan fried mahi-mahi and other assorted sushi rolls.

The composite score for food quality came in at 3.9/5.0.

.2
$$$.25

Value Index= 99
Unfortunately the restaurant lived up to it's name (Perizoso) the evening we visited. The gentlemen who waited on us were polite and professional but it took a long time to get served out meals which came to us, dish by dish, as the kitchen finished them (not an unusual happening in a Tico restaurant but that evening it was quite long. Three of us ordered a dessert but eventually canceled them. The composite score for service came in at 1.8/5.0 and the average score for ambiance, food quality and service came it at 3.2/5.0.
For my off-special list sushi roll soft drink and a coffee by bill came in at just under $20. The composite score for cost came in at 3.25$ yielding a Value Index of 3.2/3.25x100=99.
The general conclusion was that the Perizoso has an outstanding view and the food is good but maybe we hit it on a bad night for whatever reason and that we'll have to try it again before we write it off.
¡Solo Bueno!
---
Opt-In Here to Receive Your Free Copy Monthly
The Golden Gringo Chronicles is a free newsletter that is non-political, non-commercial and, hopefully, entertaining. By signing up you will receive an email each month around the first of the month giving you the links to the latest edition as well as to each individual feature and departmental section.

CLICK HERE TO SIGN-UP FOR THE GOLDEN GRINGO CHRONICLES
or Email me at gg@goldengringo.com, or use our Website at: www.goldengringo.com

---
Bob Normand, Editor
& The Golden Gringo
Pura Vida!
To Contact GGC World Headquarters (yuk, yuk) to make comments, suggest topics or criticize my bad jokes, just send an email to: gg@goldengringo.com.
Be pithy but kind; I'm sensitive.


Unsubscribe from Golden Gringo Chronicles