There is no holiday in March in Costa Rica so we'll just have to celebrate our biodiversity; check out some of our local fine-feathered friends, for example:
| | | |
| --- | --- | --- |
| | | |
| Scarlet Macaws | Blue-Crowned Mot-mot | Resplendent Quetzal |
¡Felicidades Amigos!
---
Broken News


(All the News That's Fit to Reprin

t)
Zarcero Band Performance
Some Band Members Displaying Those Famous Tico Smiles
As reported last month, the marching Municipal Band from the town of Zarcero, near San José, took part in the New Year's Day Rose Parade in Pasadena, California. To see a two minute version of this band's outstanding performance go here: https://youtu.be/GmwhW_YYKzY.
The 156 member Zarcero band also participated on the previous Sunday in the California Band Fest, along with bands from the United States, Mexico and Hawaii. Rose Parade notoriety has opened other doors for the group, the band receiving invitations for presentations in Mexico and Colombia. The band has also received an invitation to the Disney Parade from Dec. 26 to Jan 4. The Zarcero band has performed in Italy in past years.

The Zarcero Municipal Band becomes the third Costa Rican band to have participated in the Rose Parade, following the Band of the Arts Conservatory from Cartago in 2005 and the Municipal Band of Acosta in 2019.

Great job, amigos, felicidades!
Murders Down in 2019
A recent article in an electronic newspaper about Costa Rica stated that the number of murders here had gone down in 2019 compared to 2018 by about 4%. They also pointed out that two provinces, Guanacaste and Puntarenas had increases, Guanacaste increasing by 17 in number to a total of 38 and Puntarenas increasing by 18 in number to a total of 75. What's going on on the Pacific Shore folks?
Most homicide rates that are quoted by sources are not by number of incidents but by rates measured per 100,000 population. That plus being a resident of Puntarenas caused an irreversible discharge in my engineering psyche that caused me to dig deeper and I assuaged that urge with the table to the right. The highest number of incidents in Puntarenas on a percentage increase was considerably less than Guanacaste but that's little solace when the Puntarenas rate (18.2/100,000) is considerably higher than the national average (11.2).
The other two items that stick out are 1) despite no increase or decrease in the number of homicides in Limón Province, the overall rate their is still the highest in the country at 29.5 and 2) most of the decrease in homicide rates nationally came from the "Other" provinces (San José, Heredia, Alajuela, Cartago), down 60 in number or -15%.
The overall homicide rate for Costa Rica came in at 11.2/100,000. For perspective recall that the U.S. rate is about 5.4 and Canada is about 1.8. Despite that, 11.2 still pales in comparison to some of our neighbors to the north such as Honduras (40.0) and El Salvador (51.0). Oye, Chiwawa!
Costa Rica #3 in Retirement Ranking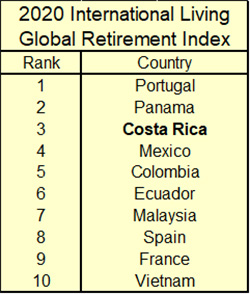 International Living Magazine publishes an annual ranking of the top 24 places for retirement around the world they call their Annual Global Retirement Index. The magazine uses its extensive network of correspondents to evaluate some 13 categories of valuations important to retirees, particularly expats. Among these are five considered very important: cost of living, national governance, retiree benefits, climate and healthcare.
The newly published 2020 Index places Costa Rica number three in the top ten as shown in the table to the left. The magazine cites several positive items for Costa Rica not unfamiliar to those who have done a little research on this subject. Among them are: a stable democracy, a good banking system, good options and reasonable costs of both personal and public health care systems, reasonable cost of living, a generally warm climate with options ranging from tropical rainforests to cool mountain air, ease of making friends in a warm and friendly culture, an incredible biodiversity and availability of a wide range of outdoor activities.
OK, GG is sold, I think I'll move there; oh wait a minute, I did.
Costa Rican President Renounces Retirement Pension
If you've been keeping up with the happenings in Costa Rica nationally you know that the new administration (2018) of President Carlos Alvarado has been embarking on a broad range of changes intended to improve the financial condition of the country. The program involves the imposition (...er, beginning) of a VAT tax system as well as a widening of the number of items to be taxed. On the fiscal restraint side President Alvarado's plan calls for capping, trimming and sometimes eliminating excessive pensions and bonuses of certain higher level government managers (only about 3 in 10 government managers receive these general pension bonuses).
To set an example, Alvarado recently announced he would renounce his own post-presidency pension. That's not a small figure; in his case it amounts to about $7,000 per month. On a per capita income basis analogy with the U.S. that would be equivalent to over $26,000 per month).
At least the Prez is putting his mouth where his money is (or is it money where his mouth is?).
Private Companies May Do Infrastructure Projects
Artist's Rendition of New Port in (Japdeva) Limón
Local press is reporting that some major infrastructure projects, delayed for years, are being reconsidered as private developments.
Evidently some of the "Law on Concessions" (the legal and regulatory framework that gives private companies the right to operate under specific conditions) have been re-interpreted in a way that will allow private companies to take on what would normally be government projects.
Currently under consideration (does that mean planning?) are two major roadways including the reconstruction of the main road to Limón from San José and the expansion of the main port terminal in Limón (Japdeva) into a major cruise destination.
Recovery of costs and profits would come from user fees and tolls.
¡Pura Vida!
---
Economic Drumbeat
(Costa Rica Business Happenings)
Signs of an Economic Leveling Off
This section has been replete with examples of new foreign investments and expansions of existing ones over the last year or so. Yet some analysts have been forecasting a slowdown in the economy as has been seen in many economies around the world. Add to that the fact that the Costa Rican government has entered an ambitious phase to both increase the breadth of tax income and the rate and a period of uncertainty might be expected. So it wasn't a surprise that recent press reports have offered up some examples of the economy slowing, to wit:
Applebee's Closes Operations. The restaurant chain Applebee's recently announced the closing of their operations in Costa Rica which included all three of the restaurants in the Central Valley opened between 2009 and 2012 requiring the termination of 90 employees. I love the way the decision was described in Spanish: "...it obeyed to profitability issues." Yup, business must obey to profits to keep running.
Savers Favoring Dollars. A recent report in an electronic newspaper noted that the Central Bank of Costa Rica has been showing growth in dollar savings accounts across the country but colone account growth is stagnant. The same effect has been seen in savings accounts, term deposits and investment fund assets. These seem to be the actions of savvy investors who are hedging their bets by increasing their ownership of more stable currencies, in this case dollars.
One of the Foro 2-25 Towers
Major Construction Project Delayed. For the past few years the San José Greater Metropolitain Area (known as "GAM" in Spanish) has seen the development of larger and larger construction projects that are combinations of high rise living space and customer service plazas or malls. One such project that had reached the stage of early sales was known as the Foro 2-25 project in Curridabat, a section of San José in the southeast quadrant of the capital city.
Foro 2-25 was envisioned as a set of two 25 story residential towers connected at the base by ​​a shopping plaza. The contractor, a well-known major projects company called HSolís Inmobiliaria has stopped the Foro 2-25 project because of "difficulties in early sales" of residential units" that were not encouraging.
The company states it is proceeding with other major projects around the city including a 150 meter tower (that's about 50 stories and will be the highest in the country) in the La Sabana park area of downtown.
Exports Slow Down as Well. A press report late in January noted that Costa Rican exports of products increased only 2% in 2019 versus an increase of 6% in 2018 over 2017. Winners were precision and medical devices - up 12% and representing 31% of the total exports and fishing - up 13%. Losers were agricultural sales, food, electrical or electronic implements, metalworking, and rubber all of which had a decline.
Sales of services were up a respectable 5%.
Bayer Planning Major Expansions Here
Now this is more like what we've been used to reading about lately. Bayer, a large German chemical and pharmaceutical company (2019 Worldwide sales about $60 Billion) is planning some sizable investments in Costa Rica. Over the next two years Bayer will add medical device production and service center operations to support their efforts in Central America, the Caribbean and the Andean countries.
The company first added service center employees in 2017 with 25 personnel and have increased that to 490 at the end of 2019. They also have some 120 employees involved in a production facility here making medical devices for radiology applications. The specific number of production personnel increases were not disclosed but were described as "plans to greatly expand those operations". The announcement said that the details will be announced in the next four months.
Costa Rica Rated Regional Leader in Business
The World Bank does an annual ranking which they call their Business 2020 report which ranks 190 countries according to best regulatory practices for opening and running a business. This year Costa Rica ranked #1 in Central America and #74 in the world for doing business. Panama came in at #2/84, El Salvador was #3/91, Guatemala #4/96, Honduras #5/133 and Nicaragua at #6/142.
This supports the reasoning of the significant number of businesses that have moved here to start or expand operations using Costa Rica as a base to service their customers in Latin America and even the U.S.
Teradyne Investing in Centralized Facility
Teradyne is a $2 billion per year plus manufacturer of "industrial automation solutions, including collaborative robotics, automated tasks and automated test equipment (ATE)".
The company first established a service center in Costa Rica in 2000 and has grown steadily since then. The new investment is for a $20 million central office and laboratory facility to be built in the Coyol Free Zone in Alajuela a short drive west of San José and the International Airport. The new facility will house some 350 employees currently spread around the Central Valley as well as add at least two dozen more.
¡Pura Vida!
Latin America Updates

(Significant Events In Neighboring Countries)
Bolivia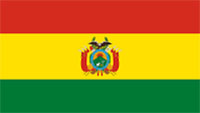 Former Bolivian President Evo Morales has not given up his demand for the presidency despite having been run out of the country. He did change his country of exile from Mexico to Argentina in the last weeks taking advantage of the newly elected leftist government in Argentina under Alberto Fernandez. Fernandez also spurned an arrest warrant sent to Morales by Bolivian authorities and vowed never to turn him over.
The Bolivian government, under opposition leader Jenine Anez, is continuing with its plan to hold new elections. For his part Morales continues to create dissident support in his home country and vows: "I'll be back!".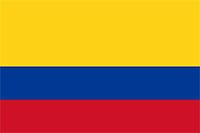 After six years of haggling over regulations Uber has decided to withdraw it's business from Colombia effective January 31. The company services over 2.3 million users and employed some 88,000 employee-drivers.
Traditional taxi drivers of course had protested Uber had an unfair advantage due to a lack of regulation requiring them to pay the same fees to which traditional cabs are subject. The Superintendent of Industry and Commerce ordered Uber to cease operations with the support of a judge who argued that: "the absence of quotas, the provision of services in private cars and the use of a dynamic rate were signs of unfair competition".
Yeah folks, that's what makes them so efficient and less costly.
Cuba
Jose Daniel Ferrar
Did you know there is a dissident organization based in Cuba opposed to the Castro regime? I didn't. It's called the Patriotic Union of Cuba (UNPACU). This organization was responsible for holding pro-democracy rallies against the Communist regime for several years. Recently the organization had been successful in attracting some big names to its rallies including Pope Francis, Barack Obama, and the king and queen of Spain.
UNPACU was headed by one José Daniel Ferrer shown in the photo, above right. I say was because the gentleman has not been seen in public since October 1 when he was arrested after a September rally to honor Our Lady of Charity, the patron saint of Cuba. After an extended effort by his wife and friends they learned that Ferrer was seriously ill from drinking and eating contaminated food and water he was served in prison. In addition to Ferrar, his wife, Nelva Ortega and their six children have also frequently been arrested and detained without charges.
The struggle continues. Such is the state of free speech on the Cuban Island today.
Panama
President Laurentino Nito Cortizo
President Laurentino Nito Cortizo took over the reins of government last May and said he found "a disaster in public finances, disorganized executive, and an unprecedented corruption record".
The public debt alone reached a record $30.4 billion recently or about $22,300 per household ($7,200 per capita). Cheer up Sr. Cortizo, Costa Rica runs about $6,500 per capita and that big gringo land to the north where GG comes from runs over $65,000 per capita (!).
Panama Canal running out of water. YYYY
Uruguay
In Costa Rica we regularly read reports of several hundred kilos of cocaine being seized as they try to make their way north to bigger and more profitable markets. But in Uruguay they have been seizing the drug by the tonne. A recent find was for 4.4 tonnes in the capital city port of Montevideo and was described as "the biggest drug confiscation in the history of the country". That's a street value in excess of one billion dollars. A short time later another ton turned up in the Soriano District north of Montevideo.
The 4.4 tonne shipment was mingled into a shipment of soybeans going from Montevideo, to Lome, Togo in Africa. From there I presume it could be distributed to both Europe and the United States as it's highly unlikely it was going to be bought and used in Togo.
Venezuela
Juan Guaido
If you've been following the Venezuelan debacle over the last year you know that there has been a tussle between the leftist president of the republic, Nicolas Maduro, the successor to Hugo Chavez, and president of the legislature, Juan Guaido. Maduro continues to be assured of power despite more than 10% of the population or over 3,000,000 people emigrating to seek a better life, many to neighboring Colombia, to get away from a collapsing economy (-25% last year) and severe shortages of basic items.
Juan Guaido Trying to Get to Work
Juan Guaido has been recognized as the legitimate president of Venezuela by the OAS (Organization of American States) and many other countries but Maduro refuses to give up control and is backed up by Russian and Cuban military presence.
In this past month Guaido was refused entry to his legislative offices and tried to get in the hard way (see photo above) but was stopped. At the same time Maduro appointed, illegally, another more loyal legislator as the new president of the legislature to replace Guaido who held that position before the current hassle..
The struggle goes on while the people of Venezuela suffer the consequences.
¡Solo Bueno!
---
(Rumble and Weather Talk)



(Shaky Happenings and Weather Observations On or About the Pacific Rim)
Weather
What can I say. While the TV is replete with reports of snow and frigid temperatures in North America we continue to suffer 85+F sunny days on Manuel Antonio beach sitting under an umbrella with a Pacific breeze lacing our outposts and the water temperature in the 80F range. Yet we carry on as best we can.
Rumbles
On January 21 at 3:30 AM in the morning, a 10-15 second (that's long folks) tremor with an epicenter only about 40 miles away from Quepos and only 13 km deep (shallow). The U.S. Geological Service reported it to be a 5.3 on the Richter Scale while the UCR machine came in at 5.6 (the USGS recorder always seems to register a few points less than the University - they might want to get their machines calibrated by the same engineer). The tremor woke GG up but that was the extent of the inconvenience yet the fault exercised its control by issuing a similar rumble about two hours later and a little closer to the town.
The real action this past month was in the Caribbean. There were several large shakers in the strait between Jamaica and Cuba including a 7.7R. Just for comparison recall that the strongest earthquake on record in Costa Rica was a 7.7 near Cartago in the early 1900's which caused great damage and killed some 500 Costa Ricans. Remember also that a 7.7R is an energy release over 100 times that of the 5.3R mentioned above. No confirmed reports of injuries or damage have been forthcoming.
¡Pura Vida!
Check Out Recent Earthquakes Around the World Posted by the

U.S. Geodetic Survey:
Recent Quakes
---
Search the Golden Gringo Chronicles Archives for Topics That Interest You
You can use our Archives to search for anything that has been written in more than 260 feature articles of the Golden Gringo Chronicles plus find Broken News items and ROMEO restaurant reviews. Enter your topic or item to search in the Google Search Routine below and follow the links offered from the search results. Suggestion: Enter only a simple, precise and unique as possible keyword or
two in order to narrow the number of references retrieved:
Golden Gringo Chronicles - Enter Search Here
Readers: Our publication is open to suggestions regarding future articles and will accept pieces written by others but we reserve the right to decline anything that the editorial staff (that's GG) thinks is inappropriate for this format. Send proposals, comments, suggestions, ideas, meaningless statements and jocular observations concerning the Chronicles to GG here: gg@goldengringo.com.
---
Profiles in Quepos Series
Eugene Godina, Tico-Tico


(

Doubling Down on Being Tico)
Scenic Drive Near Vernal, Utah
Some people come to Costa Rica to retire, like GG, but still others come here when they are young enough to take on a new business opportunity and maybe even a new career. So it was with Eugene Godina who moved here in 2013 at the age of 51.
Eugene's prior visits resulted in a very common contagious disease we experience here called Costa Rica-itis in which the subject contracts a serious addiction to the beauty of Costa Rica and its people (GG was afflicted this way also, on his first visit some 17 years ago).
Eugene Godina
Born in 1962, Eugene grew up as a small town country boy in Vernal, Utah (current population - 10,370). This town is in the middle of the Uintah mountain range in northeastern Utah. Eugene speaks of having to travel 50 miles to elementary and high schools and the trip taking three hours each day. Now that's being a country boy. I'm sure growing up in a place like that had to have instilled a love of nature; just look at that scenic view above. I'm also sure that the love of nature was the thing that re-triggered visiting Costa Rica.
As a boy and young man Eugene worked in restaurant service as well as the family business which was and still is a gilsonite mining company called Ziegler Chemical. Gilsonite is a mined bitumen product used in fracking and cementing applications. In addition to the family business and restaurant service, Eugene and his partner Terry owned and operated the Tiger Lily Flower Shop in Las Vegas for over 30 years.
Eugene moved to Las Vegas in 1986 where he met his husband Terry at an HIV advocacy training course at the beginning of the epidemic. After 31 years together they were married in 2018. Terry is now retired and living in Las Vegas for health reasons that developed after they had committed to the hotel project in Manuel Antonio mentioned below. Eugene has been active for many years in HIV-related volunteer work including becoming a founding member of the Sin Sity Sisters of Perpetual Indulgence (I think I had them in elementary school! - oh maybe that was a different Order).
Eugene and Terry's first visit to Costa Rica occurred in 1992 and those three weeks were followed by ten consecutive years of Vacations in Ticoland. After considering and traveling to many other places and pondering how they wanted to re-invent themselves for their sunset years they began thinking about the possibility of buying a B&B or hotel and started looking around for potentials.
One of the things they noticed about trying to get their own bookings during their visits here was what Eugene calls a lack of availability of rental choices, a lack of "flexible stay" alternatives. Virtually all hotels and B&B's at that time were based only on a nightly rate for two-week or less stays. Later, when Eugene became an apart-hotel owner he instituted his Flexible-Stay policy having different rates for a night, a week or a month.
So eventually they bit the bullet and started negotiations on their current property which is located about one third of the way up the Manuel Antonio main road. They finalized on the property at the end of 2014. It wasn't in the best of condition when they took it over and they knew it would need some serious upgrading. So they started by focusing on the basics, redoing the infrastructure from scratch including electrical, water and sewerage.
Then they completely remodeled the rooms and added a few more (now they're up to 13). They also added the Las Vegas Mini-super and Tour Center to the property where clients and others could avail themselves of a basic convenience store as well as purchase local tours. Finally, on completion they rechristened the property"Tico Tico".
Why Tico Tico? Tico, of course, is the nickname for Costa Ricans (originally concocted and applied to Costa Ricans by Mexicans) but Eugene reminded me that the term Tico-Tico has been around a long time. As an example check out the video left from the 1950's when Carmen Miranda (I remember her!) sang a song titled just that. When watching the video listen closely as she says "Tico-Tico" a dozen times in the song.
GG attended an open house at Tico-Tico in 2018 to see the results of Eugene's labor and effort and was very pleasantly surprised at the improvements they had made. The before and after photos below of the outside of the hotel tell the story well.
The tower (shown below, right) was added to make the property handicap accessible, though it is mostly used simply as an elevator to get your luggage to the second floor level where the rooms and pool are found and tropical gardens begin. It is also a nice touch when simply used as an elevator for us old dudes who can still use the stairs but would rather not.
| | |
| --- | --- |
| | |
| Tico Tico Before Renovations | Tico Tico After Renovations |
Let's talk business philosophy. I asked Eugene about his ideas on this subject and this is how he responded:
Would you do it again Eugene? "I'd start from scratch, just level the place and build anew, it's much simpler with older structures. The rain forest is a tough mistress with a wicked sense of humor when it comes to buildings and the terrain."
What did you think of the process you went through?
Project Completed
Now He's Happy
"…it takes patience, a type of fearlessness and a willingness to adapt, if you want to live and open businesses in a country where you do not speak the language, are not part of the culture and have no experience in the chosen trade.  (Thirty years of your life-savings to invest also makes it easier!).
I am grateful to Costa Rica for allowing me the opportunity to embrace its abundant beauty and culture and to learn more about myself as a human. My five o'clock rush hour now is when the Titi monkeys and scarlet macaws are feasting in the poolside African palms at the same time."
What this writer sees is a property greatly improved and a credit to the community thanks to someone who is willing to give it their all to make things better.
Thanks and congratulations Eugene and Terry.
¡Solo Bueno!
---
¿Que es Eso? Department (¿What is That?)
So Someone Asked the Question: "How Would a Tico Prepare for WW III?
Answer in
What's-in-a-Word
section below.
¡Pura Vida!

---
Population Growth in Costa Rica
(Up 713% In The Last Fifty Years!)
GG came across some information regarding how much the number of Ticos has increased over the years. For a reference base I used the starting year of 1938 up to and including 2018, an 80 year span and the last year being the first year the country's population exceeded 5,000,000.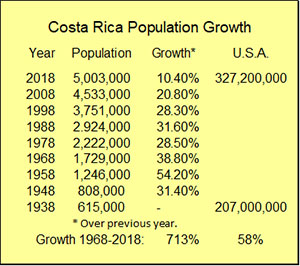 The growth in population is shown in the table to the left (which happens to span my entire life - GG's DOB is 11/27/43). The growth during that 80 year period in Costa Rican population was 713%!
Just for reference I also listed the growth in the U.S. population during the same period which came in at +58%. Of course the U.S. starting base was so large that just the increase in that population during the period in discussion amounted to 24 times the entire population of Costa Rica today.
Are we having fun with numbers yet?
Anther way of looking at it is population density. If you divide the current population in Costa Rica by the land area (51,100 square kilometers) you get a population density of 9.8 people per sq km (3.8 people/sq mile). If you do the same for the U.S. the number is 33.4 p/sq km or 12.9 p/sq mile (must be all those big cities like New York, Chicago and Los Angeles that increase the density number). Of course if Costa Rica had the same population density of the U.S. it would have 33.4/9.8 x 5,003,000 = 17,005,000 people (please folks, don't all come at once!).
It's also interesting to note that the recent march up to the current millennium was a period of explosive growth. The thirty years from 1978 to 2008 resulted in more than a doubling of the population in Costa Rica. Note also (and I think thankfully) that the annual percentage growth in population has moderated substantially in recent years which, if continued, should permit a more orderly increase in the services needed to support them.
Mestizo Painting of 1770
Who are all these people? The United Nations published data saying that over 83% of the population in Costa Rica (2018) are Mestizo or white. If you're not familiar with the term Mestizo, it goes back to the Spanish colonial days and refers to people of mixed Spanish and Indigenous background. The 100% native indigenous are sometimes incorrectly referred to as "Indians"; - the more correct term would be Amerindians.
Of the remaining 17% not white or Mestizo, 7% are black, including Afro-Costa Ricans or West Indians. These are predominantly English-speaking descendants of 19th century black Jamaican immigrant workers many of which came here to help build the railroad from the interior to the Caribbean port to transship pineapples and bananas. The largest group within the remaining 10% are pure Amerindians (Bribri, Boruca, Cabécar, Ngäbe, Maleku, Naso and Huetar). The residual balance after that is made up of Asians (about 2.5%) and about 7% who are not ethnically identified or identifiable.
Costa Rica has seen a substantial increase in immigrants in recent years sometimes due to turmoil or lack of opportunity in other countries. Counting immigrants rather than ethnicity, about 500,000 or 10% of the immigrant population are Nicaraguan and another 40,000 are from Venezuela. Then there are the immigrants from North America (many retirees like GG) and the European Union (particularly Scandinavia and Germany). In addition to these there is an estimated 110,000+ asylum seekers in Costa Rica from Honduras, El Salvador, Guatemala and Nicaragua.
Hard to Read Caption Says: "Over 250 Million People Are Currently Living Abroad; We Are The 5th Largest Nation On Earth
In terms of emigration, Costa Rican nationals have taken up residency in an array of other countries but their overall percent of emigration, according to Wikipedia, is the "...lowest in the Caribbean Basin and among the lowest in the Americas". A recent OAS (Organization of American States) report stated that some 133,000+ (about 3%) of Costa Rican nationals were living in foreign lands, to wit: United States (86,000), Nicaragua (11,000), Panama (7,800), Canada (5,000), Spain (3,300), Mexico (2,500), (Germany (1,900), Italy (1,500), Guatemala (1,200) and Venezuela (1,100). Guess they must like it here.
GG is beginning to see that it might be difficult to know who's actually living where let alone what language to speak.
¡Pura Vida!
---
Health Stuff
Note: The information given in this section is offered as news information only and does not indicate GGC confirmation or denial of the accuracy of any treatment or a recommendation to pursue it, nor can we or do we guarantee the efficacy of the results nor validity of the conclusions proffered. (How's that for a disclaimer amigos?)
100+ It's In The Beans, MAE!
GG couldn't help but laugh when he read this headline in an electronic newspaper recently:
"People Who Live To 100 Tend To Eat Lots Of Beans"
OK, take that you anti-carb freaks. Beans have a high carb content but the gent that wrote the article about beans made sure to point out that those carbs, i.e., the ones in the beans, are so-called complex carbs that are much better than the ones you'll find in pasta, pizza, Twinkies and a host of processed foods.
The author of the article, one Dan Buettner, cycled into (he's a passionate cyclist) several of the Blue Zones around the world to see what they were eating, or at least to see how they lived. One of the definitions of a Blue Zone is that people who live there have an unusually high percentage who live to be over 100 years. Go here for the definition of a Blue Zone - there's more to it than just beans. Although there are no banned foods in Blue Zones, these people don't go to the gym. They work hard physically, rarely eat meat and live in large family groups.
The U. N. has designated five places around the world as Blue Zones including part of Costa Rica's own Nicoya peninsula (the other four are: the island of Sardinia in Italy, Okinawa Japan, the Greek island of Icaria and, of all places, Loma Linda, California in the Los Angeles basin.
Says Buettner: "The four pillars of every longevity diet in the world are whole grains, greens, nuts, and beans," (What, no pizza, pasta, cheeseburgers or Twinkies?)
Keep the gallo pinto coming amigos.
¡Pura Vida!
---
Travel Quote of the Month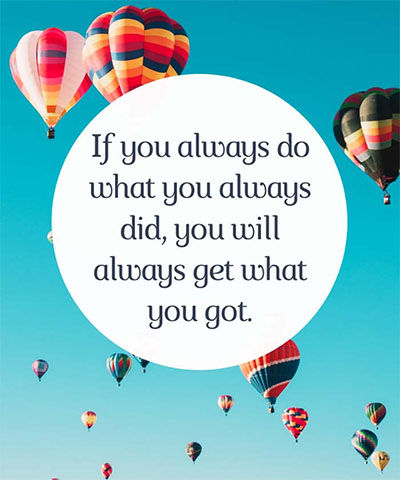 ¡A Cachete!
(see What's-in-a-Word section below for the colloquial meaning of this phrase).
---
GGC Publications Group is the parent organization that publishes the Golden Gringo Chronicles as well as a number of books and paraphernalia related to the Chronicles and Costa Rica. The GGC Bookshelf also includes works from a number of other authors that belong to the Quepos-Manuel Antonio Writers Group in which GGC has been a founding member.
Here are the books currently on our bookshelf:
The Chronicles as a Narrative
Mariposa - English
Mariposa - Español
Small Business Guide
Read More
Read More
Leer más aquí
Read More
Overcoming Drinking
Making Time Count
Spiritual Love Connection
Murder or Suicide?
Read More
Read More
Read More
Read More
Getting Around the Capital
Retiring in Costa Rica
World War II True Story
What's the Sleuth Up To?
Read More
Read More
Read More
Read More

**Coming 1Q 2020!**

Las Esferas

The Mysterious Spheres of
Costa Rica

There's Room for
More on the QMA Writers Group Bookshelf

Keep Writing Amigos!
Costa Rica National Treasure
All of the above books are available on Amazon.com and the "Read More" links above will lead you to them. You can find more detail on all of them on our GGC Publications Page.
GGC Products Store
GGC Publications also offers some accessories and paraphernalia related to the Chronicles and with Costa Rican themes, to wit:
T-Shirts:

a. Golden Gringo Chronicles with Logo,
b. Official Golden Gringo with Monkey on Banana Hammock,
c. ¡Quepo en Quepos! ("I Fit In Quepos!") with Photo of Quepos,
d. Wanna Monkey Around? - Come on Down! (shown) with Photo of White Faced Monkey,
e. It's OK to be Slothful with photo of Three-Toed Sloth.
The t-shirts are available in several themes, colors, styles and sizes. See them all HERE.
Coffee Mugs:
a. Golden Gringo, b. Wanna Monkey Around?, c. It's OK to be Slothful
See them all HERE:
What's life without a great cup of Costa Rican coffee? And it tastes even better in a Golden Gringo Chronicles mug!
To see ALL the products available in the Golden Gringo Store go here: GGC Store.
---
What's-in-a-Word


"Tell me and I forget; teach me and I remember; involve me and I learn"
–

Benjamin Franklin

Answer to Que Es Eso?
Here's a Tico in full regalia and prepared for participation in the next world war:
Weapons: (1) Machete, (2) Horse Whip, (3) Bug Spray
Ammunition: Grenadilla (looks like a grenade but doubles as food for energy)
Provisions: (1) Gallo Pinto, (2) Salsa Lizano, (3) Cacique & (4) Imperial Beer
Protection: (1) Sunscreen, (2) Rosary, (3) Virgin of Guadalupe
Meaning of ¡A Cachete!
Pura Vida is not the only response one can get from a Tico when you offer buenos dias or como estas in passing? GG has found (that is, I was taught by a Tico) that returning ¡a cachete! will almost always bring a smile. A cachete (cah-chet-ay although some say cah-shet-ay) is a cheek and if you say ¡a cachete inflado!, you're indicating a full cheek and this is interpreted as your being content, happy and in good spirits.
Meaning of Mae
You will frequently here Ticos intersperse their sentences with ...mae (pronounced mi) starting with it, ending with it or putting it once or twice within the sentence. GG thinks of this makeup word as equivalent to "dude" in modern English as favored by the young. A Tico friend told me it means "Mi Amigo Especial". Works for me.
¡Pura Vida!
---
ROMEO Corner
(Retired Old Men Eating Out)
La Alberca
Location: Byblos hotel Manuel Antonio; lower level beside the pool.
Hours: Breakfast, Lunch and Dinner (closes 10 pm) Monday through Sunday
Parking: Street level above the restaurant.
Contacts: Tel: 2777 6948, Email: N/A, Website: N/A
Reviewing ROMEOS: Bob N., Glen N., Kathy P.
To Review Our Rating System Go Here: R.O.M.E.O. Rating System
This is a new version of a restaurant that has been in that location for years. La Alberca, I learned, is the Mexican Spanish for swimming pool (darn, I had just gotten used to piscina). It lives up to their name in that regard as the restaurant is poolside under a cover of shade. The pool is available to restaurant guests and was being used by several of them as we ate.
The place has been redecorated including a large artistic relief of very large diameter bamboo rods that give a compliment to the laid back pool atmosphere. The tables and chairs are plain and in different styles (some not so comfortable) contributing to the idea of a pool club. The composite ROMEO score for ambiance came in at 3.5/5.0 sloths.
The menu is a two-sided laminated sheet with a limited variety of offerings that also contributes to the relaxed pool club atmosphere.

Rollos de Pollo La Alberca

GG and one other ROMEO were intrigued by an item called "Rollo de Pollos La Alberca", which turned out to be the restaurant's specialty, chicken rolls (shown in the picture left). These were small stuffed chicken rolls cut from what I presume was one large roll that had been coated with a layer of toasted coconut and topped with a piece of pineapple and sitting on a light sauce that seemed similar to a pesto. Simply quite delicious.

Another ROMEO had fish tacos served with a green sauce reminiscent of avocado and accompanied by a "great cabbage salad". The composite score for food quality came in at 4.5/5.0 sloths.

.8
$$$.0

Value Index= 127
We were served initially by a waitress than was attentive but, as time went on and the number people in the place increased, the service understandably slowed. I felt a certain sympathy for our waitress as she tried to satisfy the demands of about ten tables. Eventually two young gents aided her by handling the bar and drink situation. The composite score for service came in at 3.5/5.0 sloths.
For a gin michelada (limone juice and ginger ale over ice in a salted glass) to start and one coke with the rollo pollos, GG's bill came to just over 11,000 colones with tax and service charge included (just under $20). The composite score for cost came in at 3.0/5.0 which yields a Value Index (the average of ambiance, food quality and service divided by the cost rating) or 3.8/3.0x100 = 128; pretty good for Manuel Antonio these days.
La Alberca represents another good option for good food, particularly light meals such as lunch. Try those rollo pollos amigos, they're good.
¡Solo Bueno!
---
Opt-In Here to Receive Your Free Monthly Copy Of
The Golden Gringo Chronicles

The Golden Gringo Chronicles is a free newsletter that is non-political, non-commercial and, hopefully, informative and entertaining. By signing up you will receive an email each month around the first of the month giving you the links to the latest edition as well as to each individual feature and departmental section.

CLICK HERE TO SIGN-UP FOR THE GOLDEN GRINGO CHRONICLES
or Email me at gg@goldengringo.com, or use our Website at: www.goldengringo.com

---
Bob Normand, Editor &
The Golden Gringo
Pura Vida!
To Contact GGC World Headquarters (yuk, yuk) to makecomments, suggest topics or criticize my bad jokes, just send an email to: gg@goldengringo.com.
Be pithy but kind; I'm sensitive.


Unsubscribe from Golden Gringo Chronicles