---


Broken News
(All the News That's Fit to Reprint)
Costa Rica Closes Southern Border to Mass Migrations
The southern end, or beginning, of the mass migrations that are captured on the news reports about border crossings from Mexico into the United States has continued to swell in the last six months. When it first started last year (or was it 2019, the Covid memory fades) migrants from many countries including Venezuela, Colombia, Cuba, Haiti and even African states, found there way to Panama.
Haitien Immigrants Near Neocli Colombia
Migrants then had to cross the treacherous southern jungle of Panama called the Darien Gap up to the northern Panama border with Costa Rica, then cross the border and head north, then through Nicaragua and several other countries until finally traversing Mexico where they could then cross into the U.S. The process was disrupted later when Nicaragua suddenly closed their border (bolstered by their military) to such migrations leaving hundreds in tent camps here in Costa Rica before being transported by Costa Rican officials via air and sea around Nicaragua to Mexico.
Faced with ever growing mass migrations once again and reports of more than 10,000 migrants gathering in the northern Colombian beach town of Necocli, which has a normal indigenous population of 20,000, Costa Rica recently announced that it will no longer open its border (at Paso Canoas) to such migrations. At the same time the Foreign Minister of Panama, Erika Mouynes, summoned the ministers of Foreign Affairs of the region (didn`t know she could do that) to address the crisis. First meeting was scheduled for August 11 (this reporter won`t be there if one has to cross the Darien Gap to get to the meeting).
UPDATE: The above report was based on an early August foreign press release and the situation may have been resolved to the extent that Colombia and Panama have agreed on permitting some 650 migrants a day to cross the border into Panama. What this means to the Costa Rica border situation is not clear at this time (at least to this reporter).
Another Crash With The New Trains
For the third time in as many months one of the new electric trains now running in the Central Valley (GAM) has had an accident involving another surface vehicle, this time a pickup truck. The run-in occurred in Heredia, 100 meters east of the Heredia train station. Fire department equipment was dispatched to the scene and two of the truck passengers were transferred to the hospital for further treatment. The 90 passengers on the train reported no injuries (sometimes it`s better to be in the larger vehicle in a crash).
The national train company (Incofer or Instituto Costarricense de Ferrocarriles) noted that the first two crashes, one in Cartago and one in San José cost the train company a total of $30,000 for repairs. They also suggested they will be pursuing drivers in court for not yielding to the trains, which is required by law (running the warning lights is sometimes considered a sport).
Given the hidden added costs now developing for the train system it might have been better to pursue a subway or elevated rail strategy, eh what, cries GG, a lone voice in the jungle?
SJO Gets #3 Latin America Ranking For Passenger Friendliness
The Consumer Choice Center, which states its purpose as being "The Global Grassroots Movement for Consumer Choice", recently ranked San José`s Juan Santamaria Airport (SJO) as #3 out of 30 Latin American airports for passenger friendliness. It shared third place with São Paulo/Guarulhos International Airport (GRU), in Brazil.
The study was based on location, access, and public transportation options and it analyzed entertainment options, number of shops, restaurants, lounges, access to the air network, and the number of flights and destinations. The analysis included a large amount of public information as well as submitted data requested from airport management authorities.
The top ranked airport was Mexico City International Airport (MEX) and second highest ranking was registered by José Joaquín de Olmedo (GYE), Ecuador. Three of the top ten were in Central America: San Jose, Costa Rica followed by La Aurora (), Guatemala (GUA, #5) and Panama City, Panama (PTY, #7).
Good job, Ticos!
The year of 2021 is turning out to be a year of anniversaries including the country`s 200th anniversary of their declaration of independence from Spain in 1821. Recently added to that list is the fact that it also is the 25th anniversary of the forming of Intel Costa Rica. The company now employs over 2,700 in Tico land. It`s interesting to note that Intel Corporation itself was founded not much more than 25 years before Intel Costa Rica. Ticos have been in the Intel mix about half of the Corporation`s existence.
To express its thanks to the country and people of Costa Rica, the company will begin its celebration on September 15 with a drone show. as part of the countries 200th. This drone show is the same as the presented at the recent Olympic Games Tokyo 2020, the celebration of St. Patrick's Day in Ireland and the Super Bowl.
The show will be done at no cost to the city or country. Said the General Manager of Intel Costa Rica, Ileana Rojas: "At Intel Costa Rica there is much to celebrate, as it is 25 years of the contribution of Costa Ricans to the Intel Corporation and to the economic and social development of the country."
Way to go Chipsters!
¡Pura Vida!

TOP
---


Economic Drumbeat
(Costa Rica Business Happenings)

Chuck E. Cheese Plans Two New Costa Rican Stores
Chuck E. Cheese, the pizza company that also includes entertainment centers in their stores recently announced plans to add at least two more stores to their Costa Rican list. The company says it will spend $2.5-3.0 million on each location. The focus of this company is the younger market who today are interested in both the entertainment part of the
This chain has grown dramatically in the approximately 45 years since its founding in 1977 by a gentleman who also was cofounder of Atari. There current location list shows 54 centers in Costa Rica, 241 in Central America, 2,212 in Latin America and over 33,000 worldwide. While the company owns some 500+ of these stores directly it acknowledges that most of the international locations are franchises.
I would think this kind of rapid growth could strain the strongest of businesses and I noticed a recent press report that said that Chuck E.`s parent company CEC Entertainment recently emerged from bankruptcy claiming their reorganization now provides more strength. Let`s hope so, the concept of combining pizza with an entertainment center has to go down as one of the cleverest marketing strategies in business history; buena suerte amigos.
Top Five Cities For Digital Nomads In Central America
A regional electronic newspaper recently posted an article about digital nomads and listed what they rate as the best five cities in Central America in which to be a Digital Nomad.
Here`s the list with their key positive ratings:
(1) San José, Costa Rica. Many young professionals, long history of dealing with expats, well-developed computer networks and range of services, mature airline connections, beautiful country with mountains, beaches and jungles.
(2) Antigua, Guatemala. Fast growth as a remote working destination, incredible landscape, stable Wifi, bustling city life.
(3) Panama City, Panama. This bustling City has had one of the largest expat communities for many years and boasts high-speed wifi plus a robust entertainment culture. Best air connections services in Central America.
(4) Granada, Nicaragua. One of the more picturesque Central American cities situated on Lake Nicaragua overlooking a huge island in the middle that contains a double-volcano national park. The author of the 5-best article suggests that internet services in Nicaragua have come a long way in recent years but this writer would also suggest investigating the political situation in all these locations before making a decision.

(5) Jacó, Costa Rica. The 5-best author suggests Jacó as a budget alternative to San José. GG kinda puts that tag on Quepos also and telecom services will be found adequate in both places (and then, of course, there`s the beach in both Jacó and Quepos.
So if the spirit is moving you, Central America can offer the restless electronic enthusiast the possibility of a new life as a Digital Nomad. To read more on what it`s like to be a Digital Nomad, go to the second feature article below and the set your sails for adventure amigos, it`s a big world out there.
Avianca Increases Flights at SJO
Avianca Airlines, based in Colombia, is one of the largest airlines in Latin America and during August they announced the addition of six new flights sourced from San José (SJO). The new flights offered will connect SJO to Cali (Colombia), Medellín (Colombia), Los Angeles, New York, Managua (Nicaragua), and Mexico City. What can you say about an airline that has as its motto or tag line: "Todo Para Enamorarte" (Everything for Your Love).
Stryker Expanding
Stryker, a $15 billion medical technology company based in Kalamazoo, Michigan, opened it`s Latin American headquarters in the San Antonio Business Park in Heredia (photo) only two years ago. The company recently announced that they will be installing a North American Procurement Center at this location and will be adding 100 new positions to their current employment of around 350.
The new positions will be mostly in Finance and Administration. To see what jobs will be available and/or to apply, visit the Stryker website and Stryker Careers site.
Costa Rica Top Rated for Foreign Investment
A new business index was recently published that reflects the current growth experienced in the Central Valley, which has become known as Costa Rica`s "silicon valley". Maybe this area should be called "Med-Tech Corridor" to more accurately reflect it`s recent character and performance.
The rating (Greenfield Performance Index), a service of fDi Intelligence and the (London) Financial Times, is a measure of how much foreign investment is attracted into a country and is adjusted to reflect the country`s (GDP). On that basis, in 2020, Costa Rica led the list as it attracted 11.4 times the amount of investment that would be expected given the country`s GDP size. Second and Third place went to Lithuania (8.2) and Serbia (4.8).
Despite foreign investment being down,7.7% in 2020, last year was still the second best year for that statistic in Costa Rica in the last two decades. GG suggests that one factor in this good statistic is the rapid development of the "Med-Tech Corridor" as described in the article above about Stryker.
We`re coming back amigos, we`re coming back.
Surfboard Tax?
Representatives of the Costa Rica surfing association recently made a proposal to the legislature to tax incoming surfboards at the rate of $1 per board. The proceeds from the tax would be split between the Government Tourist Department (ICT), the Costa Rican Red Cross and the Costa Rica Surf Association, the latter to promote the practice. Percentages to be allocated to each were not reported.
GG ran the numbers based on 16% of tourists bringing surfboards (CRSA estimate), 2 boards per tourist (they also say surfboard tourists bring up to three boards each) and for 2019 the tax would bring about $1 million and based on 2020 tourism it would be about $320,000 before the three-way split.
Shouldn`t we be hesitant to add another tourist tax (13% sales tax on rooms, meals etc. still applies) as we try to recover from COVID?

¡Pura Vida!
TOP
---
Latin America Updates
(Major Events In Neighboring Countries)
Haiti
The July assassination of its president, Jovenel Moise, threw Haiti into political turmoil from which it has not yet recovered, not yet adjusted. As if that wasn`t enough bad news, the little country was hit on August 5 with a 7.2R earthquake with an epicenter identified by the U.S. Geological Survey as being 12km (7.4 miles) northeast of Saint-Louis du Sud (map below), on Haiti's southern Tiburon Peninsula. This is about 150 km west of the capital Port-au-Prince and about 150 km (90 miles) west of the capital Port-au-Prince. It struck at a shallow depth of 10km (6.2 miles).
Many of these Caribbean islands lie on the peaks of unstable mountains below the surface of the ocean. The magnitude and the relatively shallow depth of the tremor propagated it to a wide area around the western Caribbean including Cuba and Jamaica. There were reports of building collapses all across the Haitian area; recall that much of the residential construction in Haiti is the old, relatively inexpensive adobe type - clay bricks that can easily disintegrate in a tremor.
The devastation was obvious and reports had the fatality count closing in on 2,000 by the end of August.


Nicaragua
Berenice Quezada
July press reports were flying that President Daniel Ortega had jailed, or placed under house arrest, 29 election opponents who were vying for positions in the November National Elections. In August he added at least one more to the list, Berenice Quezada. MS. Quezada, 27, a former Miss Nicaragua had joined the fray to be the VP running mate of presidential candidate Oscar Sobalvarro of the Alianza Ciudadanos por la Libertad Party (CxL).
VP Rosario Murillo
On August 3 at 9:30 pm Quezada was informed that she was under house arrest and under Nicaraguan election rules that disqualifies her as a candidate (it`s that easy to do). Evidently her "crime" was that she participated in the opposition demonstrations of 2018 that resulted in over 300 dead at the hands of the government police.
As we used to say in engineering school to complete the proof of a theorem: Q.E.D., Quod Erat Demonstratum or "That which was to have been demonstrated, has been." although we joked that it really meant Quite Easily Done). So let`s see if we get this straight: 1) as the current administration you put an opposition leader under arrest and then, 2) you arrange the rules so that a person put under arrest can`t run. Koool, Quite Easily Done.
Kitty Monterry
Of course this also removes Quezada from posing any possibility of being a threat to beating the current VP, Rosario Murillo, who also happens to be Ortega`s wife. Sandanistas-1; Anyone Else-0.
UPDATE: On August 10, it was announced that the President of the CxL Party of which Berenice was the candidate for VP, a lady by the name of Kitty Monterry and a former Nicaraguan Assembly member, has fled Nicaragua and requested asylum in Costa Rica. Of course, under the election rules that act eliminated any and all candidates of that party from participating in the November elections in any form. The CxL party was expected to give the Ortega regime the biggest challenge in the election. Q.E.D.!
Just to make things even easier for Ortega and Co., the offices of La Prensa, the largest newspaper in Nicaragua, one often critical of the administration, were raided and shut down by eliminating their source of newsprint. Q.E.D.!
MORE UPDATE: By mid-August, Costa Rican immigration authorities were reporting a strong uptick in requests for asylum by Nicaraguans coming south. The number for July reached almost 6,000 and was the highest monthly number seen here since the 2018 protests in Nicaragua that claimed 300+ lives. Marches were being held in San José by the new immigrants extolling "Nicaragua no estas sola" (Nicaragua you're not alone - photo right).
---



Haiti - A History - Part II


(The French Period Up to Independence)

In the wake of the Presidential assassination occurring in Haiti July 7, the Chronicles last month started a two part series on the history of this island country. The first article (Part I) covered the Pre-Colombian and Spanish Periods up to the early 1500`s on an island then known as Hispaniola. This month we continue the story of Haiti during the French Period (1625-1804). The French also, in the early days, claimed Hispaniola as their possession while rechristening the island as Saint Domingue. Final Haitian independence from both Spain and France would not occur until after a native and bloody revolution that ran from 1789 to 1804 which began the modern era.

Mea Culpa: When GG started this series last month I promised only two parts to the story. I have to confess that I very much underestimated the amount of history that could be packed into a country of only 11 million people with a land area about the size of Maryland. As I went on to write more this month I quickly decided that there is too much for just one more article. So I am revising the plan to have a total of three Parts to this story, the third being next month and covering the period from the Declaration of Independence from the French to the present. Sorry about the confusion.
___ ___ ___
Early History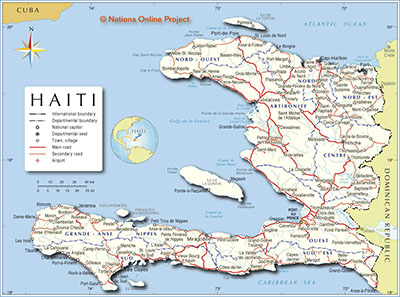 Detail Map of Haiti Today
Much of the history of the Caribbean islands and the Americas in general is an amalgam of competing interests from European royalties and assorted pirate adventurers. Some of the pirates action was on their own volition while others were silently financed by various European royalties.
In 1492 the world was first confirmed by Columbus not to be flat; that unexplored lands were yet to be found and conquered with untold potential riches beckoning. So the adventurers, their interests expanded and peaked, came in contact with, and often in conflict with, each other.
Because the Spanish had been the first to arrive in 1492, they laid claim to many of the islands and coastal territories for more than 100 years following Columbus` landing in Hispaniola and his claim on it for Spain. Today the west end of old Hispaniola is known as Haiti while the eastern end is the Dominican Republic (see the division HERE). For the 133 years following Columbus the Spanish essentially enjoyed control over Hispaniola and, therefore, what would become Haiti but the French were always in the area and contested Spanish control regularly, eventually coming to dominate the eastern end of Hispaniola.
Hispaniola and Fort La Navidad, the First Settlement in the New World
Columbus had built his first settlement on the northern coast of Haiti near the current city of Cap-Haitien. He christened it La Navidad (yellow print on map left).
On his return to La Navidad the next year (1493) he found all 39 settlers he had left there had been slaughtered, as well as the buildings that he had erected from the timbers of his wrecked Santa Maria ship also destroyed. But on the second trip Columbus came with 17 ships and 1,200 settlers, easily establishing two new, larger and better fortified settlements on Hispaniola.
Over the next few years Columbus expanded Spanish control including the settlement of Santo Domingo which he established in 1496 on the southeast coast of the island and which now serves as the capital of the Dominican Republic. Columbus finished his experience in the new world on his last trip in 1502 after touching many Caribbean Islands and shorelines (including Costa Rica). He sailed all the way down into today`s Central America coast (Caribbean side only, of course) into what is now Panama where he installed his brother Bartolomeo as overseer (bad Bart abandoned it a year later). Further explorations by others followed and soon reached all the way down into the northern part of South America.
A Buccaneer
At the same time, throughout the 1500`s and into the 1600`s, English, French and Dutch privateers operated in these areas, by then misnamed the West Indies after Columbus` first target objective, India. Some of the French took refuge on the nearby Isla de la Tortuga (northwest of La Navidad) where they could take advantage of nearby shipping zones by harassing and relieving Spanish Galleons of their overweight gold being shipped back to Spain. Occasionally the French would wander over to the main Hispaniola island and reclaim what control they could. The Spanish and French would continue fighting over the island, the Spanish continuing to call it Hispaniola and the French renaming it to their own liking as Saint Domingue which, of course, also meant that they viewed both parts of the main island as belonging to France.
Pierre la Grande
During this period in the Caribbean the Caribbean became resplendent with people who became known as buccaneers, a term derived from a native Arawak word buccan, and which referred to a wooden frame on which natives slowly roasted or smoked meat, often manatee meat. The French spelled it as boucanier while the English settled on buccaneer. A good example of a buccaneer, in this case a French boucanier, was one Pierre la Grande (born in Dieppe, France near Le Havre), who was reported to have snuck up on a Spanish galleon at night, then ordered the scuttling of his own ship by drilling a hole in the floor forcing his crew to board the galleon, slaughter the unsuspecting Spanish and take over the ship as their own. Nice leadership touch Pete.
French Ladies at Haitian Linen Market
It`s interesting to note that there is no single personage like Columbus associated with the French trying to rename Hispaniola as Saint Domingue mostly because the process was widespread and slow. Nevertheless, the French would frequently argue with Spain over the island and who actually owned it. For the French, their claim seems to have been derived simply from the basis of their being present there and whomever they could intimidate with that idea. The division of the island into two parts would not occur until a French-Spanish treaty in the late 1600`s.
In the early decades after the founding of La Navidad the native Arawak population suffered greatly and declined in numbers due to unending conflicts and diseases carried by the settlers and the settlers` livestock which were imported with them. Estimates put the native depopulation of Hispaniola during this period in excess of one million souls and touching up to 95% of the Arawak community. Continuous conflicts between European countries, chiefly Spain and France, but also including Holland and England, all of whom, owned and raided whole towns with many killed. One settlement at Yaguana, was burned to the ground three times in less than 100 years (first by the French, then the English, and finally the Spanish).
By the late 1600`s, with both Spain and France having serious problems with each other and elsewhere, including wars, the two countries agreed at the Treaty of Rijswijk (in Holland, 1697) to recognize that the western end of the island belonged to France while the eastern end to Spain. That would essentially be the breakdown for the future, the two sides becoming the future Haiti and the Dominican Republic respectively.
Slaves Working the Copper Mines in Hispaniola
The other happening in Hispaniola that occurred in 1502 besides the final departure of Columbus was the first arrival of African slaves in the colony. The early settlers had quickly realized that the valleys between the island mountains and the northern plains held exceptional crop raising possibilities.
Many of the early planters established hugely successful coffee, indigo, and sugar plantations. From the mid-eighteenth century until the French Revolution (roughly 1789–1799). Saint Domingue prospered, becoming the richest colonial possession in the world and the basis for French colonial wealth in the West. But it would do so mostly on the backs of slave labor.
With native populations dwindling and slaves available through French, Spanish and Dutch colonies in Africa, the slave trade began earnestly supplying the upper class plantations and mines in Hispaniola and other colonies (including Louisiana for the French). By 1750 Hispaniola, both French and Spanish were the richest colonies for both countries in all their worldwide possessions. Haiti at that time became known as "the pearl of the Antilles." If so, it was the black pearl. The need for slaves would, of course, spread to other islands and colonies in the new world later and noteworthy of these, because of their large populations and large land areas, were the United States and Brazil. By the late 1700`s it was estimated that the slave population in Hispaniola was over 500,000 while the free white people numbered about 32,000.
Slaves Cutting Cane for Sugar
Runaways and slaves who disobeyed their masters could and would be treated brutally, including torture, with no law to inhibit them. With a slave to free person ratio of about 16:1 and the horrendous practice of people owning other people as chattel firmly in place, and being able to badly treat them when they saw fit, it was only a matter of time before there was a rebellion and/or a revolution.
The first recorded slave disturbance occurred in Hispaniola in 1521 at Christmas time, only 29 years after the discovery of Hispaniola. It happened at a sugar-making plantation owned by Diego Colón, the governor of La Española, viceroy of Las Indias and one of Christopher Columbus' sons. There is little detail on what provoked the action by the slaves but when they tried to march some 60 miles east to join up with other slave groups, thereby threatening a true revolution, the colonists panicked. The slaves tried to take up makeshift weapons to defend themselves against the Spanish military, probably the most dangerous being the machetes they used to cut sugar cane. Attempting to reach the other slave camps many miles away they were brutally beaten back by the well-armed Spanish sporting their armor, muskets and swords.
The next year, 1522 the La Española colonial government published and sanctioned a tough set of laws specifically devoted to limiting the rights of black people in La Española, whether enslaved or not. These were punitive laws whose goals were to control and prevent similar insurrections from ever happening again. The 1522 laws are the oldest surviving code of Spanish legislation issued to regulate and punish black people who violated what the ruling classes viewed as the social norms in La Española.
Of course the French watched with interest but would wait more than a hundred years more before King Louis XIV issued his decree, called Code Noir, which defined the conditions of slavery in the lands of the French colonial empire worldwide (including Saint Domingue and Louisiana). The decree "restricted the activities of free people of color, mandated the conversion of all enslaved people throughout the empire to Roman Catholicism, defined the punishments meted out to slaves, and ordered the expulsion of all Jews from France's colonies". (What ever happened to "liberte, egalité, fraternite" Monsieur Le Roi?)
These laws and decrees defined classes of people according to a rigid caste system, including French born bureaucrats and landowners called, "Grand Blancs" (white planters born in the colony and known as Creoles), "Petit Blancs", poor whites as an under class, while people of mixed ancestry and freed slaves, known as "affranchise", came next in the social hierarchy. At the bottom were enslaved Africans.
Periodic rebellions boiled over on the island, as they did in French, Spanish and English colonies (including the English colonies in North America) , for the next 200-250 years. While the French solidified their hold on various parts of the eastern section of Hispaniola the Spanish tended to divert their attention towards their more lucrative gold holdings in Mexico and South America.
The 1700`s would bring the problem in Haiti to the forefront as a result of struggles that various peoples were making across the world to free themselves from oppressive regimes, most notably in the United States (1776) and France (1789). During this period there were periodic slave uprisings that murdered dozens and even hundreds of white farmers and probably a ten times or greater number of slaves. Conflict between landowners and slaves continued to percolate and sometimes became outright rebellion.
In the late 18th century English-born, American political activist Thomas Paine published his "Rights of Man" (1791) which argued that a constitutional republic was the best form of government. The rebels in France, to irritate the French Royalists, used this as one of their supporting arguments and declared that slaves and indentured servants everywhere were no longer bound to their slaveholders in any colony nor were they subject to Royalty in any way. Of course, the actuality of that slave-free condition would not occur even in the United States until 1865. But the rebellion fuse was lit and the French revolution chant of "liberty, egelete, fraternity" would be remembered.
In the 1790`s, as far as Haiti was concerned, the bomb went off. The French National Assembly passed a "Declaration of the Rights of Man" based on Paine`s treatise, making all freed slaves full citizens. But they did not check with white Haitian landowners who did not agree and civil war ensued. During the 1790`s hundreds, then thousands of slaves managed to slide away from their captors and formed localities in Haiti called "maroons". These were places, away from slavery, where former slaves could congregate as free people (even if they had no means to support themselves). By the end of the 1790s these former slaves would be very much ready for independence.
Toussaint L`Overture
Not all slaves had been equal during the slave period - some attained freedom and progressed by assisting the military; a few had even achieved the status of General in the French military. Three of these would be instrumental in the revolution and principal among them was François-Domingue Toussaint L`Ouverture (born May 20, 1743 in Haiti, and who is now considered the father of Haiti).
Jean-Jacques Dessalines
King Henri Christophe
L`Overture had been a long-time soldier who once fought against the French, then fought for them, rising to General, and now he would fight once more against them, this time for Haitian independence.
The other two leaders were: Jean-Jacques Dessalines, a principal lieutenant to L`Ouverture, who would be the one to declare Haiti independent as well as declare himself the first independent governor-general of Haiti. Later Dessalines declared himself Emperor of Haiti. During his "reign", Dessalines would order the massacre of between 3,000 and 5,000 white settlers and also abandon his friend Toussaint to be recaptured by the French. L`Ouverture, the father of Haiti, would die in a French prison while Dessalines, having promoted himself to emperor was assassinated in 1806, after which the third key military player, Henri Christophe, declared himself king.
The French revolution had an effect on the revolutionaries in Haiti. In March 1790, the newly formed French National Assembly approved the Declaration of the Rights of Man, giving Saint-Domingue's free people of color full rights as citizens. But white planters refused to recognize the decision; instead, they saw it as an opportunity to gain political independence from France. Napoleon Bonaparte would send soldiers to Saint Domingue but none were able to rest control from the revolutionaries even when the French offered elimination of slavery. Yet Nappy was having his own problems at home managing his own revolution so he didn`t press the issue harder or further.
Finally, on January 1, 1804 King Henri Christophe announced the French colony`s independence from France. The deed had been done and the French part of the island reverted to the local name, Haiti, with Ayiti (Kreyòl) being an acceptable alternative. Haiti was now the first independent black nation in the new world.
The struggle for independence and the freeing of the slaves in this period would spur a number of large Grand Blancs to move their plantations to Louisiana, then also owned by the French, and where slavery could be continued. The flourishing Louisiana Territory would later play a role in valuing the Louisiana Purchase which added a third or more land to the new United States of America.
___ ___ ___
Next month: The History of Haiti, Part III - The Modern Period, 1804 to the present.
¡Solo Bueno!
TOP
---

Rumble and Weather Talk
(Shaky Happenings & Weather Observations About the Pacific Rim)
Rumbling
a. Major Quake Expected In Osa - But When?
El Observatorio Vulcanológico y Sismológico de Costa Rica (OVSICORI - How`s that for a corker of an acronym), an organization associated with the National University, reported this month that the OSA Peninsula may expect a major earthquake of over 7R magnitude.
The scientist folk base this on their watching the Cocos and Caribbean plates, which they say have been developing "a huge accumulation of energy that has been taking place for 40 years" and eventually will result in a major shaker, similar to the Nicoya quake in September 2012 that registered 7.6R, the second highest in Costa Rican history.
No projection was offered by OVSICORI as to when this might happen.

Weather
a. Tornadoes in Alajuela and Heredia
So Much for Corrugated Roofing
No, this time the tornado wasn`t in Texas, Oklahoma or the rest of Tornado Alley in the States, it was in central Costa Rica, near Heredia and Alajuela August 5th saw a clash of storms from the Pacific and Caribbean seas that created some real cloud spinning in the central valley which in turn created a few tornadoes (particularly in Santa Bárbara de Heredia).
Unfortunately, much of the standard housing construction in Costa Rica employs corrugated metal roofing panels which are fairly light and can be easily lifted from structure in a strong wind. As many as 15 of these roofs were heavily damaged and some completely lifted off in the Heredia area. There were also a number of trees felled by the storm which resulted in damage to vehicles and power lines.
Reports were that, after the storm, people from nearby vecinarios (neighborhoods) were busy helping their neighbors recover. Now that`s Costa Rica, buen trabajo amigos.
b. 50 Year Storm Anniversary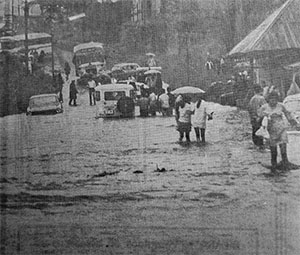 1971 - San José, Anybody Got A Canoe?
Heavy, rainy weather is certainly not new to Costa Rica or to the Central Valley, nor any part of Ticoland for that matter. August 12, 2021 saw the fiftieth anniversary of one of those oh-so-typical, tropical water deluges that hit San José in a big way.
Some 22 neighborhoods were virtually stalled from any commercial activity because of flooding. (photo left).The water dump that is shown in the photo occurred over a two hour period and caused blocked vehicles of all kinds, cars, trucks and busses to halt their service.
Meanwhile in Quepos I took the photo to the right from the balcony overlooking my neighbor across the street. Some cars are used as boats during storms like these and that one shown is sporting a good wake.
Press reports indicated over 200 people were affected by the same storm in Jacó, some 40 miles north of Quepos, some stranded in a shopping center. It may not be as dramatic as the 50th anniversary storm but it still stops traffic nonetheless. We`re definitely in the heart of the rainy season.
Mami mia, hay mucha agua, mae! (that`s my best Ticalitaliano)
Check Out Recent Earthquakes Around the World Posted by the

U.S. Geodetic Survey:
Recent Quakes

¡Pura Vida!

TOP
---

Search the Golden Gringo Chronicles Archives for Topics That Interest You
You can use our Archives to search for anything that has been written in more than 310 feature articles of the Golden Gringo Chronicles plus find Broken News items and ROMEO restaurant reviews. Enter your topic or item to search in the Google Search Routine below and follow the links offered from the search results.


Suggestion:
Enter only a simple, precise and unique as possible key word or two
in order to narrow the number of references retrieved:
Golden Gringo Chronicles - Enter Search Here
Readers: Our publication is open to suggestions regarding future articles and will accept pieces written by others but we reserve the right to decline anything that the editorial staff (that's GG) thinks is inappropriate for this format. Send proposals, comments, suggestions, ideas, meaningless statements and jocular observations concerning the Chronicles to GG here: gg@goldengringo.com.
---

Digital Nomads
(Have Computer, Will Travel)
We have a new class of worldwide workers that has arisen in recent years. These are people who work in a number of fields such as marketing (particularly digital marketing), teaching language, writing (content/copy), IT/software development & implementation, financial advice/management, e-commerce, online courses, photography and translations as well as many other subjects and disciplines. And they do so by remote computer connection. The point is not what they do but how they do it.
Other names for this style include: telecommuting, remote working, distance-working, teleworking, going Bedouin, working from home (WFH), mobile work, remote job, work from anywhere (WFA) and flexible workplace.  Basically, we`ve only touched the surface of Digital Nomad potential. Working from anywhere started gaining momentum when WiFi became available for consumer use in the 1990s, but predictions of this way of working go back decades before.
Because of the type of work they do they are characterized as Digital Nomads. This breed uses their telecommunications and technology skills to earn a living and yet conduct their lives in a nomadic manner, choosing a country or, for that matter, several countries where they want to live or for which they`d like to experience the culture. Once sophisticated interconnect software like WiFi and the Internet-enabled laptop were developed in the 1980`s, Digital Nomadism took off.
Digital Nomad Couple Hard at Work
The idea is that you can pick a beautiful place to live (and even change it periodically if you so desire) and do your work online GG describes as: Have Computer, Will Travel (and want to). They can find friends, travel buddies and even mates by using travel software like Fairytale and TourBar which connect with other Digital Nomads.
This work style gives young people today (and some not so young) a degree of freedom that GG likened to the feeling we old dudes had when growing up and when we reached our 16th birthday, we got our first car (some of us even had our first car before our 16th birthday, but that`s another story for another time). You know, It`s all about freedom to choose your lifestyle and where you want to live, an instinct as old in mankind as the "imperious urge" (c`mon man, you know what that is, don't you?).
In researching this article I came across an Australian professor who has done a report on Digital Nomad History. One key point he makes is that this is a social/work phenomenon still in its infancy with roots that go back only to the late 20th Century but not really being recognized as a "mainstream phenomenon" until 2014-15. Here are some dates that show what can be considered a brief compendium of the incredible development of Digital Nomadism:
1962-64 Marshall McCluhan predicts rapid increases in our ability to communicate worldwide, calling it the "Global Village". Later his concept is described as "Internet".
1964 British fiction writer Arthur C. Clarke predicts international contact with anyone, anywhere, any time due to advances in the transistor and telecom satellites.
1971 the first pre-internet computer networks are built at military and academic institutions in the U.S. and the first e-mail is sent between two universities.
based on a pioneering study in 1973–74, the concept of "telecommuting" was introduced, "Telecommunications Transportation Trade-off: Options for Tomorrow" (Nilles 1976). Concepts of flexible work hours and "telecommuting" introduced.
1974 Arthur C. Clark predicts that "One day a computer will fit on a desk and will allow people to work from home and access their banking records."
1981 - Intel cofounder Robert Noyce says: "we're going to find that people will live where it is conducive to live, not where it is conducive to work."
1980-83 the first personal computer, Altair 8800, released quickly followed by the IBM PC and other clones. (and who could forget their first Commodore 64?).
mid to late 1980`s. First satellite phone system, Motosat, introduced to the market in 1985, creating the category "mobile phone".

Steve Jobs and iPhone 1

World Wide Web (WWW) first developed in 1990. Netscape, Microsoft and Google fight for dominance, Google winning with their "killer app" labeled "Search"
2007 - Steve Jobs introduces the first iPhone, later stating that he was only looking to make a "really cool" phone, not a computer.
2000 to present-digital nomadism expands is uses and grows to over 30,000,000 users worldwide.

Travel agencies belatedly come to realize that "backpackers" often sported puters in their packs and began to court them for supplies, plug-in services and travel plans.
DNX Festival Berlin 2019
The digital nomad lifestyle is rapidly growing in popularity since 2014, when websites ranked cities by cost of living, weather and internet and helped nomads choose where to live. And through international conferences for digital nomads, like DNX for example, the digital nomad support structure provides information specifically for Digital Nomads including where they hold events and meetings (and an annual Festival). And of course, this work segment is well trained in using internet knowledge to enhance their work style such as social media. They even have their own set of digital nomad blogs dedicated to their concerns, needs and performance like Quicksprout, Google Webmaster, SEMrush, Vero, SendGrid, Emma, Copyblogger and many more.
As you might expect, the number of digital nomads is now exploding worldwide. Of course one of the things that added dramatically to the Digital Nomad count was the onset of the Covid Pandemic. All of a sudden, working on a remote computer was the only way to continue doing some business activities in a safer way. So, at the moment, it may be difficult to separate what is really "telecommuting" from what is avoiding the epidemic, from what is truly a selection of a lifestyle (alternatively, it is reasonable to expect that forced training in telecommuting just might convince a goodly number of people to adopt the Digital Nomad lifestyle as permanent).
Rough estimates in the literature say that there are at east ten million Digital Nomads in the U.S. now and that at least three times that number are in operation around the world. GG came across a summary of who and what Digital Nomads are and the data is presented in the table to the right.
This info was offered by an organization called "A Brother Abroad" and the entire report can be seen here: 63 Surprising Digital Nomad Statistics in 2021 | A BROTHER ABROAD. Great name, A Brother Abroad, I wish I had thought of it first.
So what should you bring when you investigate about the place you`ve chosen to go and what should you bring with you? Obviously you want to check out the availability of at least a reasonable speed internet connection and its cost. Other items suggested by people familiar with this field include these essentials as a minimum:
Sufficient income to sustain yourself (contract or independent income), otherwise you`re just another backpacker (debit/credit cards as backup are advisable)
Laptop and laptop stand/portable keyboard
Portable WiFi solution to stay connected
Universal plug adaptor
Digital mailbox from http://ipostal1.com to keep track of mail back home
And, of course it behooves a Digital Nomad to keep one`s Passport, Visa, Driver`s License and other important border-crossing documents up to date. That`s why we have electronic reminders like Outlook to warn us sufficiently ahead of an expiration, eh what?
Now, where to go? The world is open my friend, what turns you on. For me, Cosa Rica comes out pretty high on the list (as it was mentioned in the Economic Drumbeat above). The Internet here is good at most times despite the occasional power outage.
And Costa Rica really wants you Digital Nomads!
So much so that the Asemblea recently passed a new bill, which President Carlos Alvarado signed into law on August 11. It`s called the Digital Nomads Law and it seeks to attract foreign workers who work remotely. The legislation is designed to create a special non-resident visa with a term of up to two years, as a worker or remote service provider. It also includes exemption in the payment of income tax and import taxes on a basic personal computer, IT, telecommunications or similar equipment. And my Digital Nomads you`d be in one of the most beautiful countries in the world, replete with mountains, beaches and jungles to explore.
A friend named Ashley Haycock, who is a committed Digital Nomad, recently wrote an article for the Chronicles on what it`s like to teach (from Costa Rica) English to students around the world. You can read that article HERE.

___ ___ ___
Mars Terraformed
OK; all you budding Digital Nomad 10-yearolds, envision this: It`s 2051, you`re unlaxing on a brand new beach of blue sand and golden yellow sun with bright red mountains in the background. There are also now lush green forests since earthlings terraformed the Martian surface using DNA microbes extracted from the appropriate meteors. You settle in on your LoadStar1000 laptop and connect with a class of 13 aspiring astronauts on three continents to begin your IT-basics teaching session.
Oh pshaw, a critic yells: "At that distance, it would take the signal at least 22 minutes even at the speed of light to reach Earth, and then that would be only one-way...".
Professor GG responds: "There`s only one answer; we need a comm system that`s faster than the speed of light... Wormhole, Stargate maybe? Start working on it amigos because we`re going there like the extraterrestrials we expect to be!"
Couldn`t happen you say....ha ha ha ha ha!

¡Solo Bueno!

TOP

---
¿Que es Eso? Department (¿What is That?)
What a funny looking raccoon. Wait a minute, maybe it`s an over-sized mouse with very unusual markings?

Answer in
What's-in-a-Word
section below.
¡Pura Vida!
TOP
---
Health Stuff
Note: The information given in this section is offered as news information only and does not indicate GGC confirmation or denial of the accuracy of the treatment or a recommendation to pursue it, nor can we or do we guarantee the efficacy of the results nor validity of the conclusions proffered. (How's that for a disclaimer amigos?)
Covid Case Load,
Costa Rica is still coping with a spike in new Covid cases that began in mid-April and only started coming down in mid-June. Currently, the new case load has leveled off at a fairly high level as shown on new-case graph left.
Because of the new spike, a plan to re-open futbol (soccer) beginning on September 1, with a maximum of 30% of capacity for fans, has been postponed with no new date for resumption of play projected.
R-Rate Increase
The R Contagion rate this month is drifting upward again. Health authorities state it could be directly related to the Covid Delta Variant (or another variant) which is reported as more transmissible and which is now circulating around the country. The R Rate for the country is now (mid-month August) running at 1.03 ranging by province from a low of 0.95 (Limon) to a high of 1.09 (Puntarenas). A month or so ago, the R-Rate had dropped to below 1.0 which is where heath experts would like it because that implies a declining case load.
New Variants Detected
The Health Ministry announced in late August that 104 new-variant cases have been detected in Costa Rica since mid-July, 83 of them in the last three weeks. Variants so far detected by province as of August 25 were: Alajuela (28), San José (26), Puntarenas (13), Heredia (7), Cartago (6), Limon (6) and Guanacaste (6) (just quoting press reports amigos, but that totals only 86 not 104).
¡Pura Vida!
---
Travel Quote of the Month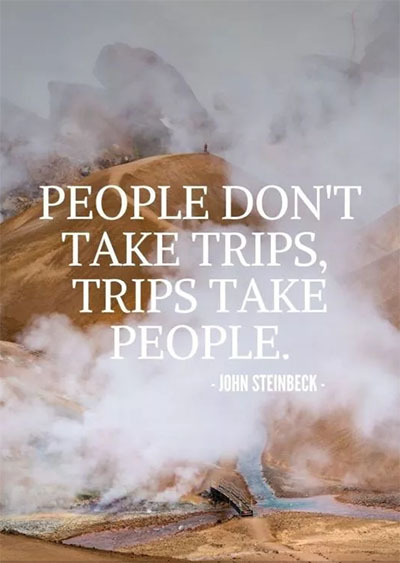 ¡A Cachete!



TOP
---
GGC Publications Group is the parent organization that publishes the Golden Gringo Chronicles as well as a number of books and paraphernalia related to the Chronicles and Costa Rica. The GGC Bookshelf also includes works from a number of other authors that belong to the Quepos-Manuel Antonio Writers Group in which GGC has been a founding member.
Here are the books currently on our bookshelf:
Costa Rica`s Mystery Spheres
Mariposa - English
Mariposa - Español
The Chronicles as a Narrative
Read More
Read More
Leer más aquí
Read More
Small Business Guide
Making Time Count
Overcoming Drinking
Murder or Suicide?
Read More
Read More
Read More
Read More
Getting Around the Capital
Retiring in Costa Rica
Avoiding the Pitfalls
What's the Sleuth Up To?
Read More
Read More
Read More
Read More

There's Room for
More on the QMA Writers Group Bookshelf

Keep Writing Amigos!
Spiritual Love Connection
World War II True Story

Wildfire and the Tribune

Read More
Read More
Read More
All of the above books are available on Amazon.com and the "Read More" links above will lead you to them. You can find more detail on all of them on our GGC Publications Page.
GGC Products Store
GGC Publications also offers some accessories and paraphernalia related to the Chronicles and with Costa Rican themes, to wit:
T-Shirts:

a.
Golden Gringo Chronicles
with Logo
b.
Official Golden Gringo with Monkey on Banana Hammock
c.
¡Quepo en Quepos!
("I Fit In Quepos!") with Photo of Quepos
d.
Wanna Monkey Around? - Come on Down!
(shown) with Photo of White Faced Monkey, e.
It's OK to be Slothful
with photo of Three-Toed Sloth.
The t-shirts are available in several themes, colors, styles and sizes. See them all
HERE
.
Coffee Mugs:
a. Golden Gringo, b. Wanna Monkey Around?, c. It's OK to be Slothful
See them all HERE:
What's life without a great cup of Costa Rican coffee? And it tastes even better in a Golden Gringo Chronicles mug!

To see ALL the products available in the Golden Gringo Store go here: GGC Store.
¡Solo Bueno!
---
What's-in-a-Word



"Tell me and I forget; teach me and I remember; involve me and I learn"
–

Benjamin Franklin

Answer to Que Es Eso?
That animal is a Northern Tamandua, also known as the Lesser Anteater. This one is also called a Collared Anteater because of it`s brown fur marking about the neck and is one of three species of Anteater found in Costa Rica. They are medium sized with a long snout, sharp claws and a prehensile tail.
Closely related to the sloth and armadillo, Anteaters don't have any teeth, just an extremely long tongue which helps them feed on their main diet of termites, ants and bees. When threatened, Anteaters can become very aggressive and are rumored to have killed much larger predators such as a Jaguar when attacked.
¡Solo Bueno!
---
ROMEO Corner
(Retired Old Men Eating Out)
La Lambretta Pizzeria
Location: Punta Vista Plaza, Manuel Antonio, Next Door to Emilio`s Restaurant
Hours: 12 pm to 9 pm daily except Tuesdays (when they`re closed)
Parking: Limited in front of the restaurant
Contacts: Tel: 2777 9103: La Lambretta Pizza | Facebook
Reviewing ROMEOS: Alma L., Bob N., Dennis L., Duston R., Glen N., Julia S., Olga C., Roger B.
To Review Our Rating System Go Here: R.O.M.E.O. Rating System
This is a basic pizza place that also offers an impressive array of this favorite specialty with a wide variety of toppings as well as a limited offering of pastas including lasagna and ravioli. They appear to have gotten the health word as they also have gluten free pizza.
The dining area is sparsely decorated with simple wooden chairs and tables. One major thing adds to the ambiance, the incredible view of the rocky pacific coast below that only a half dozen or so restaurants along the MA ridge enjoy sharing.
The composite score for ambiance came in at 3.8 out of a maximum 5.0.
GG and another ROMEO agreed to share a calzone. When it came, I was glad we had decided to share as it was huge for one person. Speaking more critically, the flavors were just not that Italian pique one gets used to in Italy of the Northeastern U.S. - more like an imitation that hasn`t quite made it yet (GG`s opinion).

We both ordered an Ensalada Griega (Greek Salad) and that to me was the highlight of the food with greens, olives and fresh goat cheese. Yummy.

Other ROMEOs ordered vegetarian ravioli, vegetarian pizza, risotto or the greek salad as a main course.

.79
$$$.8

Value Index= 100
The composite score for food was 3.7/5.0.
Service was provided by two of the staff and was courteous and helpful. The only complaint heard was the quite slow delivery of the various meals, perhaps because we arrived a few minutes before opening time and they hadn`t completely set up yet? The composite score for service: 3.9/5.0 making the composite average for ambiance, food quality and service = 3.79.
The cost for my (half of) calzone, the greek salad and a ginger-ale michelada was ₡7,979 or about $13. The composite score for cost came in a 3.8/5.0 bringing the over-all rating for ambiance, food quality and service to 3.79/5.0 and the Value Index = 3.8/3.71 or 100 which puts La Lambretta in the lower third of ratings for overall value that we`ve evaluated.
Comments by ROMEOs: "Ravioli excellent, small portions", "Not quite Italian, slow service.", "Greek Salad Excellent (3X)", "Food very good, great view, affordable", "Good pizza but soggy bottom dough."
¡Pura Vida!
---
Opt-In Here to Receive Your Free Monthly Copy Of
The Golden Gringo Chronicles

The Golden Gringo Chronicles is a free newsletter that is non-political, non-commercial and, hopefully, informative and entertaining. By signing up you will receive an email each month around the first of the month giving you the links to the latest edition as well as to each individual feature and departmental section.

CLICK HERE TO SIGN-UP FOR THE GOLDEN GRINGO CHRONICLES
or Email me at gg@goldengringo.com, or use our Website at: www.goldengringo.com

---
Bob Normand, Editor &
The Golden Gringo
Pura Vida!
To Contact GGC World Headquarters (yuk, yuk) to makecomments, suggest topics or criticize my bad jokes, just send an email to: gg@goldengringo.com.
Be pithy but kind; I'm sensitive.


Unsubscribe from Golden Gringo Chronicles