---


Broken News
(All the News That's Fit to Reprint)
Upgraded Quepos Airport Opens
Terminal Quepos
Pres Alvarado and Opening Ceremony
After considerable delays in the last two years, including the termination of a construction company contract due to mal-performance, Quepos Airport, known as La Managua (call letters XQP), has reopened. The $3 million project was recognized by President Carlos Alvarado (photo) in a speech on Wednesday, October 29.
The improvements included changes that comply with the safety regulations of the International Civil Aviation Organization (ICAO), plus a new parking area for Bravo-type aircraft (Bravo airspace surrounds the nation's "busiest" airports and supports both Instrument Flight Rules (IFR) and Visual Flight Rules (VFR). Other improvements included leveling of security strips, new perimeter fencing and a new rainwater system throughout the terminal.
Yet to come is a major renovation of the terminal as shown in the artist`s rendition. La Managua is an important service point for tourists and residents in the Central Pacific coastal areas. It currently services two commercial carriers, SANSA (the official domestic airline) and Costa Rica Green Airways. Both have connections to San José and to a few other regional centers. It takes less than a half hour to fly the San José route in either direction as opposed to driving 2 hours amid traffic.
Welcome back to life XQP!
25, Woops, 27 Candidates For President in 2022
2022 is an election year in 2022 and the country will choose a new president as well as elect, in February, all 57 diputados to the Asamblea Legislativa, otherwise known as the Legislative Assembly or congress of deputies. The constitution stipulates that a president cannot succeed himself for at least one intervening term so there definitely will be a new president in 2022 as well as his selection of two new Vice Presidents. The current list of candidates, along with their party affiliation is shown below (sorry about the size, it`s just too big a poster for the GGC format). This breaks the record for total number of candidates vying for the top job, the previous record having been 14 in 2006.
Note that each party has their own flag and as we approach the national election on Sunday, February 6, we`ll be seeing caravans of candidate supporters in cars and trucks displaying their party flag running through the streets of Quepos and every other town in Ticoland, happily blowing their horns and waving their banners. Lack of enthusiasm in any endeavor has never been a shortcoming among Costa Ricans.
If no candidate achieves 40% of the vote, which seems highly likely considering the fractionation of the vote into 25 parts, a runoff election between the two top vote getters will be held on Sunday, April 3. GG has a lot to learn about what these parties believe in before I`ll feel comfortable in casting my first vote as a new citizen.
Asamblea in Session
UPDATE 7 October: The number of candidates now stands at 27 with 17 of these seeking a seat in the Asamblea as well as being a presidential candidate. Yup, that`s right, they can run for Diputado and President at the same time. It seems that is more likely to give these two-fer-one-rs some recourse as their party might be popular in their own districts yet be of little sway nationally.
Now GG is beginning to see why the system fractionates into difficulty for any party to produce a majority. Governing coalitions between opposing parties will again be a requirement; there is no party that currently has more than 10 seats in the Asamblea and it is highly unlikely that any party will obtain 29 seats to constitute a ruling majority.
Pura Vida!
Controlled Restart of CONCACAF Futbol Games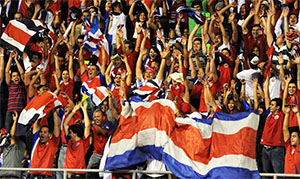 C`mon Guys, Show a Little Spirit
CONCACAF is our regional division of FIFA (French acronym for the international federation of world futbol associations). CONCACAF includes the countries of North America, Central America, South America and the Caribbean Islands. Many games over the past year to a year and a half had to be performed without fans in deference to Covid rules in various countries.
As a start to the return to Futbol games, a new ruling was instituted for a game between El Salvador and Costa Rica in the National Stadium on Sunday, October 10. Game attendance was limited to 5,000 (stadium seating is 35,000+) and each fan had to produce their Health Ministry card showing they were "fully" vaccinated (two shots) no later than 12 days prior to the game.
Keylor Navas and Bryan Ruiz
The game result was encouraging to Costa Rica fans as the Ticos prevailed over the Salvadorans 2-1 on the strength of Keylor Navas` traditionally good goaling and a successful penalty shot by forward Bryan Ruiz. The win continues Costa Rica on the road to the 2022 World Cup.
The President of El Salvador, Nayib Bukele, the "coolest president in the world" (Bukele`s own words) displayed his chagrin at the result, calling the penalty by the Honduran referee that led to the winning goal a "non-penalty penalty".
C`mon Bookey, be kool.
Anti-Vaccine Demonstrations
Costa Rica is not free of contentious adults that object to the Covid Vaccine or at least to the vaccination mandate. That was apparent on Friday, October 15 when a crowd of boisterous (some said insulting) vaccine protestors descended on the Ministry of Health in San José to voice their opposition to the vaccine mandate that can get one fired if not adhered to.
That`s Not Even Good Spanish Amigo
The group had earlier met with Defensora de Los Habitantes (Ombudswoman), Carolina Crespo. Costa Rica, like a number of countries around the world including Europe, has an Ombudsman, or in this case an Ombudswoman. The basic function of an ombudsman is to investigate and report on complaints against public authorities. Unlike a court, an ombudsman normally has no power to make legally binding decisions. Ombudsmen can also act relatively quickly and cheaply, and there is normally no cost to the complainant.
But the boisterous group then went on to invade the Ministry of Health office where they chastised and insulted Ministry personnel, particularly Daniel Salas, the Minister of Health. At one point the Fuerza Publica (National Police) had to intervene to calm the people, but withdrew after an hour.
Neither Snow nor Rain nor Sleet...
New Asamblea Offices Building
As part of the reconciliation of government offices that was designed to alleviate an extensive number of rented offices, the Asamblea (Legislature) funded and began construction on a new building to service legislative offices. The building was completed and dedicated in 2020. Since then there have been several problems with rain water leakage having to do with building design (maybe it`s about all those plants on the roof!) and more recently a break in a potable water line.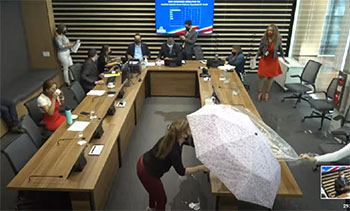 Committee Office Under Rain Attack
The builder from whom this building is rented - BCR (Banco de Costa Rica) identified the leak that occurred as being from the broken water line. The leaking worked it`s way through a number of offices causing havoc but the good legislators decided (by vote?) not to abandon the building but instead to stick it out even if they had to do their business holding an umbrella (photo right - note the puddles on the floor).
Just like the old Gringo Post Office motto; "Neither rain nor snow nor sleet will keep us from our appointed rounds!" and the Asamblea keeps on going!
¡Pura Vida!

TOP
---


Economic Drumbeat
(Costa Rica Business Happenings)

Gasoline Prices Still Heading Upward
Gasoline prices here, like in most of the industrial world, are continuing to rise as we head towards the winter in the north and the high tourist season here. RECOPE, the national refining company that has price control responsibility but refines nothing, announced the tenth increase in gasoline prices for this year as of 12 October. That would bring the cost of one litre of regular to ₡744 or about $4.48 per gallon and for super it would be closer to $4.55. A 45-litre tank now costs about ₡9,000 more colonies (about $14.50) to fill than it did in December of 2020.
Not what one would have hoped for in economies trying to get back to normal.
Tourism Trending Recovery But...
SJO Main Hall On A Busy Day
The Costa Rican government and the various airlines that service here have been working together to increase the air schedule while streamlining the protection process against Covid.
It seems to be working as 46,000 U.S. tourists entered the country by air in September reaching 93% of the pre-Covid rate (2019). European arrivals were about 14,500 or about 70% of pre-Covid numbers. Both figures are expected to show further progress as expected flight schedules planned for the rest of the year take effect in November and the balance of the year. Welcome back friends.
At this writing there has been a collision of interests and wills between the Health Ministry and the Costa Rican Tourism Institute (Instituto Costarricense de Turismo - ICT): The health ministry is planning to require (1 December) visiting tourists to present a paper or phone record that will possess a QR Code (Quick Recognition Code) that verifies the tourist having been fully vaccinated. The ICT of course is worried that this kind of policy might dramatically effect the high season. More on this to be revealed.
No Break for Car Owners on Marchamo
The Marchamo is an annual property tax based on the current value of your automobile(s). A bill was recently passed in the Asamblea (Legislative Assembly) that reduced the Marchamo for 2022 (due December 31 of this year) purportedly to relieve owners coming out of the Covid recession. It also included a clause to forgive back payments that were never met. President Carlos Alvarado vetoed the bill on October 29.
Alvarado Announcing Veto
The constitutional process now requires that the bill goes back to the Asamblea with suggested revisions in a process called "resello" and returned to the president with changes. Alvarado stated the bill as written would short the treasury some ₡30 Billion (about $48 million) at a time when deficit financing is very costly (like the $1.75B loan recently obtained from the IMF).
The Marchamo reduction in the bill amounts to about ₡24,330 or $40 or a car value of five million colones ($8,000) and ₡44,330 or $72 on a car value of fifteen million colones ($24,000).
The president took to the airways to say: "We have been fighting for 3 years to rectify these problems accumulated for decades (fiscal deficits - ed.), and there is still more to do because no party is free," said Alvarado.
There is still time to pass the resello football one more time before tax season begins.
¡Pura Vida!
TOP
---
Latin America Updates
(Major Events In Neighboring Countries)
Cuba
Cuba is experiencing significant inflation as the country tries to reopen its service industry and the economy. The official exchange rate in January 2021 was set at 24 Cuban pesos (CUP) to one U.S. dollar. Black market prices at that time were about 40 CUP/$ whereas exchange rates now have been seen as high as 74 CUP/$.
Restaurants are now beginning to reopen which heretofore were only allowed to provide home delivery and take-away services. Customers are seeing prices for meals that can be 50% higher than before or even 100% and, in a few cases, the cost has tripled as the raw materials have become less and less available. And, as one might expect, the availability of items has declined significantly - a survey of 10 major restaurants turned up an menu item list with over 600 less items than the same menus had in 2019.
Notable quotables:
1. "Wages have never been enough to cover living costs, but they were a lot better before. I see lots of shortages. There were shortages before, but not like this," Jennifer P. says. After the city reopened, she went to one of the businesses on Paseo Maritimo on 1st and 70th streets, in Miramar. Three micheladas and two starters cost the equivalent of almost a third of what she receives as a monthly stipend during her maternity leave. "People who only have their wages to live off, can't go anywhere," she says.
But It`s Still a Caribbean Paradise
2. "There was never a coherent relationship between prices and the wages we Cubans received," Hilberto N. says. He visited a cafe that reopened near Havana's Cathedral. "There has been huge discordance, inflation that can be seen in the price of everything: from toothpaste to a drink at any bar."
3. "Consuming at any restaurant or bar nowadays means spending a person's entire monthly salary," Daniela N. says, who recently visited Cafe Fortuna. "From my own and friends' experiences, prices are very high compared to any Cuban's average wage."
The government says things will get better after November 15 when all the businesses are open but locals are not betting on it.
¡Solo Bueno!

TOP
---

Rumble and Weather Talk
(Shaky Happenings & Weather Observations About the Pacific Rim)
Rumbling
12 October 2021 Tremor
It was just about 9 PM on Tuesday, October 12 when GG settled into a sitting position on his bed watching one of his favorite TV programs (Alienígenas Ancestrales or Ancient Aliens) on the History Channel. Two minutes later the bed began to tremble with that all-together-familiar roll that instantly informs one that an earthquake is happening. It only lasted a few seconds. Are the aliens landing in Quepos?
After about 30 minutes I looked up the detailed data on the USGS website where it indicated the epicenter was just south of the tip of the Nicoya peninsular, putting it in the Quepos shaker neighborhood (see map right). This is the same region where the big banger of September 5, 2012 occurred and in which GG had the opportunity to participate.
The USGS placed the Richter number (the energy release value, if you will) on this latest roll at 4.7R at a depth of 10 km (shallow) while the UCR Network came in with 5.2R. The gap between the two measurement systems always is to the higher with the Red than the U.S. boys report. In any event there was no damage to speak of and GG could go back to sleep. A few days later there was another one of similar R-value down the coast near the tip of the OSA peninsula just above the Panama border. Didn`t feel it here.
Thus goeth the shaky times in our area, evident shakers but this time inconsequential. Let`s keep it that way amigos.
Weather
La Niña makes a return. La Niña weather consists of periods of below-average sea surface temperatures across the east-central Equatorial Pacific. During a period of La Niña, the sea surface temperature across the equatorial Eastern Central Pacific Ocean will be lower than normal by 3 to 5 degrees Celsius. This in turn would cause an increase in rainfall in the Central and Southern Pacific regions of Costa Rica, while at the other extreme on the other side , a "dry" time is experienced in the southern Caribbean.
Note that when the Caribbean currents flow in a opposite direction. The phenomenon is called El Niño and it tends the opposite effect of La Niña in that increase in rainfall for La Niño goes mostly to the northern and southern Caribbean zones.
GG was able to confirm the lower atmosphere temperature this past month when he received his monthly electric bill which was the lowest in my memory here and reflected iself in a significant reduction in need of air conditioning thereby dampening the electric bill.
Hang on folks, the hot, dry high season is just around the corner, although the experts say the presence of La Niña rather than El Niño at this time is likely to extend the rainy season by two or three weeks.
Check Out Recent Earthquakes Around the World Posted by the

U.S.G.S. (U.S. Geodetic Survey):
Recent Quakes

¡Pura Vida!

TOP
---

Search the Golden Gringo Chronicles Archives for Topics That Interest You
You can use our Archives to search for anything that has been written in more than 310 feature articles of the Golden Gringo Chronicles plus find Broken News items and ROMEO restaurant reviews. Enter your topic or item to search in the Google Search Routine below and follow the links offered from the search results.


Suggestion:
Enter only a simple, precise and unique as possible key word or two
in order to narrow the number of references retrieved:
Golden Gringo Chronicles - Enter Search Here
Readers: Our publication is open to suggestions regarding future articles and will accept pieces written by others but we reserve the right to decline anything that the editorial staff (that's GG) thinks is inappropriate for this format. Send proposals, comments, suggestions, ideas, meaningless statements and jocular observations concerning the Chronicles to GG here: gg@goldengringo.com.
---
Golden Gringo University topics are designed to provide information regarding resident or citizenship particulars, responsibilities, and regulation requirements as wells as cultural differences, information that concerns or should concern expats living in Costa Rica. Caution: Information in this article was valid at the time it was written so you may want to update it with the appropriate authorities as they change the rules regularly.
Golden Gringo University
(Understanding the Costa Rican Electoral System - National Elections)
The Voting Process
The Constitution of Costa Rica requires national elections for President, two Vice-Presidents who run concurrently with each Presidential candidate, and 57 deputies or diputados of the Legislative Assembly (Asamblea). The Constitution also denies the current president from running a second consecutive term; he or she must wait out one term before they can run again. Voting for president in Costa Rica is compulsory by law but, as I understand it, in practice no consequences befall absentees if they don`t show up. As a result, the percent turnout has declined to about 65% over the years.
Until the turn of the millennium Costa Rica traditionally had two parties that dominated politics here: the Partido Unidad Social Christiana (PUSC or Social Christian Unity Party) and the Partido Liberación Nacional (PLN or National Liberation Party). Since the 2002 election the number of parties and candidates has grown substantially. This has been recently spurred on by the success of the Partido Acción Ciudadana (PAC or Citizen`s Action Party) which has become an important force in national elections and now holds the second highest number of seats in the Asamblea after PLN.
None of the parties in the Asamblea (which total ten) currently holds a majority of seats (29); there are only minority representations for all parties. Currently, the top three parties in the in Asamblea are: 1) PLN with 17 seats, PAC with 10 and PUSC with 9. There are also three independents while the remaining 18 seats are split among 6 other parties in an uneven distribution.
Asamblea Breakdown by Party
It is easy to see that a simple governing majority (29) in the Asamblea is not an easy reality now because of the extensive fractionalization of that body. Some people wonder if this splintering of the vote also portends difficulty in governability. We definitely know that it causes runoffs as the constitution states a president must achieve a minimum of 40% of the popular vote to be elected on the first ballot and, if that is not achieved, there will be a runoff among the two top vote getters. Carlos Alvarado Quesada (PAC) survived the main election and the subsequent runoff in this manner to become our current president in 2018. His party ended up coming in second, at least in terms of the seats in the Asamblea.
Forming a party? Must be fairly easy, despite the definition, or we would not have 27 candidates this year. To qualify a new political party by voter registration requires that voters equal in number to at least 0.33 percent of the total number of voters registered on the 154th day before the primary election or the 123rd day before the presidential general election complete an affidavit of registration. Got that?
Maybe. A reasonable assumption of 70% of the population (5.1 million) being eligible to vote (the rest being under the legal age of 18) yields a registration affidavit needing almost 12,000 signers. Why do I not believe 27 people each got 12,000 signups? Vamos a ver, amigo; we`ll see.
In any event the next national election will take place on February 6, 2022 with a runoff date (the runoff almost certainly to happen) of April 3.
In this article I will try to describe the philosophies or political leanings of the three top parties and their candidates as measured by current seats in the Asamblea. If other parties present themselves with something new, unique or interesting, I will cover them in later editions. GG is doing this exercise for my own personal aggrandizement because I want to be better informed when I cast my first vote as a citizen here in February. (numbers in parentheses after the party call letters refer to the current number of seats in the Asamblea).
PLN
PAC
PUSC
Flags of the Current Top Three Costa Rican Political Parties
PLN (17)
Political Description: Center-Left to Center-Right (now that`s a real middle of the road-er).
Platform/Ideology: Liberalism, Social Liberalism, Centrism, Social Conservatism, Third Way (a kind of balance between left and right), Social Democracy, Democratic Socialism, Figuerism (holding the ideals of Don Pepe - see below).
The Partido Liberación Nacionál is one of the oldest political parties in Costa Rica, going back to the time of the Costa Rican civil war in 1948 when the war killed 2,000 all over the country and that was when Costa Rica had a population of only about 800,000. Although the actual war was waged for less than two months, it profoundly changed the progress of democratic government here.
The man that led them out of the war and into representative democracy was one José María Hipólito Figueres Ferrer, who founded the forbearer of the PLN party and who also was the father of the current PLN presidential candidate José Maria Figueres-Olsen (readers, I will just use their mother`s names at the end to distinguish them - Figueres-Ferrer was dad and Figueres-Olsen is the son.
José Maria Figueres Olsen (son)
José Hipólito Figueres Ferrer (dad)
Figueres-Ferrer was extremely popular after he abolished the country's army, nationalized its banking sector, and granted women and Afro-Costa Ricans the right to vote, as well as giving access to Costa Rican nationality to people of African descent. He has long been considered as the father of the Second Republic. Figueres-Ferrer served three terms as president from 1948–1949, then 1953–1958 and 1970–1974 and is probably the reason why the term limit amendment is in the constitution.
Figueres-Ferrer was born in Guanacaste into a family of "Impeccable Spanish background" and spent four years in Boston studying Hydroelectric Engineering at M.I.T. Figueres-Ferrer became the first President of the Second Republic after a treaty was negotiated by the Mexican government . "He also became a successful coffee grower and rope manufacturer, employing more than 1,000 sharecroppers and factory laborers. Describing himself as a "farmer-socialist", he built housing and provided medical care and recreation for his workers and established a community vegetable farm and a dairy with free milk for workers' children". Figueres-Ferrer came to be known affectionately as "Don Pepe".
Figueres-Ferrer`s son, José Maria Figueres-Olsen who looks like a clone of his dad (top photo right), is the current candidate of the PLN. He was born in 1954 the son of José Hipólito Figueres-Ferrer described above and mother Karen Olsen Beck, a Danish-American who later became a Costa Rican naturalized citizen.
After completing his high school in Costa Rica, he was accepted to the United States Military Academy and graduated with a degree in Industrial Engineering in 1979. While attending West Point, he attended and completed the U.S. Army's Ranger Training Course in 1975. He was awarded the Army Ranger tab and was the class Distinguished Honor Graduate. Figueres-Olsen continued his academic studies at the John F. Kennedy School of Government at Harvard University, graduating in 1991 with a master's degree in Public Administration. He returned to Costa Rica and reportedly managed his father`s extensive agricultural business back into profitability while serving on several boards of directors at a number of corporations.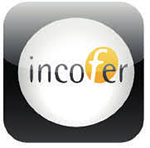 For the next four years he held several positions in the government of Oscar Arias including director of INCOFER, the ailing rail system, Minister of Foreign Trade and Minister of Agriculture. He won his party`s (PLN) nomination after a heated and brutal race with five other candidates and succeeded to the Presidency (at age 39) in February 1994 where he served until his term completion in 1998. INCOFER has continued to be modernized by succeeding administrations adding a number of modern trains and routes in recent years.
As President, Figueres-Olsen reformed or reorganized several important departments of the government including INCOFER and launched several initiatives to improve education including establishing national budgeting for education at 6% of GDP. In addition he was an early contributor to sustainable development including participating in U.S. and U.N. climate change initiatives. In 2015 Figueres-Olsen became president of the PLN and then their candidate for president this year. As some see it, the problem for Figueres-Olsen is that he also comes with some negative political baggage.
1. He was accused in a book in 1991, when he was on the verge of becoming a candidate for the presidency, of conducting an "extrajudicial execution" (is there a judicial version amigos?) of a drug dealer. Figueres-Olsen sued the writers for libel and it ended in a settlement between him and the writers. The case became known as the "Chemise Affair".
2. At one point Figueres-Olsen was accused of not being Catholic (the state religion) but the Archbishop of San José publicly verified that Figueres-Olsen had been baptized a Catholic in San José.
3. In 2004 the Attorney General opened an investigation into the affairs of two other former presidents and corruption related to the French communications giant Alcatel (2002 Sales =
$17.5 billion). Eventually information came to light that Figueres-Olsen was also listed as a receiver of Alcatel money. Figueres admitted he had done considerable consulting work for Alcatel, to the tune of as much as $900,000 over three years (after his presidency). Figueres-Olsen opened his records to the Costa Rican Internal Revenue Service and amended his tax returns, paying an additional ₡67.2 million colones (about $108,000 at today`s exchange rate) to the Costa Rica tax people.
Major beliefs of the PLN Party: PLN`s greatest strength is also it`s potentially greatest liability, a long history of participating in Costa Rican politics (nine presidents since 1953), some highly beneficial policies, some not so beneficial and a few activities that border on corruption. But it`s a new world and many of the electorate are asking for new answers. Their idea of cutting out the middle (Social Liberalism to Social Conservatism) may not work as well in a highly fractionated electorate.
PAC (10)
Political Position: Center-Left
Platform: Social Democracy, Progressivism, Anti-Corruption, Figuerism (ideals of Don Pepe)
The Partido Acción Ciudadana (PAC or Citizen`s Action Party) is a relative newcomer as a party having been formed in December of 2000. It was the party of surprise when it ended up gaining 14 diputados in the 2002 national election putting it third after PUSC (19) and PLN (17). A number of politicians from the PLN including Luis Guillermo Solis moved over to the PAC in the three years ending 2012 and Solis ended up winning the PAC primary, then the presidential election in 2014. That started a winning streak as another PAC convert, Carlos Alvarado Quesada also won the 2018 election. So somehow PAC has struck a chord with the electorate and elected the last two presidents in a row - can they do three?
Welmer Ramos
Some politicos, including a few senior PAC moguls, have questioned whether or not the party is developing the base needed to be a long-term viable national party and that it may lack a broad organization at the street level which could reflect itself as fewer diputados in the legislature.
For the coming 2022 election the PAC has nominated Jesús Welmer Ramos González, an Economist and current diputado. He was born in Liberia, Guanacaste, is 60 years old and holds both Bachelor`s and several Master`s degrees in administration and management from Costa Rican Universities.
Welmer Ramos has served as Minister of Economy, Industry and Trade of Costa Rica (2014–2017) during the Luis Guillermo Solis administration, the one prior to the current administration, while serving as Minister. He has been involved in several projects related to the organization of the Costa Rican banking system.
Major beliefs of the PAC Party:
Citizens should increase their involvement in politics
Corruption is one of the main causes of underdevelopment and voter apathy and must be cleaned up
Improve/increase infrastructure, universal health care, and environmental policies
Historically opposed to free trade agreements such as CAFTA (Central America Free Trade Association)
PUSC (9)
Political Position: Center Right
Platform: Christian Democracy, Liberal Conservatism, Calderonism (Rafael Ángel Calderón Fournier, a previous president 1990-94) who valued populism and a form of Catholic, Christian socialism similar to Peronism in Argentina. Many see PUSC as an outgrowth of Calderonism.
The move to create right wing conservative parties began in the early 1970`s when the Christian Democratic, the Republican Calderonista, the People's Union and the Democratic Renovation parties formed the Unity Coalition. In 1977 these four parties formally merged and became known as the Partido Unidad Social Cristiana or PUSC. PUSC has succeeded in winning the presidency just two terms since it`s formation: (Miguel Rodríguez Echeverría 1998-2002 and Abel Pacheco de la Espriella 2002-2006).
The civil war in 1947 drove the Communist Party and populist President Rafael Ángel Calderón Guardia into exile. Both returned, however. Calderón Guardia headed coalitions that challenged the PLN for power until his son Rafael Ángel Calderón Fournier institutionalized the political force into a right-of-center PUSC in 1984. The Communist Party formed a third force that won one or two congressional seats per election and held the majority parties to their social-reform promises.
Subsequent corruption scandals, including two of their three presidents after their terms were completed, have reduced the appeal of this party in recent years.
María Lineth Saborío Chaverri
Maria Lineth Siberia Shivery has been nominated to carry the PUSC banner in 2022 and is one of only three women of 27 candidates in the race. Former president Laura Chinchilla (2010-2014 - PLN) has decided to sit this one out. María Lineth de la Trinidad Saborío Chaverri is a 60 year old lawyer from Grecia (central valley).
She served as director of the Judicial Investigation Agency (OIJ - the Costa Rica equivalent to the FBI). Later she became First Vice President of the Republic in the Pacheco (2002-2006) government, an administration in which she was also Minister of the Presidency and Minister of National Planning and Economic Policy.
She won her nomination at the PUSC at the party convention in June of this year with 55% of the vote, far surpassing the next nominee who received 23%.
Major beliefs of the PUSC Party:
Party is thoroughly committed to the tenants of Christian Democracy.
Many of their party dogmas relate to the era called Calderonism when many of the principles and organizational structure of key policies like education, economic reforms that are in place today were formed.

____ ____ ____
So GG has plenty to learn and get comfortable with as well as to decide on a candidate before the national elections in February. There are at least 10 other parties that will be fielding candidates for President and a total of 27 may end up actually competing for the top spot. Zowie, there`s a lot to look at and understand.
To see articles on other subjects presented under the Golden Gringo University banner, go HERE.

¡Solo Bueno!

TOP

---
¿Que es Eso? Department (¿What is That?)
What`s wrong with these coconuts? Looks like they suffer from some disease that makes them rounder with a kinda plain looking skin.
Anybody know what`s going on here?

Answer in
What's-in-a-Word
section below.
¡Pura Vida!

TOP
---
Health Stuff
Note: The information given in this section is offered as news information only and does not indicate GGC confirmation or denial of the accuracy of the treatment or a recommendation to pursue it, nor can we or do we guarantee the efficacy of the results nor validity of the conclusions proffered. (How's that for a disclaimer amigos?)
Vaccination Status
Latest figures for total Cases of Covid by date is shown to the left. Hopefully the good news is the downward trend in total cases in the last month as shown on the graph will continue.
In addition, the vaccination penetration as a percentage of the population including by age group has a tally shown in the box below (for October 13). That includes the 58+ age group (GG`s group) currently showing a rate of 93% fully vaccinated.
New Covid Cases By Epidemiological Week - Costa Rica
The data from the Health Ministry (right) shows the progression of new Covid cases by "Epidemiological Week"... read week within a year... a little confusing but the data is basically a weekly record of new cases since the disease was first tracked. Epidemiological week 42 for 2021 was the week ending 24 October 2021. Note the sharp decline, like GG`s data above, in new cases over the last four weeks. Local officials see it as the effect of achieving a higher and higher vaccination rate. Let`s hope so, we`ve seen declines like this before only to see them followed by new spikes.
Vaccination Station at Oxígena Mall
Vaccination stations have been established across a large number of localities particularly where people tend to congregate or the traffic flow is high. In Quepos that involves stations at the Hospital, the Catholic Church downtown and at Pez Vela Marina.
The photo right shows a station at the Oxígena Mall in Heredia. Oxygen Mall eh? The mall`s tag line is "Here you can breath". That`s good to know but they go on the describe a place of wide spaces including large green areas like a park. Bueno. Must check it out sometime.
OK, I get it, but what`s the airplane about, vaccine delivery pronto?
Getting Your Vaccine Certificate Now To Be Required
The government is promising a new restriction effective December 1 that every person will be required to show a proof of (full) vaccination, either by printing off a form from the Ministry of Health website or showing your QR (Quick Recognition) sign (the square that looks like a broken puzzle) on your phone, or both (or maybe either) . This is expected to be required to enter any public gathering place such as bars, restaurants, department stores, etc., etc.
Can`t wait to see how the certificate processing works when you`re standing at the entrance to a Walmart or futbol game.
¡Pura Vida!
---
Travel Quote of the Month
¡A Cachete!



TOP
---


GGC Bookshelf
GGC Publications Group is the parent organization that publishes the Golden Gringo Chronicles as well as a number of books and paraphernalia related to the Chronicles and Costa Rica. The GGC Bookshelf also includes works from a number of other authors that belong to the Quepos-Manuel Antonio Writers Group in which GGC has been a founding member.
Here are the books currently on our bookshelf:
Costa Rica`s Mystery Spheres
Mariposa - English
Mariposa - Español
The Chronicles as a Narrative
Read More
Read More
Leer más aquí
Read More
Small Business Guide
Making Time Count
Overcoming Drinking
Murder or Suicide?
Read More
Read More
Read More
Read More
Getting Around the Capital
Retiring in Costa Rica
Avoiding the Pitfalls
What's the Sleuth Up To?
Read More
Read More
Read More
Read More

There's Room for
More on the QMA Writers Group Bookshelf

Keep Writing Amigos!
Spiritual Love Connection
World War II True Story

Wildfire and the Tribune

Read More
Read More
Read More
All of the above books are available on Amazon.com and the "Read More" links above will lead you to them. You can find more detail on all of them on our GGC Publications Page.
GGC Products Store
GGC Publications also offers some accessories and paraphernalia related to the Chronicles and with Costa Rican themes, to wit:
T-Shirts:

a.
Golden Gringo Chronicles
with Logo
b.
Official Golden Gringo with Monkey on Banana Hammock
c.
¡Quepo en Quepos!
("I Fit In Quepos!") with Photo of Quepos
d.
Wanna Monkey Around? - Come on Down!
(shown) with Photo of White Faced Monkey, e.
It's OK to be Slothful
with photo of Three-Toed Sloth.
The t-shirts are available in several themes, colors, styles and sizes. See them all
HERE
.
Coffee Mugs:
a. Golden Gringo, b. Wanna Monkey Around?, c. It's OK to be Slothful
See them all HERE:
What's life without a great cup of Costa Rican coffee? And it tastes even better in a Golden Gringo Chronicles mug!

To see ALL the products available in the Golden Gringo Store go here: GGC Store.
¡Solo Bueno!
---
What's-in-a-Word



"Tell me and I forget; teach me and I remember; involve me and I learn"
–

Benjamin Franklin

Answer to Que Es Eso?
Cannonball Tree in Bloom
Cannonball Tree After Nutting
Why that`s not a coconut tree (above) it`s a: Cannonball Tree (Couroupita Guianensis). Although the tree itself blends into the jungle like it was a Brazil nut tree, it can actually seem dangerous, so explorers should be cautious.
These nuts are hard and heavy spheres growing straight out of their trunks. They`re called cannonball trees because when a nut hits the ground there is a loud explosion. The result is much more likely to startle you than actually hurt you, unless, of course, you get hit on the head.
The cannonball tree produces a carpet of glorious lavender flowers before nutting. The flowers are strongly scented, and are especially fragrant at night and in the early morning. The fruits (or nuts) are spherical with a woody shell and reach diameters of up to 25 cm (9.8 in), giving the species the common name "cannonball tree". Smaller fruits may contain about 65 seeds, while large ones can hold as many as 550. One tree can bear 150 fruits.
The fruits take up to a year to mature in most areas, sometimes as long as 18 months. The fruit flesh is white and turns blue upon oxidation, a reaction with air. Fruits that remain whole may be broken open, allowing animals including peccaries, the paca, and domestic chickens and pigs to feed on the pulp and seeds .
cannonball trees are abundant in the tropical rainforests of South
and Central America and in the jungles of Costa Rica. They are also available in India, where the tree is highly regarded as sacred by the Hindus and many parts of the tree are used for medicinal purposes.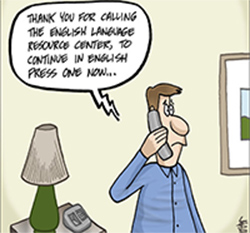 Last month the Chronicles put forth a number of homographs and heteronyms. Heteronyms are words that are spelled identically but have different meanings when pronounced differently. Here are a few more examples:
1) The soldier decided to "desert" his dessert in the "desert".
2) Since there is no time like the "present", he thought it was time to "present" the "present".
3) A "bass" was painted on the head of the "bass" drum.
4) When shot at, the "dove" "dove" into the bushes.
5) I did not "object" to the "object".
Man, how I love the English language, especially when I struggle with Spanish. These concepts must be difficult for the English-as-a-second-language student. Just remember amigos, it just takes practice, and more practice...and more practice.
¡Solo Bueno!
---
ROMEO Corner
(Retired Old Men Eating Out)
El Avion, Manuel Antonio
El Avion Main Entrance
Location: The very top of Manuel Antonio hill before descending the south side, across from Gato Negro. Look for the airplane.
Hours: Monday through Sunday 12-10 PM.
Parking: Limited, in front of the Restaurant Contacts: el.: 2777-3378; Email: N/A; from the http://www.costaverde.com/avion01.htm
Reviewing ROMEOS: Barry S., Bob N., Dennis R., Duston R., Jorge M., Harry R., Mark P., Olga C., Roger B., Ruth R., Steve M., Tom M.
To Review The ROMEO Rating System Go Here: R.O.M.E.O. Rating System
El Avion is one of the best known landmarks of Manuel Antonio. That's because very few restaurants here, or elsewhere for that matter, are built around an authentic Fairchild C-123 twin-jet cargo plane. The story of how the plane got there is as interesting as the plane itself. It was one of two that was used in the 1980's to support the "Contras" in Nicaragua. It's sister ship was shot down in Nicaragua and one of the crew, CIA operative Eugene Hasenfus was captured, which set off the Iran-Contra investigation. The current plane was eventually abandoned at the San José airport, bought by the owner of the restaurant in 2000 and shipped in seven sections by boat, the railroad here now and then also was too narrow. It was then reassembled in Manuel Antonio where it rests today.
C-123 Bar El Avion
This is one of the largest restaurants in the Quepos/Manuel Antonio area with a total seating capacity of about 400, including the cozy little bar in the belly of the C-123. The dining areas are located on two decks and the upper deck is not open during the slower seasons.
The main dining rooms are on two levels (the upper deck is usually not open in the slower seasons. Almost all tables have views of the Pacific and Elephant Island and the jungle below that runs into the ocean. As such El Avion still has one of the most fantastic views on the hill. The tables and chairs are made from local wood, simply arranged with place mats and candles. GG's back appreciated the modest padding in the seats.
For ambiance we gave El Avion a composite score of 4.5 out of a maximum of 5.0 sloths.

The menu has a good choice of seafood and meat dishes. There are notations on certain dishes that they call "plant food base", in other words vegan. GG happened to choose one of these, a fried rice concoction with vegetables and served with a choice of accompaniment of either french fries or salad.

What was served was indeed a very pleasant and flavorful rice dish with several vegetables in it including chopped pieces of broccoli, onion and several others. The food was quite tasty (just enough spice to my liking) and in good quantity such that I brought half of it home for a second meal.

.36
$$$.7

Value Index= 118
Several of the other ROMEOs ordered large burgers or fish sandwiches that were also reported ample and tasty. Yet other ROMEOs tried chicken, calamari, grilled mahi-mahi, and even a linguini dish. The composite score for food quality for all 12 of us came in at 4.1/5.0.
We were serviced well by several friendly waiters who even let us it early (restaurant opens at 12 noon and we were there 15 minutes early. The staff was friendly, polite and helpful and produced our dozen meals in a reasonable time. The composite score for service came in at 4.5/5.0. That produced an average score for ambiance, food quality and service of 4.36/5.0.
GG`s rice dish and a ginger-ale michelada drink produced a tarifa of 9,000 colones or about
$14, very reasonable in my view for the quality of food, service and ambiance.
The composite score for cost came in at 3.7/5.0 yielding a Value Index (average of composite scores of food quality and service/composite score for cost, divided by the cost rating) of 4.36/3.7x100=118.
The ROMEOs group can once more state that El Avion is a good food buy at reasonable cost in a very pleasant setting.
---
Opt-In Here to Receive Your Free Monthly Copy Of
The Golden Gringo Chronicles

The Golden Gringo Chronicles is a free newsletter that is non-political, non-commercial and, hopefully, informative and entertaining. By signing up you will receive an email each month around the first of the month giving you the links to the latest edition as well as to each individual feature and departmental section.

CLICK HERE TO SIGN-UP FOR THE GOLDEN GRINGO CHRONICLES
or Email me at gg@goldengringo.com, or use our Website at: www.goldengringo.com

---
Bob Normand, Editor &
The Golden Gringo
Pura Vida!
To Contact GGC World Headquarters (yuk, yuk) to makecomments, suggest topics or criticize my bad jokes, just send an email to: gg@goldengringo.com.
Be pithy but kind; I'm sensitive.


Unsubscribe from Golden Gringo Chronicles