---


Broken News
(All the News That's Fit to Reprint)
Health Workers Docked Salary
In January 2020 the Costa Rican Legislature passed into law, which was then signed by the president, a gem called "Ley Para Brindar Seguridad Jurídica Sobre la Huelga y sus Procedimientos OR Law to Provide Legal Security on the Strike and its Procedures". The new law prohibits strikes in essential public services and orders immediate management of the salary reduction for hours not worked. Before that reform, in order to carry out reductions, employers had to go through long judicial processes to obtain the declaration of illegality of the movement. The law was first formulated in 2018 as a result of a four-month teachers strike for which the Ministry of Education threatened to dock salaries for the strikers but in the end just ignored the lost services.
CCSS Workers on Strike
In 2021, Caja Costarricense de Seguro Social (CCSS - or "Caja", the group that runs the hospitals and is responsible for health care overall, staged three strikes on three different days. "According to CCSS reports, the three strikes caused the suspension of more than 70 surgeries, paralyzed operating rooms, laundry services, nutrition, cleaning and laboratories. For example, on July 14, workers from the Laboratory of Parenteral Solutions stopped the production of the serum necessary for the vaccination of people against covid-19."
Caja management, under the new law, recently recovered (docked) about 29.3 million colones (about $45,000) on some 1,152 workers who participated in these strikes.


Costa Rica Still In The World Cup Runnings
The next World Cup Games for futbol (that`s soccer for you folks in Rio Linda) will be held in Qatar from November 21, 2022 to December 18, 2022. That means we are already into qualifying games. The time of the year was picked to minimize the effect of the heat there.
Recall that World Cup Teams are made up of players that play for their home nationality even though they may be employed and play for another team on a regualar basis in another country. The team that is made up for the World Cup competition is then called the Selection or "Sele". Example: Costa Rican Keylor Navas, already a legendary portero (goal keeper) for the Costa Rica Sele, is normally employed as a goal keeper with PSG (Paris - Saint Germain).
Costa Rica is a tiny country compared to some; 1/25th the population of futbol powerhouse Mexico and 1/42nd the population of Brazil, both of whom are FIFA World Cup contenders. But Ticos love for the game is well demonstrated even though they cannot claim ever reaching beyond the quarter finals at the World Cup (2018). The FIFA World Cup of Futbol will occur from mid-November to mid-December this year in Qatar, as it does every four years somewhere around the world.
It also means that World Cup Qualifying matches have begun. Recently, Costa Rica held futbol powerhouse Mexico to a 1-1 tie and on February 2nd they followed that with a 1-0 shut out of Jamaica on a critical goal by Tico Joel Campbell (photo). This put the Tico Sele performance to date only one point behind Panama in the world standings.
Our sele is still on the march to Qatar amigos!
Oh-ay, Oh-ay, Oh-ay, Oh-ay....viva la sele...!
Covid Hits Casa Presidencial
Claudia Dobles and Carlos Alvarado
First Lady Claudia Dobles, wife of President Carlos Alvarado, tested positive for Covid-19 on Tuesday, February 1. Señora Dobles has been placed in preventative sanitary self-isolation.
The President, tested at the same time, received a negative result with no symptoms present, yet placed himself into self-isolation as well.
Both have received two primary shots of the vaccine but await the booster shot which will become available to them (6-month wait) on February 6.
UPDATE: By Wednesday, February 9, President Alvarado had developed "mild" symptoms and tested positive for Covid, per the PCR test, also. He is continuing his self-imposed isolation and has canceled participation in face-to-face activities until further notice.
Parties Recouping Election Costs
An interesting press report came out on February 8, two days after the national election, the election being a first-time experience for GG upon which he expounded in the article below.
Costa Rica law provides for some parties to recoup some of their deuda política (political debt) incurred in the election campaign. The minimum number of votes a party must receive to qualify for reimbursement must be 4% or more of the total votes cast and the amount reimbursed is related to the vote count received. For the election on February 6, four national parties, including the two winners who will do a runoff in April, as well as four other national parties and two provincial parties qualify for some degree of reimbursement ( a total of six qualifiers).
The detailed expenses are still subject to approval by the TSE (Tribunal Supremo de Elecciones), the court responsible for supervising all elections in Costa Rica. The estimated amount set by TSE for the recoupment for this election was set at 19.8 billion colones (about $30.5 million).
It seems to me that figure is nothing to sneeze at if you`re a party campaign manager, even if you have to share it seven ways.
The OAS (Organization of American States) commission that observed the election process mentioned the recoupment process as one area where Costa Rica could use improvement. They said: "It is important to mention the need to break the dependency with the banking system and establish modalities of direct and indirect public financing (fringes in the media for propaganda). Costa Rica would benefit from a great national dialogue in which the different actors and institutions of the country can reach agreements to reform the current financing system in the country."
Covid Restrictions In Costa Rica Lessening
On February 17, 2022 some 1.2 million students returned to the classrooms in over 4,000 public schools and they did so, for the first time in two years, without the use of masks. The public education system has returned to a 100% face-to-face operation.
While only about 20% of students aged 11 or younger have been vaccinated, over 90% of students aged 12 and over have been vaccinated, this much in line with the epidemiological evidence related to the SARS-CoV-2 virus. Last month the Ministry of Education recognized that among the reasons to return to 100% face-to-face classes was the impossibility of bringing connectivity - I presume they mean puters - to more than 400,000 students across the country. A recent Estado de la Educación (State of Education) report indicated that students are going through an "educational blackout", translated as a lag in the learning process.
At the same time this event was occurring, President Carlos Alvarado, whose family including the president and his wife having been hit by the Omicron surge, which is now on the decline, was confidently predicting that masks across the country will be eliminated in a "few weeks". Backing him up was the recent decline of the "R", or virus reproduction rate which has slipped to 0.89 recently. Let´s hope Covid might finally go away amigos.
Thanksgiving in Costa Rica?
A deputy in the National Assembly has offered a new proposal for a law... make the last Thursday of November a celebration day called Thanksgiving in the good format of North America (in this case, the U.S. timing for the day is used).
Although it will be observed as a celebration of a holiday it will not be a paid holiday. Maybe the Ticos got tired of all us Gringos fighting for birds and restaurant seats on T-day. Gringos - 1, Ticos - 1, we all win on this one amigos.
¡Pura Vida!

TOP
---


Economic Drumbeat
(Costa Rica Business Happenings)
Economics And The New Presidency
A recent article in a local electronic newspaper recounted the economic problems facing the new president of Costa Rica, whomever that may turn out to be after the runoff election scheduled for Aprl3. To wit:
A Zona Franca Center in Costa Rica

Unemployment increased substantially under Covid and still is hovering around 13%.
The employment expected from Zonas Francas (free trade zones) has not materialized because the skills desired by these high tech companies do not match those offered by the unemployed
GDP growth in 2022 is expected to be 3.6% but 5 to 6% is considered healthy
One financial analyst suggested these changes as a remedy, or new direction perhaps: jobs with more flexible hours; reduce fuel and electricity costs; merger of public institutions to cut government costs (wow, there`s an idea whose time may have come).
Fuel Costs Up Again
RECOPE (Refinadora Costarricense de Petróleo), our non-refining national refinery, received approval from ARESEP (Autoridad Reguladora de los Servicios Públicos) of their recent request to increase the price of gasoline once more. The new price for Regular gas is ¢822/liter or about $4.83 per gallon. As usual, the Super grade comes in a little higher (+2.2%) and Diesel a little lower (-11.9%) than Regular.
This brings the prices of gasoline in Costa Rica to the highest level since ARESEP was established as the regulatory agency 25 years ago. Authorities also expect another increase by March 12 when ARESEP must rule on an even more recent price increase request from RECOPE. They point to the outfall from the Ukrainian conflict as a motivator for increasing prices. фігня (fignia)
¡Pura Vida!
TOP
---
Latin America Updates
(Major Events In Neighboring Countries)
As expected, the buzz throughout the capitals of Latin American had a lot to do with the Ukrainian situation.
Costa Rica condemned the offensive deployed by the Russian Federation against Ukraine, saying that it contravenes "the letter and spirit of the Charter of the United Nations, to which both countries are a party, as well as the resolutions of the General Assembly and multilateral agreements".
As expected, reactions to the Ukrainian invasion varied across Latin America, depending on the relationship between Russia and the individual country (or lack of relationship):
Brazil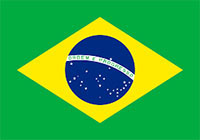 In South America's largest economy, president Jair Bolsonaro released a statement that was directed at Brazilians in Ukraine. "I am fully committed to the effort to protect and assist Brazilians who are in Ukraine," read his statement on Twitter. Earlier in the day, the foreign ministry released a brief statement, calling for an "immediate suspension of hostilities and the start of negotiations."
Cuba
Before going to Nicaragua (noted below), Russian president of the Duma, Viacheslav Volodin, met with Cuban officials in Havana to discuss strengthening bilateral ties. Cuban foreign minister, Bruno Rodríguez, affirmed Russia's "right to defend itself" while "the U.S. has been threatening Russia for weeks and manipulating the international community." (So sayeth the poor, oppressed Russians - Ed.)
El Salvador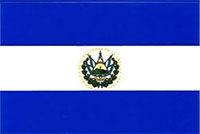 In El Salvador, the Ministry of Foreign Affairs and President Nayib Bukele were slow to present their official position on the Russian military operation even after the first 24 hours of the offensive. Bukele did criticize Biden and his administration for having the national intelligence prior to the action but not reacting to it during the period that the Russians built up there forces
Honduras
The government of President Xiomara Castro Thursday the 24th condemned the use of force and military actions in Ukraine, through a statement issued by the Ministry of Foreign Affairs and International Cooperation.
"The Secretariat expressed its deep concern and a resounding rejection of the use of force that provokes an international armed scale generated by the situation in Ukraine. "Honduras ratifies its call for a political solution to the conflict in Ukraine and supports the initiatives, measures or commitments that may arise from the dialogue in the United Nations in search of peace," Xiomara Castro stated in her position.
Guatemala

In the face of the Ukrainian affair and the Russian mobilization, Guatemala recalled its Ambassador to Russia for consultation and to emphasize the need to restrain using arms.
That, of course, had no influence on Russian policy or action but it clearly established the Guatemalan position.
Nicaragua
On Thursday last Vyacheslav Volodin, president of the State Duma (Lower House of Parliament) of Russia visited Nicaragua and was received by the president of the Nicaraguan National Assembly, Gustavo Porras. Also present were members of the Nicaraguan Friendship Group with the Russian Federation. Volodin ratified his support for Putin's action. "Members of the State Duma support the decision of our President Vladimir V. Putin to conduct a special military peacekeeping operation. Its purpose is to protect the people who live in Ukraine", he pointed out during the first hours of the event.
Nicaraguan President Daniel Ortega became one of the first world leaders to back Russia's stance over Ukraine on Monday, saying President Vladimir Putin was right to recognize two regions controlled by Moscow-backed separatists as independent. Ortega said Ukraine's attempt to join the North Atlantic Treaty Organization (NATO) represented a threat to Russia.
"If Ukraine gets into NATO they will be saying to Russia let's go to war, and that explains why Russia is acting like this. Russia is simply defending itself," said Ortega.
So that was all it was - "...a special military peacekeeping operation" - Ed.
Panama
The nation expressed its "pacifist, multilateralist and supportive of dialogue" vocation and "deeply" regretted the recent events in Ukraine. "Panama, as a country that advocates dialogue and international law, urges to resume the paths of negotiation and diplomacy that renew hope for peace, security and stability."
In this framework, it supported the pronouncement of the Secretary-General of the United Nations, Antonio Guterres, so that "all efforts be directed to avoid loss of life and decisively support the mitigation of the progressive deterioration of the situation through the immediate cessation of the use of force and violence.
Venezuela
Before the invasion, speaking in a televised broadcast, Venezuela President Nicolás Maduro said: "Venezuela is with Putin, it is with Russia, it is with the courageous and just causes of the world," before adding its full support for "President Vladimir Putin in the defense of Russia's peace, in the defense of peace in that region."
Later, Maduro hedged his bet a bit releasing a statement which read: "Venezuela rejects the aggravation of the crisis in Ukraine as a result of the violation of the Minsk agreements by NATO," adding that this has led to "strong threats against Russia, its territorial integrity and sovereignty."
¡Solo Bueno!

TOP
---

Border Run to Nicaragua - Part II
(It`s Not Like It Used To Be)
Last month`s Chronicle featured Part 1 of a two part series of articles by Michael Miller, an old writer friend (let me rephrase that - an old friend who is a writer). In that article Michael noted that the trip is not nearly as easy as it used to be, both because of the Covid restrictions and also ongoing political unrest in our neighboring country.
Border delays on both sides required three hours (GG remembers doing this in a half hour) and a new form needed by the Nicaraguan government must be completed before the trip begins. A major reduction in service staff (Covid?) caused slow processing on the Costa Rican side. The Nicaraguan side also was slower than normal as border people again checked passports and Covid test docs while charging several minor and miscellaneous fees ranging from $2 to $14 each.
What follows is the rest of Michael`s story about his latest trip

A Border Run to Nicaragua - Part II
by Michael Miller
Our three days in Granada were delightful.
Hotel La Posada Del Sol - Granada
The Hotel La Posada del Sol was a welcome sight after 12 hours of riding, standing in line, and government needling. It is a very pleasant hotel equipped with a pool big enough for swimming laps and is located only three blocks from Granada's main plaza and the famous yellow Cathedral of Granada. The facility was clean and comfortable, and the price included breakfast. Our room included a small kitchen. The most noise we heard at night was the clop-clop-clop of horse-drawn wagons going by and the neighborhood roosters that roused us in the morning.
The center of Granada is dominated by the iconic yellow cathedral. The current structure is only about 100 years old, but it stands on a site that has had several other churches and cathedrals constructed there since the city was founded in the 1520s.
Nury and I enjoyed the days as we explored the nearby streets, alleys, and plazas of downtown Granada. We found an open-air market, a museum with exhibits of some of the city's history, and a nice art gallery. We discovered that the Selina chain of hostels now has a very impressive branch right on the central plaza, and we took a tour of the city on a horse-drawn carriage.
Boat Tour - Volcano Concepción in Background
The highlight of our visit was a boat ride on Lake Nicaragua, out to some of the nearby islands. This huge freshwater lake has hundreds of islands, with a cluster of small ones about a mile to the south of the city. Many of these are home sites for wealthy persons from all over the world. It was great fun cruising between the islands and looking at the beautiful houses, some with swimming pools and tennis courts. The captain of our boat made a special effort to stop at some swampy areas to find a variety of some wild, exceptionally beautiful, flowers for Nury. (Nury is Michael`s friend and a tour guide)
During our time in Granada, we saw many indications of how bad the economy was. We were the only passengers on the boat ride on Lake Nicaragua, and in the central plaza the horse-drawn carriages wait for hours to get a single passenger. Many very nice small hotels can be found near the plaza. One had a sign outside encouraging walk-ins with prices below $30 USD. These were all indications of the difficult recovery Nicaragua's tourist industry is facing.
One evening we had dinner at a fine restaurant and chatted with our waiter. He was a sharp-looking young man, obviously quite intelligent, and he told us that he had been unemployed for over a year. He said he was now very happy because he had just found this job as a waiter and was making $120 USD per month!
After our three days in Granada, we began the arduous journey back to San José. It was just as frustrating and difficult as the trip to Nicaragua had been, including the unnecessary hours of nonsense at the border. The trip took over 12 hours (240 miles - ed.), during which we had to wear a mask almost the entire time.
On the long ride back to San José, I had more than enough time to think about Granada and Nicaragua. The country is every bit as beautiful as Costa Rica and, in addition to the charming, historic city of Granada, the country has excellent beaches, picturesque farming communities, pristine rain forests, and of course, the magnificent Lake Nicaragua. But like every country in the world, Nicaragua has suffered because of the COVID-19 pandemic.
Travel restrictions during 2020 and 2021 have shut down hotels, restaurants, tour companies, and little businesses, like the tour boats and the horse-drawn carriages. But people are now starting to travel again and are eager to visit and enjoy new places. Happily, some of those struggling travel-related businesses are getting back on their feet again.
I do not want to comment about the political situation in Nicaragua, but judging from my experiences at the border, it seems that the government of Nicaragua is doing everything it can to make it difficult to visit their wonderful country.
It is my sincere wish that Nicaragua (and all countries) can soon eliminate the onerous requirement for a COVID-19 test. Even if they do not, they need to eliminate the layers of bureaucratic horse manure at the borders and check passports once, maybe twice; six times is a bit ridiculous. And be a little more friendly too; tourists will spend money in their hotels and restaurants and their presence help put thousands of their countrymen get back to work.
It would be nice to see the border guards smile and say, "Welcome to Nicaragua. I hope you enjoy your time in my beautiful country."

Michael Miller is the author of the guidebook for downtown San José, Costa Rica, titled The Real San José. He is also the author of the new novel Tribune Man, a portrait of Oakland, California, a beautiful, fascinating, and often underrated American city during a trying time. Both are available on Amazon. (Both have links from the GGC Bookshelf below).
Thanks Michael, I couldn`t agree with you more in that Nicaragua is truly a beautiful country, particularly in the southern part and particularly the San Juan del Sur/Granada corridor. And for some other impressions of Nicaragua in past years, go HERE.
¡Va Pues! (I`m told that`s the Nicaraguan equivalent of Pura Vida!)
---

Rumble and Weather Talk
(Shaky Happenings & Weather Observations About the Pacific Rim)
Rumbling and Weather Talk
What can GG say about this now... we are in that quiet period of the year when all is not only quiet but resoundingly beautiful. We have not had even a small rumble all month (although it can obviously happen at any time when you live on the Pacific Rim).
With regard to the weather, the mornings are incredible, in the 70`s with a light breeze until after 10, super sunny (some say hot from 11AM to 3PM) but sitting under an umbrella at MA Beach with a cool Pacific breeze flapping the umbrella is what it is all about and it ain`t that hot there!
Talked to my daughter in Pennsylvania on February 26 and she related it was snowing there - sorry kid.
Check Out Recent Earthquakes All Around the World Posted by the

U.S.G.S.
Recent Quakes

¡Pura Vida!

TOP
---

Search the Golden Gringo Chronicles Archives for Topics That Interest You
You can use our Archives to search for anything that has been written in more than 320 feature articles of the Golden Gringo Chronicles plus find Broken News items and ROMEO restaurant reviews. Enter your topic or item to search in the Google Search Routine below and follow the links offered from the search results.
Suggestion: Enter only a simple, precise and unique as possible key word or two in order to narrow the number of references retrieved:
Golden Gringo Chronicles - Enter Search Here
Readers: Our publication is open to suggestions regarding future articles and will accept pieces written by others but we reserve the right to decline anything that the editorial staff (that's GG) thinks is inappropriate for this format. Send proposals, comments, suggestions, ideas, meaningless statements and jocular observations concerning the Chronicles to GG here: gg@goldengringo.com.
---

Musings On Our Democratic Republic
(GG Casts His First Vote In A National Election)
For the first time since GG got his Costa Rica citizenship, I had the opportunity to vote in a national election on February 6. The difficulty for me was in deciding which of the 25 candidates to vote for president (yeah, that`s right, there were 25 candidates running for president (an all-time record, even for Costa Rica).
I finally decided to go with one Eduardo Cruickshank Smith, a former president of the national assembly. I was impressed by a recent article written about him declining an offer back when he was national Assembly President. He refused to participate in the overthrow of the current president, a proposal made to him by representatives of a disruptive, so-called national rescue movement that paralyzed transportation in the country for several weeks.
Not only did Cruickshank decline the offer but he joined the president in a joint public announcement that this is not tolerable in a democracy. This sold me, as I believe finding true believers in democracy these days is getting more and more difficult.
The table to the left is a breakdown of how the votes tallied at 80% of the count. The top two vote getters were 1) former president José María Figueres Olsen, representing the PLN party (Partido Liberación National) and 2) former Minister of Finance, Rodrigo Chaves Robles representing the Partido Progreso Social Democrático (PPSD).
Not surprisingly, even the two top vote getters, in a field of 25 candidates, failed to get the minimum 40% of the vote to be declared the winner. Señor Cruickshank and his party (Restauración Nacionál - highlighted in red in the table) unfortunately only received about 10,000 votes nationally or less than 1% of the total. The runoff will see Figueres (27%) and Chaves (17%) face each other in a runoff on April 3 to determine who is the new president.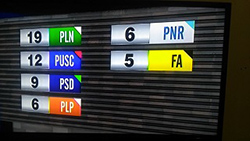 Diputado (Deputies) Election Results
With regard to the National Legislature of Deputies, the results are shown to the right. The biggest winner was Figueres PLN party, which took 19 of the 57 legislative districts, while Rodrigo Chaves` PPSD party took third place with 9 deputies. The chamber of deputies is now fixed and determined at 57 and, of course, requires no further runoff, so it is settled. The only mystery now is who will be the president on April 3. Note that no party carries an easy majority (29) into the new legislature and that even if PLN and PSD were to completely join forces on a vote they would still come up one vote short of a majority. There seems to be plenty of room and the need for political compromise and creative maneuvering.
GG found the physical voting process rather similar to U.S. methods. In my case, however, I was very kindly given a ride by my landlord Marvin to the polling place. For our neighborhood that location is the Escuela Mexico near the Quepos futbol field (all good things are near futbol fields). That`s Marvin in the photo below (in mask) outside the entrance to the Escuela Mexico.
Covid Masks Prevailed
GG`s 1st Ticket Number
Marvin made sure I was processed properly which first meant showing my cédula identification card at the gate where an election official scanned a multi-page document to find my name. Once confirming I was eligible to vote, the official wrote out a small ticket with a number on it which I presume was the order of my appearance at the poll (if so, there had already been over 5,800 others).
Then again, perhaps the number simply was my position on the document - I should have paid more attention as a reporter. Note that the slip (lower photo left) also contains a party name, Partido Unidad Social Cristiana (affectionately known in Costa Rica as "Pusch"). Free paperwork to the election officials might be one not-so-subtle way of advertising your party on election day.
After receiving my Pusch ticket number, Marvin escorted me to the back of the school where there were several rooms set up with desks each having privacy shields labeled with "Voto Secreto" (secret ballot). An election official ushered me in and handed me two ballots, pointing to the one of the desks for my use.
Ballot #1 was a sizeable piece of paper with pictures, names and party affiliations of the 25 candidates, just like that shown here. What seemed like a special ink pen with a reddish, waxy ink was also given to me and I quickly marked a big X under Cruickshank.
A second ballot offered the ability to choose any one of the 25 parties for a deputy, whomever had been appointed (elected by the party) to represent them in this district (there are a total of 57 deputies in the national legislature). GG stuck to his (adopted) party line and voted once more for Restauración Nacionál.
All elections in Costa Rica, municipal, regional and national are run and supervised by the Tribunál Supremo Elecciónes, a government organization with superior court powers in Costa Rica to any other court when it comes to elections. TSE also happens to be the same department that GG had to work with in order to get his Costa Rican citizenship.
A recent press report stated that the election had been observed by an Electoral Observation Mission of the Organization of American States (OAS). There assessment: "The Mission was able to observe that Costa Rica has a solid electoral system, which inspires confidence in the different actors in the process. The Mission acknowledges the Tribunal Supremo de Elecciónes (TSE) and all the people who performed functions in the different stages of the process for their institutionality and professionalism." As a voter, I`m glad to hear things like that.
Although I`m still trying to assess the significance of voting along a party line for both the president and a deputy, GG must say that the process of negotiating the election day duties in Costa Rica is simple, efficient and pleasant.

¡Pura Vida!

TOP

---
¿Que es Eso? Department (¿What is That?)
Is this a seal or what?
Answer in
What's-in-a-Word
section below.
¡Pura Vida!

TOP
---
Health Stuff
Note: The information given in this section is offered as news information only and does not indicate GGC confirmation or denial of the accuracy of the treatment or a recommendation to pursue it, nor can we or do we guarantee the efficacy of the results nor validity of the conclusions proffered. (How's that for a disclaimer amigos?)
a. Covid Restrictions Easing
A dramatic increase in Covid cases in the last two months, mostly of the Omicron variety, has been followed by just as dramatic a drop in the last few weeks in new cases and the R-Rate. That can be seen in the graph to the left.
The change has been enough to relax car restrictions in recent weeks with the President of Costa Rica, Carlos Alvarado (whose family has been impacted by the virus as noted in the Broken News section above) predicting an end to most sanitary provisions such as a masks in as little as two months. Vamos a ver amigos.
Following on the heels of the elimination of traffic restrictions, It was announced on February 23 that the requirement for a health pass and the purchase of medical insurance will be eliminated for unvaccinated foreigners entering the country.
¡Pura Vida!
---
Travel Quote of the Month
Sign In a Yugoslavian hotel:

"The flattening of underwear with pleasure
is the job of the chambermaid."
¡A Cachete!



TOP
---

GGC Bookshelf


GGC Publications Group is the parent organization that publishes the Golden Gringo Chronicles as well as a number of books and paraphernalia related to the Chronicles and Costa Rica. The GGC Bookshelf also includes works from a number of other authors that belong to the Quepos-Manuel Antonio Writers Group in which GGC has been a founding member.
Here are the books currently on our bookshelf:
Costa Rica`s Mystery Spheres
Mariposa - English
Mariposa - Español
The Chronicles as a Narrative
#1 Read More
#2 Read More
#3 Leer más aquí
#4 Read More
Small Business Guide
Making Time Count
Overcoming Drinking
Murder or Suicide?
#5 Read More
#6 Read More
#7 Read More
#8 Read More
Getting Around the Capital
Retiring in Costa Rica
Avoiding the Pitfalls
What's the Sleuth Up To?
#9 Read More
#10 Read More
#11 Read More
#12 Read More

There's Room for
More on the QMA Writers Group Bookshelf

Keep Writing Amigos!
Spiritual Love Connection
World War II True Story
Wildfire and the Tribune
#13 Read More
#14 Read More
#15 Read More
All of the above books are available on Amazon.com and the "Read More" links above will lead you to them. You can find more detail on all of them on our GGC Publications Page.
GGC Products Store
GGC Publications also offers some accessories and paraphernalia related to the Chronicles and with Costa Rican themes, to wit:
T-Shirts:

a.
Golden Gringo Chronicles
with Logo
b.
Official Golden Gringo with Monkey on Banana Hammock
c.
¡Quepo en Quepos!
("I Fit In Quepos!") with Photo of Quepos
d.
Wanna Monkey Around? - Come on Down!
(shown) with Photo of White Faced Monkey, e.
It's OK to be Slothful
with photo of Three-Toed Sloth.
The t-shirts are available in several themes, colors, styles and sizes. See them all
HERE
.
Coffee Mugs:
a. Golden Gringo, b. Wanna Monkey Around?, c. It's OK to be Slothful
See them all HERE:
What's life without a great cup of Costa Rican coffee? And it tastes even better in a Golden Gringo Chronicles mug!

To see ALL the products available in the Golden Gringo Store go here: GGC Store.
¡Solo Bueno!
---
What's-in-a-Word

"Tell me and I forget; teach me and I remember; involve me and I learn"
–

Benjamin Franklin
Answer to Que Es Eso
The coin pictured in the Que Es Eso? section above is the 2021 Commemorative Coin that celebrates the 200 year anniversary of the Independence of Costa Rica from Spain, an event which occurred September 15, 1821 and which is celebrated on that same September day each year.
The backside of the coin has a relief of the country including the central mountain chain (called the Cordillera) along with the inscription "Libertad, Paz, Democracy" (Liberty, Peace, Democracy) which also is the national motto.
The coin is usable as money and is equal to 500 colons (about $0.78 at today`s exchange rate). But be careful the coin is close in size to the 100 colone coin which, of course, is worth only one fifth that of the commemorative coin yields.
¡Pura Vida!
---
ROMEO Corner
(Retired Old Men Eating Out)
Restaurant: La Dolce Vita

Location: Main Street Quepos, south side, half way in on the first block from the Malecón.
Hours: Breakfast, Lunch, Dinner Sunday thru Monday
Parking: On the street only.
Contacts: Tel: 8402 7661
Reviewing ROMEOS: Alma L., Barry S., Bob N., Dan G., Donna P., Glen N., Julia S., Phyllis C., Steve M.
To Review Our Rating System Go Here:
This restaurant has been in the same location for at least 10 years as the GGC records show it first being reviewed in June of 2012 and last in December of 2019.
It´s a very simple place that might even be better described as a towny bar because many of the locals hang out there regularly discussing local politics over a beer. We put three tables (glassed topped, with simple ecoutriments) together (ourselves) to house our group of nine. Others besides GG noted that the noise level was quite high for normal conversation due to echoing off vinyl covered hard walls. The restaurant proclaims itself as Italian.
The group consensus rating for ambiance came in at 3.1/5.0 sloths.
The menu is a couple of glassined pages of Italian favorites such as pasta, pizza, ravioli and lasagna. GG ordered the house lasagna, a salad and a michelada (limone juice over ice with an aside of ginger ale in a salt-lined glass). What came was a huge square of somewhat Tico-ized and overcooked pasta layers interspersed with large amounts of finely ground beef, an unidentifiable white cheese and tomato sauce. The accompanying salad was a rather gummed up version of a ceasar.

Other ROMEOs sample ravioli, pizza, tuna steak as well as steak and tuna sandwiches.

The composite score for food quality came in at 3.2/5.0 sloths.

.39
$$$.1

Value Index= 109
ROMEOs Once Again at Work:
Clockwise, Dan. G., Steve M., Donna P., Alma L., Barry S., Phyllis C., not shown: Glen N., Julia S., Bob N. (the 3 in the background are townies)
Food service was provided by the bartender (another sign that it´s a towny bar). He was attentive but reverted to hollering out what the dishes were when served ("OK, who has the lasagna?"). That system resulted in one person getting the wrong dish which took fifteen minutes to correct. Despite that, the composite scored for service came in at 3.9/5.0. That made the average score for ambiance, food quality and service = 3.39/5.0.
GG´s michelada and lasagna came in at around 9,900 colones (about $15.50). The composite score for cost came in at 3.1/5.0. That yielded a value index of 3.39/3.1x100 = 109.
La Dolce Vida remains a simple and casual dining experience at a reasonable cost.
¡Solo Bueno!
---
Opt-In Here to Receive Your Free Monthly Copy Of
The Golden Gringo Chronicles

The Golden Gringo Chronicles is a free newsletter that is non-political, non-commercial and, hopefully, informative and entertaining. By signing up you will receive an email each month around the first of the month giving you the links to the latest edition as well as to each individual feature and departmental section.

CLICK HERE TO SIGN-UP FOR THE GOLDEN GRINGO CHRONICLES
or Email me at gg@goldengringo.com, or use our Website at: www.goldengringo.com

---
Bob Normand, Editor &
The Golden Gringo
Pura Vida!
To Contact GGC World Headquarters (yuk, yuk) to makecomments, suggest topics or criticize my bad jokes, just send an email to: gg@goldengringo.com.
Be pithy but kind; I'm sensitive.


Unsubscribe from Golden Gringo Chronicles