The Golden Gringo and the entire staff of GGC Publications (guess who that is) wish you and yours every blessing and good wish for the holidays. The major holiday for Costa Ricans in May is Labor Day celebrated on May 1. With what we've been through in the last two months I think most Costa Ricans would be happy to be back laboring. To see what I wrote about my first Labor Day living in Costa Rica (2009) go HERE.
---

Broken News


(All the News That's Fit to Reprin

t)
Doubling Down on COVID-19
The restrictions on movement and assembly got even tighter in April as the Costa Rican government clamped down further. The border closure, originally scheduled through Monday, April 13, the day after Easter, was extended until April 30. Only returning citizens and official residents carrying a valid cédula will be permitted to enter and they will likely undergo a 14-day quarantine on entering. The latest residency restriction, aimed at Nicaragua expats, says if you leave Costa Rica at this time even with a cédula, you are not able to return. I guess I'm staying pat for the time being.
Autos (excepting critical services) may not drive on public roads from 7 pm to 5 am and then, are restricted by their license plate numbers, not to drive on certain days of the week and weekends (plate #'s ending in 0,1 not on Monday, 2,3 etc. not on Tuesday, all ending with an odd numbers not on Saturday, even - not on Sunday).
The COVID numbers generated from all of these restrictions seems to have had a good effect. The numbers for Costa Rica are better than their neighbor (Panama) and the major world players, especially on a per population basis. The death count here still stands at 3 after two months of the contagion's presence. Look in the Health section below to see a detailed comparison of selected countries by incidence of COVID-19.
Corona Emptiness
In the middle of the Coronavirus hunkering down here, on April 1, I had to make a run to the hospital to have blood drawn (for an INR test; you users of Warfarin/Coumadin know what that is) in preparation for an upcoming routine checkup with my M.D. Dude.
I was absolutely shocked at how speedy the whole process was that day, from beginning at my apartment to arriving back in Quepos. I left my apartment by red taxi at 7:45 AM and arrived back there at 8:25. Really!!!??? That included the ride to the hospital, checking my paperwork at the laboratory, getting the blood drawn, taking a collectivo taxi back to Quepos, stopping a few minutes at the supermarket near my house to get a few things and walking home. Forty minutes!!!
Main Street Looking Towards Pali
I took the photo above of the laboratory and pharmacy waiting area at Quepos Hospital at 8 o'clock in the morning. As you can see there were only three people waiting besides me. Unheard of; there usually are 40-50 people in the space shown and around the corner to the left. Note also in the photo that many of the seats were taped off so that the recommended two meter "social distancing" between seated people could be maintained. (GG thinks this practice is better described as "anti-social distancing")
People are smart; they know innately that, in a period of contagious threat, the hospital is probably the last place anybody would want to hang out with all the nasty germs floating around a place that treats sick people. My conclusion was that most people were practicing self-quarantine as requested.
I shot the street scene to the right above on April 5 in late morning. Even though it was a Sunday that scene would normally have dozens of cars in streams going both ways.
Go away COVID, we don't want you anymore.
Dogs and Cats Are Pets
I can remember growing up with bad jokes like this: "A new Chinese restaurant has moved into the neighborhood; the population of cats and dogs here has seriously declined." Sometimes macabre jokes are founded in reality.
A Chinese Wet Market (nice contamination protection on the dude to the left,
particularly the sandals)
The Chinese have for all of modern time, until now, classified dogs and cats as "livestock" and currently define livestock as "...animals that can be bred to provide food, milk, fur, fiber and medicine, or to serve the needs of sports or the military". With the connection likely established between such meat, animals and COVID, and the worldwide criticism of their continued use of "wet markets" where these products are sold for food, change is coming.
Consumption of dog and cat meat is most common in Guangdong province north of Hong Kong and other parts of north-east China, like Wuhan which also is in north-east China about 850km/500mi north of Hong Kong. Wuhan is not a sleepy little village but a large metropolis of over 11 million people, more populous than New York City although probably not the NYC Metro area.
The Chinese classification animal regulation is now being changed to reclassify dogs and cats as "pets" and to prohibited sale as livestock in any form (alive or dead). Now we'll have to see if the traditional practices and habit of eating these products will change accordingly. On the other hand there is a group of people, including scientists, that believe the virus was a creation of, either intentionally or accidentally, of biomedical laboratories located in Wuhan.
More to be revealed.
Viagra Against COVID-19?
With the world in the intense period of COVID-19 expansion and an equally intense search on for any treatment, cure or relief from this scourge, many things are being tried.
One of these involves the chemical nitric oxide. In the last 30 years the scientific and medical communities have developed a new appreciation for this chemical: "In 1992, the journal Science named nitric oxide "molecule of the year." And in 1998, a UCLA pharmacologist shared a Nobel Prize in medicine for uncovering nitric oxide's role as a "signaling molecule in the cardiovascular system."
One interesting aspect of growing nitric oxide appreciation is that the technology originally came out of the development of Viagra for treating erectile dysfunction. Evidently the ingredient in Viagra releases nitric oxide which relaxes blood vessels which produces you know what in the ED sufferer. Nitric oxide technology has also come to be used to counter-act problems with "blue-born" babies, those newbies struggling to breath at birth, and it is reported to have saved many babies. Nitric Oxide is now being tried in places where other cardiovascular problems persist, like breathing problems from corona virus disease.
A number of clinical trials are underway at several hospitals and medical centers in the U.S. and around the world to establish the efficacy of nitric oxide against COVID-19 cardiovascular problems. So don't rush out and buy Viagra, save it for it's primary use; it's about nitric oxide, not the little blue pill.
Returning to Normal May Be Beginning
Despite the continued but slowing growth in Coronavirus cases worldwide, there are signs we are returning to normal, albeit a new normal. Emirates Airlines has introduced a rapid, on-site COVID-19 blood test for all passengers. It was first used on Wednesday, April 15 before an Emirates flight from Dubai International to Tunisia.
Emirates Airlines New Boarding Process
Another requirement for these flights is that a customer must wear a mask throughout the boarding process screening (see photo right) and flight. Other restrictions include no in-flight magazines nor carry-on luggage, only small handbags and brief cases.
Emirates claims to be the first airline to initiate this kind of testing. They are also testing a kiosk approach that relies on vital signs to signal that a test for COVID-19 is needed.
It's a start amigos. But, in the meantime, Costa Rica has extended it's ban on entries at the border to May 15.
¡Pura Vida!
---
Economic Drumbeat
(Costa Rica Business Happenings)
Like the US, the Costa Rican economic drumbeat has fallen to a whisper and much, but not all of the news is negative.
GG wishes he could fill this section, as he normally does, with glowing examples of investments, business expansions and technical employment opportunities that were happening regularly in Costa Rica until the Virus hit. Can't wait for a return to whatever the new normal is going to be or at least to a point where we can write about successful reopening of our businesses. But, let's go on and review the light and dark spots.
Fuel Prices Going Up
Yeah, that's right, up. Even though the price of crude oil and gasoline in world markets has plummeted recently a price increase is expected in Costa Rica shortly. Due to the glut in oil brought on by the Corona recession, the international price of crude has gone form $65/bbl in late 2019 to the low twenties per barrel in late March 2020. Gasoline prices, at least in the U.S., fell accordingly and spot prices in the $1.25-35/gallon range have been seen recently.
In Costa Rica the average price today (set only by the government) is ¢580/liter (super), ¢555/l (regular) and ¢464/l (diesel). That translates to about $3.80/gallon, $3.70/gallon and $3.10/gallon respectively. But the legislature recently passed a bill (called "Proteger" or "Protect") to subsidize the newly unemployed resulting from the Corona recession by ¢125,000/month (about $220) and ¢65,000/month for those with reduced hours. The money is to come from gasoline revenues and part of that revenue will come from increasing prices to the level in existence on March 4, the time of the last price cut. The increase versus today will up the prices quoted above plus 4-8% depending on the grade of fuel.
An electronic newspaper recently published the "structural formula" for gasoline pricing used by the Costa Rican government and that data is presented at left (I know it's difficult to read). Remember that, a government organization called RECOPE is charged with refining oil, which it doesn't do at the moment but instead imports finished gasoline products. It also sets the price according to the formula in the chart to the left.
The components of the price include: 1) the actual international price of the gasoline (about 1/3 of the total price for Super; 2) taxes (about 45%); 3) Service Station Margin (about 9%); 4) the Fleet or transport companies (about 2%); the margin for RECOPE to cover their expenses (about 9%); and 5) all others (about 9%). So that's what makes up the price of gasoline in Costa Rica.
Samtec Expanding
At last, more positive news. Samtec is an electronics based company, founded in 1976 and specializing in many types of electrical connectors like those shown in the photo right. The company is based in the U.S. in New Albany, Indiana and is about one billion in annual sales with over 6,000 employees worldwide, over 1,000 of which are in their plant and office facility in the Zona Franca park in Alejuela.
The Alejuela facility represents approximately 20% of the company's worldwide production. Their announcement foresees an increase in employees of approximately 150 in the near future.
The company also reported it is making a contribution of 800 N95 masks and $25,000 cash to the Costa Rican Social Security Fund (national health system known as the "Caja").
Economic Cost of COVID-19 is High
With so much of the economies around the world shutdown, countries have made unprecedented requests for loan money to the IMF (International Monetary Fund), which is a subsidiary of the United Nations, and which reportedly has about $1 Trillion in reserves from donations and guarantees by member countries. The president of Costa Rica, Carlos Alvarado, has made application to the IMF for a sizable interest-free loan to carry the country over this unprecedented period of economic slowdown; so have about 20 other countries around the world.
The IMF is headquartered in Washington, D.C. and the US. provides the largest contribution (about 17.5%) to the total quota of reserves apportioned to all the country members.
Trouble in Burger City
The Chronicles has been following the growth of McDonald's franchise operations here for a long time. Historically it was interesting that the first McDonald's burger store franchise outside of North America (there was one store in British Columbia, Canada that preceded the San José store) was and is the store located in San José near the Central Bank of Costa Rica.
From that humble beginning, the franchise operation in Latin America is operated by a company called Arcos Dorados which is now based in Argentina and encompasses some 2,100 burger restaurants, over 2,800 specialty stores for coffee and pastries and dessert centers. To see a story about Arcos Dorados that GG wrote in October 2015, go HERE.
But the burger business has encountered severe competition in recent years from a myriad of variations on the burger theme and the result has been a decline from about $28 billion in sales in 2013 to just over $21 billion last year. Net income in 2019 was just about $6 billion, so they're still making money; in fact there are many businesses that would like to generate over 25% net income to sales as they have.
But for Arcos Dorados, which is traded separately on the NYSE, they have a problem. Fitch, one of the "Big Three" financial rating organizations (the other two being Moody's and Standard and Poor's) just dropped McDonald's rating to "BB" with a "Negative" outlook. Not a good situation for a company to be in. More to be revealed.
Amazon Looking to Fill 2,000 Slots
Well here's a sign of life in the economy. Amazon, that purveyor of everything, first opened a customer service center in Costa Rica in 2008 and they now employ 9,000 here. The company just announced they will be adding another 2,000 employees such as customer service agents, analysts, accounting and finance, software developers, content strategists, and fraud prevention professionals.
Those interested may apply at https://www.amazon.jobs/en/. Now that's the kind of thing we like to hear about the economy.
Layoffs Continue
Many people don't know that the Rawlings Company has a sizable factory here in Costa Rica where they make baseballs and baseball sporting equipment such as gloves primarily for the U.S. major leagues. The plant and office are located near the town of Turrialba in the province of Cartago (yup, that's where the volcano is located). Unfortunately, due to the economic slowdown caused by COVID-19, the company recently announced a layoff of 190 workers there.
Ball four, it's a walk.
Adding to the not-so-good-news was an announcement by The Hotel Intercontinental in Escazú near San José that they had given 400 employees a layoff notice also. This is a first class hotel that GG happens to know personally because International Living Magazine has held it's Costa Rica focus seminar there in recent years for those interested in moving to Costa Rica.
IL usually gathers some 200-300 attendees to this meeting at that hotel and I've had the pleasure of speaking to this group for the last two years about the Central Pacific Coast and Quepos-Manuel Antonio. This year's conference was recently canceled (postponed until June 2021) due to the Coronavirus.
¡Pura Vida!
---
Latin America Updates

(Major Events In Neighboring Countries)
COVID-19 Stats for Latin America
After initiation of COVID-19 cases in Latin America in mid-March, about the same time (first two weeks of the month) the stats were sure to swell in the coming weeks and they did.
The table above gives four photos in time of some 20 Latin American countries (not shown are Caribbean countries other than Cuba) and how the Coronovirus blossomed in these countries in a period of one month and ten days (March 12 - April 25). The population of these countries together is about 609,000,000.
Latin American was just starting to see its COVID-19 cases confirmed by mid-March and registered only 427 cases and 3 recorded deaths, including three countries (Belize, El Salvador and Nicaragua) with no recorded cases at that time. Within about two weeks, on March 31, the number of confirmed cases increased by a factor of 35x to 15,231 and all countries were affected while fatalities skyrocketed from 3 to 346. By April 25 the number of detected cases in Latin America reached 144,406 with 7,143 fatalities.
One other point: the time lag between the first reported case in the States and the first one in Latin America is just about one and a half months (for Costa Rica it was almost exactly that: January 21 vs March 6). I suppose that means the resolution of our "curve" will likely lag the U.S. progress in that regard for about the same time.
With regard to other things happening in Latin America, not necessarily related to COVID-19, here are some considerations: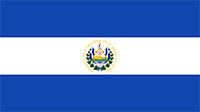 Señor Presidente Nayib Bukele
El Salvador's President Nayib Bukele, at 38 the youngest head of state in El Salvador's history, took office about ten months ago with a commitment to reduce violence in his country and eliminate corruption. El Salvador has, unfortunately, often led the world list in murder rate, i.e., per 100,000 population. For 2019 in El Salvador the rate was 61.8. In comparison, Costa Rica came in at 11.0, the U.S. at 5.0 and Canada at 2.0.
In this way Bukele hopes to reduce the tendency of his fellow countrymen to leave for the north and, instead, wants them to stay and help El Salvador grow and prosper. Reports are that Señor Bukele is trying hard to keep these promises, although he's getting criticism for being too autocratic. But it's too early to detect a successful trend.
In the meantime, Bukele's government recently announced the suspension of spending on public works projects until the Corona crisis dissipates.
The "love fest" expounded by Vice President Murillo (the wife of President Ortega) continued during March with no restrictions placed on their borders by land, sea or air. The restrictions placed by other countries will most probably limit the crossing of the Nicaraguan border nevertheless. The government (Murillo & Ortega) is continuing to encouraged groups to gather anywhere they want and festivals and celebrations are not being prohibited or even discouraged. Beaches are also not being restricted; see the comparison between Nicaragua and Costa Rican beaches below in recent photos.
Beach on Lake Nicaragua
(Ometeppe Island in Background)
Beach in Guanacaste, Costa Rica
To prevent illegal crossing of Nicaraguans into Costa Rica (and vice versa) during a period traditionally used for families to visit their relatives in Nicaragua (Holy Week), Costa Rica has strengthened it's border patrol enforcement in the so-called "blind spots" along the San Juan River which is much of the border between the two countries. In the meantime, Sr. Ortega had not been see in public for over a month, fueling speculation he may be ill himself. No information on Ortega's condition was forthcoming from the government during that period.
After a 34 day blackout from communication with the public, Señor Ortega reappeared on the 17th of April at a luncheon for him, his wife the Vice President and his ministers. No reason for his absence was given but he did credit Costa Rica for treating for COVID-19 an attempted illegal entry into Costa Rica that was stopped at the border. There still is no national protocol in Nicaragua for mitigating the virus.
¡Solo Bueno!
---

Rumble and Weather Talk

(Shaky Happenings and Weather Observations On or About the Pacific Rim)
Tremor on the Caribbean Coast
On April 8, a tremor measured on the UCR Red (Network) at 5.1R was reported off the Caribbean Coast about 19km/12mi southeast of Tortuguero Island in the province of Limón (black star on map). Another source (Ovisicor) posted it at 4.8R while the (USGS) United States Geological Survey had it at 4.4.
Come on guys, calibrate your equipment together. I guess on average Ovisicor had it the closest. GG didn't feel it in Quepos but apparently others here did.
Rincon de la Vieja Erupts
Rincon de la Vieja Eruption
Eleven days after the tremor on the Caribbean Coast mentioned above, volcano Rincon de la Vieja, which is located high in the northwest corner of Costa Rica (tiny red X on the map above), decided to also make it's presence known and erupted. At least it was not the worst kind of eruption but there was an emission of hot gases that shot some 1,500 meters (4200 ft) into the sky. That sent mud, rocks, and sediment slides northward towards the Penjamo, Azul, and Azufrada streams where they were expected to dissipate without major harm. There were no reports of ash fall or sulfur odor.
Just another day on the Pacific Rim amigos.
The press has been reporting that the "Inter-tropical Convergence Zone" (shorthanded as ITCZ) has now reached Costa Rica and other countries as well. "Wazzat amigo?" asked GG.
Most of us are content with knowing the difference between dry and rainy seasons but those that know the ITCZ, like meteorologists, know that the ITCZ is the reason for the change from one season to the other. It seems that trade winds (diagram left) circle the earth on both the north and southern hemispheres and they come together around the equator flowing what might be considered east to west.
The Inter-tropical Convergence Zone
in July (red) and January (blue)
The ITCZ flow pattern shifts at different times of the year as shown in the diagram to the right. In January (our dry season) it's dropping moisture to the south of us but by July it's right over us. So, evidently, it's shifted a bit early this year.
The ITCZ picks up great amounts of moisture from the oceans and deposits it in tropical regions, varying in its drift from south to north. Our time in Costa Rica comes usually from May to November. Beginning in April, like this year, is an early start but the dry season has caused a temporary water shortage in many parts of the land and the rain will be welcome.
The first sign of rain in Quepos began in early April and we've had several extended showers since then. The system will eventually bring that lush, green landscape we've become used to and again reinforce our area as a true rainforest.
¡Pura Vida!
Check Out Recent Earthquakes Around the World Posted by the

U.S. Geodetic Survey:
Recent Quakes
---
Search the Golden Gringo Chronicles Archives for Topics That Interest You
You can use our Archives to search for anything that has been written in more than 260 feature articles of the Golden Gringo Chronicles plus find Broken News items and ROMEO restaurant reviews. Enter your topic or item to search in the Google Search Routine below and follow the links offered from the search results. Suggestion: Enter only a simple, precise and unique as possible keyword or
two in order to narrow the number of references retrieved:
Golden Gringo Chronicles - Enter Search Here
Readers: Our publication is open to suggestions regarding future articles and will accept pieces written by others but we reserve the right to decline anything that the editorial staff (that's GG) thinks is inappropriate for this format. Send proposals, comments, suggestions, ideas, meaningless statements and jocular observations concerning the Chronicles to GG here: gg@goldengringo.com.
---
Costa Rica Paranormal
Sanatorio Durán
Mary Martin Mason is an author who lives in the mountain town of Atenas not far outside San José. This is Mary's second contribution to the Chronicles, having given us an article on "Dampness: The Acid Test for Weathering Costa Rica" a couple of months ago and which can be seen HERE. Mary is a member of the Atenas and San José Writers Groups and has recently published a new book about the goings on in a fictional town in Costa Rica. That book, Casa de Doloros, is described in more detail HERE.
In this article, Mary talks about visiting a former sanatorium called Sanatorio Durán, located in Cartago and the feelings that were brought back to her about her early childhood and where she grew up. For those of you that think you have, at one time or another, wrestled with feelings of paranormal presence or extrasensory perception, enjoy this read as I did.
___ ___ ___
Scaring Up Ghosts in Sanatorio Durán
by Mary Martin Mason
Sometimes when trying to evoke a ghost that refuses to manifest itself, you find yourself facing a different specter, one that is deep inside you. That happened to me when on May 1, 2018, I traveled to the historic Sanatorio Durán, a former facility for tuberculous patients near Cartago, Costa Rica. The sanatorium was built in 1918 by Dr. Carlos Durán Cartin, a former president of Costa Rica and a physician. With no treatment for the highly contagious consumption that plagued his daughter, he established a space that could accommodate 300 patients in an era when the mortality rate for this disease was about 50 percent.
The Remains of Sanatorio Durán
On our way to Sanatorio Durán in a hired van filled with friends, we joke about being ghost busters, having seen photographs and film of a nun and a little girl as well as shadowy figures that supposedly haunt Durán.  The night before, I had downloaded an app that senses thermal heat, only to discover that I lacked the heat-sensitive camera on my tablet. Alas, I would probably not encounter any fantasmas on this trip.
As we near our destination, the ascending road gradually unlaces itself past fields of carrots, strawberries and other produce enriched by the volcanic soil of nearby Volcan Irazú. The buildings of the sanitarium come into view, and although dilapidated, are not at all imposing, perhaps because tourists are enjoying the groomed grounds complete with picnic tables.
Visitors are offered no guide other than their imagination as they wander freely through the graffiti-laced ruins. One by one, our group enters into the darkness of Durán. Other than occasional unlit corridors, there is a constant interplay of light. Whoever designed Durán installed windows that provide views of the bucolic countryside and mountains. The tile floors and intricate wooden staircases speak to a former grandeur.  One room appears to have been a projection room with intricate apertures that would have accommodated the film projector for a movie theatre.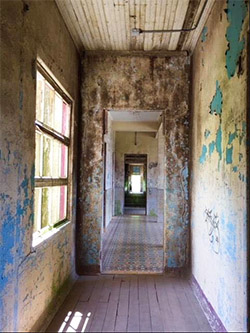 Typical Hallway at Durán
Without supervision or renovation since the sanatorium closed in 1973, scrawling artists have made their marks on the peeling walls with poems, their names and crude pictures. Visitors take selfies against the macabre backdrop. Novios startle each other to elicit a scream that echoes off the crumbling walls. Durán feels like a fun house in a carnival until….
…until I reach the Children's Pavilion where the children were housed. Here, the entryway is decorated by multiple colorful hand-prints, probably painted by visiting school children not that long ago.  I am reminded that tuberculosis ravaged all ages, and in fact was the motivation for Senor Durán to create this hospital.  Suddenly, amid all these tiny hands, I find myself tumbling back in time to another place, far into the recesses of my memory.
When I was two years old, after the death of my mother, my brothers and I were placed in an orphanage in Dallas, Texas. Father R.C. Buckner, the founder, had founded Buckner's Orphanage along with Baptist deacons in 1879. My two brothers, who were 4 and 6, and I joined a burgeoning population that had once reached over 600 in 1912.  As many as 28 buildings, built to resemble a college campus, became the habitat for a lot of minors. I hesitate to call them orphans because like us,  they probably had at least one living parent who  couldn't or wouldn't cope. I count my father in the "couldn't" category.

I have little memory of Buckner's except as the scene of my first recollection in life. I am perhaps standing on a chair because I am able to peer out of a second story window of a huge brick building.  I am looking for Santa Claus who I have been told is coming. Instead, I view a flat nothingness of a yard that extends to the next brick building and beyond that to another and to another. There is a palatable, visceral feeling attached to this memory of unfilled anticipation. I suspect that Santa Claus never arrived or his visit would have been my first remembrance.
Kids Hand-prints at Durán
Years later, in a coincidence, the type that regularly marks my existence, a career in adoption introduces me to the director of Buckner's Orphans Home that had changed its name to the more palatable Buckner's International. Her invitation to tour the establishment provides me with an opportunity to either verify or negate those who insist, "Mary, no child of two can remember what you say you remember."
During that visit I am told that as a toddler, I had been separated from my older brothers and that I had lived in the Sunbeam Dormitory. My mind goes to the "Jesus wants me for a Sunbeam, a Sunbeam" song of my childhood as I learn about the tiny sinks and toilets and accommodations for younger children.  The building has since been torn down.

Orphanages and tuberculosis sanatoriums are visages of the past in most countries. Still, Durán stirs a latent memory, evoked by the children's hand-prints. I feel the ghosts of the ill children who lived here, who hopefully could laugh despite being separated from their families, who hopefully were embraced and healed. As institutions go, Sanatorio Durán, even in its current state, appears to have served its inhabitants well.  I can now attest that it truly is haunted.
___ ___ ___
Thank you Mary for that excellent and personal description of what must have been a powerful experience for you.
Back in November 2012 GG wrote a shorter piece on Durán and accompanied it with the story of a personal extrasensory perception I had while staying at a charming but ancient hotel in Stirling, Scotland. To see that article go HERE.
---
¿Que es Eso? Department

(What is That?)
Now wait a minute!
GG was wearing a colorful shirt when his friend took the picture to the left. Was that shirt so powerful that it
sucked all the color out of surrounding plants?
Or maybe the photo was taken
at the National Garden of Black and White Plants?
Answer in
What's-in-a-Word
section below.
¡Pura Vida!
---
Viruses Are Us

(Picking You Favorite Pandemic)
GG's first reaction to the COVID-19 Virus was surprise. Despite being on this globe for a little more than three-quarters of a century I didn't realize these things could be so destructive.
Oh sure, I had heard of SARS and Ebola and the fact that HIV was a virus (the acronym standing for Human Immunodeficiency Virus), but my personal experience had been simply fighting off an occasional bout with the standard flu. I had never experienced the need to hunker down and self-isolate in order to avoid getting a real nasty virus that could kill me.
Micro-photo of COVID-19 Virus
So I felt compelled to look for the definition of a virus:
"A virus is a submicroscopic infectious agent that replicates only inside the living cells of an organism. Viruses can infect all types of life forms, from animals and plants to microorganisms, including bacteria and archaea."
So much damage done by such tiny animals.
By the way Archaea are other single-celled microorganisms and bad actors like bacteria (I hate it when you have to look up the definition of something else because it's in the definition of something else).
So I began to get curious as to how bad this virus might be in relation to others humankind has suffered in the past. Much of the information presented below comes from a science news website called Live Science, a U.K. based company that derives its income mainly from advertising. Its stories and editorial commentary are typically syndicated to major news outlets, such as Yahoo!, MSNBC, AOL, and Fox News. They appear to have a high rating among fact-rating websites and their articles are often published by Scientific American magazine. One rating service puts it this way: "Overall, we rate Live Science a Pro-Science source based on support for the consensus of the science, and High for factual reporting due to proper sourcing and a clean fact check record".
Live Science points out that there have been at least 20 major pandemics/epidemics throughout mankind's history. Here's a chronological summary of them going way back:
1. Cerca 3,000 BC: According to archaeological discoveries there was a major epidemic about 5,000 years ago, long before writing was invented, in a village called Hamin Mangha in Northeast China. A 14 by 15 foot house containing 100 burned bodies of all ages scattered randomly about was found where they were burned. The site survived until recently excavated and a second similar site in northeastern China of similar age has been found indicating a major epidemic occurred across that region around that time.
Gerard Butler in "The 300"
2. Plague of Athens: 430 B.C. This was the time when Athens and Sparta were in a war and struggling for the dominance of the Greeks. The epidemic, including details of the symptoms, was reported in detail by Greek philosopher Thucydides (fever, inflammation of eyes, tongue and throat, internal bleeding, fetid breath). The disease, not specifically identified, could have been something like Typhoid Fever or Ebola and likely exacerbated by cramped quarters caused by the war (No social distancing there amigos). As many as 100,000 died.
3. Antonine Plague: A.D. 165-180. This one was brought back to the Roman Empire by Roman troops who had been campaigning all over the known world at the time, conquering for the Emperor. Estimates run as high as 5,000,000 dead in a world with 100-300 million people at the time. The epidemic (probably smallpox) essentially ended the Pax Romana (27-180 A.D.) and subsequently the empire became unstable and broke-up.
Ruins of Carthage
4. Plague of Cyprian: A.D. 250-271. Cyprian was the Bishop of Carthage (been there, cool Roman bathhouses - not operating anymore) and other antiquities. Cyprian had the dubious honor of having this plague named after him because he often extolled it as the end of the world because it affected a large swath of the Mediterranean world at the time. Total deaths have not been estimated but it is believed as many as 5,000 people a day died in Rome alone. Burial sites with many bodies and thick layers of lime (some locations with lime kilns to supply the lime) have been found as far away as Luxor in Egypt - about 2,500 km, as the virus flies, from Carthage and even much farther from Rome.
5. Plague of Justinian: A.D. 541-542: Believed to be the bubonic plague, this scourge occurred during the reign of Emperor Justinian who had raised the Byzantine Empire to its height. It is believed that as much as 10% of the world's population was killed by this pandemic. Justinian was sickened but survived and thankfully built the acoustically perfect Cathedral known as Hagia Sophia in Istanbul (photo right). The empire gradually declined after this pandemic.
6. The Black Death: 1346-1353: Another bubonic plague, believed to have started in Asia, is credited with the elimination of some 50-60% of the population of Europe. "The plague changed the course of Europe's history. With so many dead, labor became harder to find, bringing about better pay for workers and the end of Europe's system of serfdom. Studies have suggested that surviving workers had better access to meat and higher-quality bread. The lack of cheap labor may also have contributed to technological innovation."
7. Cocoliztli epidemic: 1545-1548: This one was closer to home. "Cocoliztli" is the Aztec word for "pest." This infection is estimated to have killed 15 million inhabitants of Mexico and Central America and is believed to have been a form of viral hemorrhagic fever. The populace had already been weakened by a period of extreme drought and the disease proved to be utterly catastrophic.
Hernán Cortés
8. American Plagues, 16th Century: These were a group of Eurasian diseases, including smallpox, brought to the Americas by European explorers and conquerors. It is estimated that as many as 90% of the indigenous population of the Americas succumbed to these diseases. The weakened state of the Amerindians was one reason why Hernán Cortés was able to conquer the Aztecs and Francisco Pizarro was able to take over the territories of the Incas.
9. Great Plague of London 1665-1666:
London on Fire 1666
The bubonic plague, the Black
Death, had a resurgence in England, particularly London, in the mid-sixteenth century. The source was identified as infected rodents and estimated deaths were as high as 100,000 or about 15% of the population of London. As if that was not enough, on September 2, 1666 the great fire of London broke out and burned for four days destroying much of London. The huge exodus from the city fire included King Charles II. Did the great fire of 1666 cleanse the city of it's great plague - eliminating the rats by fire should have helped to some degree.
Old Port of Marseilles, France
10. Great Plague of Marseilles: 1720-1723: This one is thought to have started when a ship named Grand-Saint-Antoine docked at the port of Marseilles, France, carrying a cargo of goods from the eastern Mediterranean. Although the ship was quarantined, plague still got into the city, likely through fleas on plague-infected rodents.
Over the next three years as many as 100,000 people may have died in Marseilles and surrounding areas. It's estimated that up to 30% of the population of Marseilles may have perished.
So it's easy to see that the COVID-19 pandemic is only the most recent in a long history of plagues, pandemics and epidemics that humankind has faced since the earliest times. It seems there were yet ten more than the above in the last 300 years we need to talk about but that's enough for now; the Chronicles will finish this up next month with the other 10 pandemics that humanity has had to endure from 1723 to the present.
Be careful, be safe.
¡Pura Vida!
---
Health Stuff
Note: The information given in this section is offered as news information only and does not indicate GGC confirmation or denial of the accuracy of the treatment or a recommendation to pursue it, nor can we or do we guarantee the efficacy of the results nor validity of the conclusions proffered. (How's that for a disclaimer amigos?)
Costa Rica Corona Virus Update
It is readily apparent from the list of statistics for selected countries below that some places have been hit harder than others by the Coronavirus (note that data is of April 25, 2020):
This is especially true if you consider the population adjusted figures (occurrences per million of population). Spain takes that dubious honor with 4,791 cases and 490 deaths per million followed in declining numbers; Italy (3,190/429), the U.S. (2,839/160), Panama (1,302/38) and Canada (1167/61). So far Costa Rica takes last place (or first, depending on how you look at it) with 137/1.2. The "1.2" for Costa Rica is the lowest ratio of any of the selected countries.
An interesting but sad point turned up this month: there have been more deaths of Costa Ricans by COVID-19 who live in the U.S. (7) than in Costa Rica (6). I'd like to think that for us it's in the Gallo Pinto but we need to remember that each country follows its own virus life cycle curve and these figures and rankings may yet change. The death rate in the U.S. for example accelerated rapidly between the second and third months of exposure and infection. Costa Rica's curve, as measured by the first confirmed case (U.S. January 21, C.R., March 6), is running 1.5 months behind the U.S. curve.
Hydroxychloroquine Being Used in Costa Rica With Positive Results
As mentioned in the previous section, the COVID-19 statistics for Costa Rica are surprisingly good (lowest cases per million population and death rate). At this time (late April), even on a population adjusted basis, total confirmed cases for Costa Rica are running about 5% that of the U.S. with a death rate (deaths/confirmed) less than 1% of the U.S. It compares even more favorably to places like Spain and Italy. Looking at our neighbors (see tables in the Latin American section above), Panama's incidence is almost 10 times that of Costa Rica and 30 times the population adjusted death rate. (Note: neighboring Nicaragua can't be included as their numbers are not reliable - official policy there is not to test or count).
On another statistic, the recovery rate in the U.S. as of April 28 was 142,238 recovered versus 1,035,765 total cases = 14%. In Costa Rica, the rate was 306/705=43%. Granted that the sample sizes between the two countries is very different, the U.S. sample being almost 1,500 times that of Costa Rica.
So why has this been occurring? Is it because, for some reason, the virus was just not promulgated as severely as in other countries? Or could it be because of the fast, hard border shutdown implemented here in early March as well as tough social-distancing regulations. Has Costa Rica been subject to a different, less virile strain of COVID? Or is it possible there is some kind of different treatment that's working here?
The March 18 CRC/Chinese Teleconference
Recall that Costa Rica declared the first case of COVID-19 in Latin America on March 6. On April 19 a long article was posted in an electronic newspaper (Q-Costa Rica) which highlighted this question. It was noted that a video conference between Costa Rica and Chinese health officials, suggested by the Chinese embassy here, was set up on March 18. That conference was between key personnel of the C.R. Ministry of Health and Chinese CDC medical personnel who had attended the Shanghai and Wuhan epidemic.
During the teleconference Costa Ricans learned about all the procedures and patient management used by the Chinese during the height of their crisis in Wuhan including how important it is that early treatments are affected to avoid the patient progressing to more severe stages of the disease.
Part of that early treatment included the use of HCQ (hydroxychloroquine), that old malaria drug that's been talked about recently. The Chinese suggested not simultaneously using azithromycin (an antibiotic for respiratory disease) with the HCQ because of heart complications. After that meeting, the C.R. Health Ministry immediately instituted an HCQ protocol in the early treatment of COVID-19 by ordering it as a treatment in the earlier stages of infection. That was when the number of cases was less than one tenth what it is now.
Hydroxychloroquine Tablets
One interesting aspect of this is that HCQ is actually produced in Costa Rica. Just to be safe and assure supply however, the Swiss company Novartis donated to the CCSS (the "Caja", our term for the health ministry) a shipment of 108,000 tablets. Gracias amigos.
Maybe it's the early use of HCQ alone or maybe it's the combination of patient management and use of the drug but somebody ought to figure out what's going on here.
The low figures for Costa Rica demand it and lives may depend on it.
¡Pura Vida!
---
Travel Quote of the Month
¡A Cachete!
---
GGC Bookshelf
The latest book to hit the market is a new book by Robert A. Normand (aka GG, and yes, this is a plug) entitled Las Esferas, Mystery Spheres of Costa Rica. Check out the cover on the list below and click on the "Read More" button to review a synopsis of the work and to order.
GGC Publications is the parent organization that publishes the Golden Gringo Chronicles as well as a number of books and paraphernalia related to the Chronicles and Costa Rica. The GGC Bookshelf also includes works from a number of other authors that belong to various writers groups based in Costa Rica including the Quepos-Manuel Antonio Writers Group.
Here are the books currently on our bookshelf:
Las Esferas - English
Mariposa - Español
Mariposa - English
The Chronicles as Narrative
Read More
Leer más aquí
Read More
Read More
Small Business Guide
Making Time Count
Spiritual Love Connection
Murder or Suicide?
Read More
Read More
Read More
Read More
Getting Around the Capital
Retiring in Costa Rica
World War II True Story
What's the Sleuth Up To?
Read More
Read More
Read More
Read More

There's Room for
More on the GGC Bookshelf

Keep Writing Amigos!
Casa de Doloros
Overcoming Alcohol
Read More
Read More
All of the above books are available on Amazon.com and the "Read More" links above will lead you to them. You can find more detail on all of them on our GGC Publications Page.
GGC Products Store
GGC Publications also offers some accessories and paraphernalia related to the Chronicles and with Costa Rican themes, to wit:
T-Shirts:

a. Golden Gringo Chronicles with Logo,
b. Official Golden Gringo with Monkey on Banana Hammock,
c. ¡Quepo en Quepos! ("I Fit In Quepos!") with Photo of Quepos,
d. Wanna Monkey Around? - Come on Down! (shown) with Photo of White Faced Monkey,
e. It's OK to be Slothful with photo of Three-Toed Sloth.
The t-shirts are available in several themes, colors, styles and sizes. See them all HERE.
Coffee Mugs:
a. Golden Gringo, b. Wanna Monkey Around?, c. It's OK to be Slothful
See them all HERE:
What's life without a great cup of Costa Rican coffee? And it tastes even better in a Golden Gringo Chronicles mug!
To see ALL the products available in the Golden Gringo Store go here: GGC Store.
---
What's-in-a-Word


"Tell me and I forget; teach me and I remember; involve me and I learn"
–

Benjamin Franklin

Answer to Que Es Eso?
What can't you do with phones these days? My friend who took the photo in the Que Es Eso section above and to the right was using a high quality iphone and, with a few clicks, was able to black and white out the background. In the old days we might have referred to this as an optical illusion but this is no illusion; maybe we could call it an optical diversion.
Pandemic
Definition of a Pandemic: prevalent throughout an entire country, continent or the whole world; epidemic over a large area. Synonyms: broad, common, comprehensive, general, universal, all-embracing, multinational, ubiquitous. worldwide.
¡Pura Vida!
---
ROMEO Corner
(Retired Old Men Eating Out)
Restaurant Simple, Quepos
Location: Center of Quepos, one and a half blocks west (towards the bay) and a half block south of the Mini-Price Store. (Think: across the street from Super Jordix in the alley).
Hours: 7 AM to 5:30 PM
Parking: Street parking only, usually available near the restaurant.
Contacts: Tel: 7011-0551
Reviewing ROMEOS: Bob N., Jessie P.
To Review Our Rating System Go Here: R.O.M.E.O. Rating System
Instead of ignoring the ROMEO section for two months in a row or create an episode of ignoring COVID rules, GG decided to write up a lunch for two in a new place that we've visited twice before. Restaurant Simple has been in this location only a few months and this was our third visit. Part of that repetitiveness results from it being so convenient - less than three blocks from where GG lives.
This is a small restaurant that seems to cater to the lunch crowd. There are six tables (two outside on the veranda) overlooking a sidewalk and the alley; no view of the Pacific here amigos, just a handy downtown restaurant. We noticed the tables are plain but the place is very clean. The composite score for ambiance was 3.0/5.0.
The restaurant name is a good moniker for the operation as it offers an abbreviated two-sided menu with a list of wraps, sandwiches and salads freshly made.
Both ROMEOs ordered a "Crunchwrap" after it was explained to us that the contents included chopped salad, chicken, a sauce and something like pieces of a corn tortilla that gave it the crunch. It was served with crispy steak fries, as good as any in the area. Both ROMEOs gave the wrap a high rating.

GG's new drink favorite, a gin michelada (lemone juice over ice with a ginger ale side) was not available but the melone and sandia naturales were refreshing.

The composite score for food quality came in a 4.0/5.0.

.7
$$$.5

Value Index= 105
The meal was served by the lady owner, a pert, young lass who was very friendly and helpful. We gave her a composite score for service of 4.0 (a little off for the slower-than-lunch-should-be service). That made the composite score for ambiance, food quality and service an average of 3.7/5.0.
The bill for the two of us totaled 9,200 colones or about $16. We gave Simple a cost rating of 3.5 out of 5 which yielded a Value Index of 3.7/3.5*100=105, i.e., a good value.
Simple, half way between the bus station and the post office, is a great little option for lunch if you're running around Quepos.
¡Solo Bueno!
---
Opt-In Here to Receive Your Free Monthly Copy Of
The Golden Gringo Chronicles

The Golden Gringo Chronicles is a free newsletter that is non-political, non-commercial and, hopefully, informative and entertaining. By signing up you will receive an email each month around the first of the month giving you the links to the latest edition as well as to each individual feature and departmental section.

CLICK HERE TO SIGN-UP FOR THE GOLDEN GRINGO CHRONICLES
or Email me at gg@goldengringo.com, or use our Website at: www.goldengringo.com

---
Bob Normand, Editor &
The Golden Gringo
Pura Vida!
To Contact GGC World Headquarters (yuk, yuk) to makecomments, suggest topics or criticize my bad jokes, just send an email to: gg@goldengringo.com.
Be pithy but kind; I'm sensitive.


Unsubscribe from the Golden Gringo Chronicles