THERE IS A (PAID) HOLIDAY IN COSTA RICA IN SEPTEMBER: This September 15 will be the 199th anniversary of the Costa Rican Independence from Spain which means, of course, look for a blow-out in 2021 when the country will be celebrating its 200th anniversary of Independence Day.
Ticos have a way of celebrating this holiday the entire month of September as pointed out in the article GG wrote in 2019: Independence Day.
---

Broken News


(All the News That's Fit to Reprin

t)
Bare-ly a Fender Bender
Maybe at a Nude Beach Amigo, but not in Downtown San Jose
Everyone has a bad day now and then but few act the way this gent did when he ran head-on into another car in the Paso Ancho barrio of San José. The man exited his car screaming, taking his bible with him; then he stripped naked and began to pray. For several minutes he assumed different positions including on top of the car and prone in the street.
The press report did not say what followed, if he was arrested, or for what? Was he under the influence of anything but the bible (ya think?).
Maybe it's the way his bible class suggests to go biblical?
Six U.S. Airlines Ask for Limited Landing Rights in Costa Rica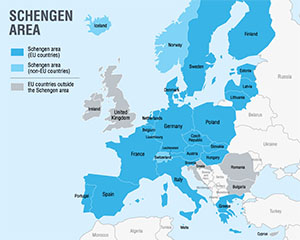 The Schengen Area of Europe (Dark Blue)
In August airline flights from three areas were reinstated for commencement in August and September. The three areas were the U.K., the Schengen Area of Europe (essentially what we used to call Western Europe - map left) and Canada. The U.S., the number one tourist origination for Costa Rica, was not included. Since that announcement the North American Chamber of Commerce here (AMCHAM), whose Costa Rican members make up more than half their total, have been lobbying to get that decision reviewed.
Not long after the new approvals noted above, six U.S. Airlines have requested approval of landing routes and rights and applied to the government for such.
American Airlines has suggested five flights per week to Daniel Oduber (Liberia) from Miami and reinstatement of "repatriation" flights (5/week) to Houston. United Airlines has requested flights between Houston and Liberia on a once per day basis beginning September 1 and four times per week to and from Newark to Juan Santamaria. Alaska Airlines is asking for four flights per week between Liberia and Los Angeles plus one per week to Juan Santamaria. Spirit Airlines is proposing daily flights to Orlando. Southwest has requested a daily flight to Liberia but not beginning until November 1. Low cost carrier Volaris has suggested it begin September 1 but, as of late August, had not yet specified its intended flight frequency.
While it is unlikely that all these flights will be approved, except over a stretched out period, it's good to see the process begin to get back to normal air service. GG is sure the travel industry here will cheer that on.
Now it's Cubans Amassing on the Northern Border
Cubans Gathering at Pe

ñ

as Blancas
Just as a Costa Rican humanitarian efforts to test Nicaraguans stranded at the Peñas Blancas were reducing the number who had been held up there recently, a new demand has emerged. This time it's Cubans who migrated from Cuba as far back as January after passing through Panama or Northern South American countries. Their goal is to reach the United States where they hope to achieve asylum.
Some press reports say that number has now reached about 200 and is growing. This one may be a bit stickier problem because Nicaragua has refused entry to Cuban immigrants in the past; then there is still the question of COVID-19 testing. The people are currently being housed in a tent camp near the border. Another continuing story.
One in Four Nurses Test Positive for COVID-19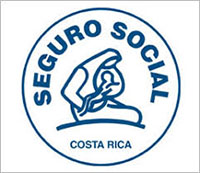 With health workers on the front line of our defense against the Coronavirus it was no surprise for GG to read in the press recently (August 7) that just under 1,000 of the 55,000 in the Costa Rican Health System or Seguro Social (affectionately known as the Caja) have tested positive for COVID-19.
Of these 249 or 25% are nurses, 16% are doctors (157), 15% are technicians or assistants (147), 14% work in administration (141) and the balance (about 300 or 30%) in supporting roles such as pharmacy, patient assistance and cleaning and maintenance. Of these, three have died so far including a doctor of obstetrics and gynecology in Alejuela. Contact tracing continues to be investigated but it is not difficult to believe they give it to each other given their proximity.
God bless and protect these heroes.
¡Pura Vida!
Economic Drumbeat
(Costa Rica Business and Economic Happenings)
New Border Costs Hinder Tourist Reopening
Just as reopening the Costa Rica international borders, particularly the airports, was being expected with enthusiasm, some new government policies threw a wrench into the plans. First was the non-inclusion of the U.S. in the the countries that would be permitted to fly here beginning September 1. Whether or not you think that was a smart decision for health reasons (both for and against arguments can be made) the exclusion of the largest traditional tourist source for Costa Rica does not bode well for Costa Rican economic recovery.
Doesn't Grow in Our Rainforest
Then, just to put the icing on the cake, Costa Rica announced two policies that would require additional, substantial expenditures on the part of the traveler. First, every passenger will be required to have a valid COVID-19 test document with negative results on boarding. The U.A.E. Airlines approach mentioned last month should be the way to go for this but all airlines are not up to this level of sophistication yet. Private costs for the standard test in various countries can range from $100 to $150.
Secondly, all passengers headed for Costa Rica must buy a Costa Rican government sponsored Insurance Policy from the National Insurance Company (INS). The cost of this varies with age from about $250 for a minor to $965 for someone over 70, both for only a two week stay. It was not clear as what this insurance provides should the instrument need to be exercised.
So while some airlines were beginning to offer some great discounts (GG saw a couple in the $200-300 range, round trip to Miami), these new policies could add from $350 to over $1,100 per ticket. That doesn't sound like a path to economic rebound to me.
By the end of August the government was scurrying to come up with and approve lower cost insurance plans.
First International Flight Lands at SJO
The first commercial passenger flight since Costa Rica closed its borders to tourists on March 18 due to the pandemic arrived at Juan Santamaria airport at 4:39 PM on Monday, August 3. Iberia Flight 6317 left Madrid five hours and forty minutes earlier with 214 passengers (estimated at 70% capacity by a passenger). It wasn't clear from the press photo at right if the water canons were for sterilization purposes or just celebratory.
It was reported that 13 of the passengers were allowed to board without the required negative COVID-19 test done within the required forty-eight hours prior to departure. These people were reportedly isolated from the others upon arrival, tested and quarantined until the test results were available in 24-48 hours.
One of the passengers, coming for a two-week holiday, reported that, under the new insurance requirements, she and her husband and their 6-year old paid $1,300 for the flight.
Well, it's a start. Do you remember when traveling was fun? And cheap?
AmCham Asks for Resumption of U.S. Flights
North American Costa Rican
Chamber of Commerce
The press reported early in August that the North American Costa Rican Chamber of Commerce (affectionately known as AmCham) has urged the Costa Rican government to allow commercial flights from the United States as soon as possible "in order to support the reactivation of the tourism sector". Amen.
As you might expect if you've visited here in season, the U.S. is the largest single source of tourists in Costa Rica representing 1.3 million visitors in 2019 or 41% of the total of 3.14 million from all parts. Other significant contributors were Europe (0.5 million/16%) and Canada (0.23 million/7.5%). The balance of slightly over one million came from Latin America and a smattering of countries around the globe.
More importantly than the totals numbers is the fact that tourism is equivalent to increasing the population by 60% (3.14/5.0) in any given year providing a large economic stimulus. If that were a similar case in the States, the number of tourists would have been 197 million visitors in 2019 when in fact it was 38 million. And even more important than the gross numbers is the fact that people on vacation or visiting are prone to spending even more money on average so the economic effect is even more dramatic.
Sounds like it's time that two great partners like the U.S. and Costa Rica find the means to secure travel safely and get on with the restarting of a long time friendship.
The New Plan for U.S. Tourists
The pressure created by airlines and the North American Chamber of Commerce mentioned above must have had some effect because on September 1 the airports will begin to reopen to U.S. flights under a measured opening strategy. In the initial phase, only residents from six states (as confirmed by your driver's license or state identification card) will be allowed entry as tourists: New York, New Jersey, New Hampshire, Vermont, Maine, and Connecticut.
The announcement by the government implied a stepped or phased opening and that the states chosen had already gone through their worse numbers related to the pandemic and were on the decline in that regard. The list was missing the top three most populous states (and largest people-contributors to Costa Rican tourism): California, Texas and Florida all three of which have been dealing with a surge in new cases for several weeks now. The stepped program was also suggested as a cautionary measure because Costa Rica has been in the middle of its own surge in Coronavirus cases for the last several weeks (see health section below). The plan, amigos, is a start however.
BULLETIN, BULLETIN, BULLETIN. With the ink hardly dry on the six-state order, the list was expanded to 12 states. Beginning September 1, Virginia, Maryland and Washington D.C. will be added to the list and on September 15 Massachusetts, Pennsylvania and Colorado will be added.
Hilton Commences Major Resort Project Here
Well at least one major hotel chain is giving a vote of confidence in the future of Costa Rica.
Press reports say Hilton Hotels has begun the conversion of Crocodile Bay Resort in the OSA peninsula to one of its luxury Botánika style hotels it operates around the globe. This is a special type of hotel that focuses on the natural offerings of the environment around it with minimal disturbance thereto. There is no question that the Osa area offers incredible biodiversity in everything from epic billfishing to volunteer work in helping to preserve turtles.
Said the managing director of the new hotel: "With Corcovado National Park in our 'backyard' and the Pacific Ocean in our 'front yard,' Botánika will be virtually surrounded by national parks and forest reserves. "We will have an unrivaled location that will make us the perfect base camp from which to explore Costa Rica's incredible biodiversity."
To get an idea of what the revised Botánika Resort will be like, go here: https://www.botanikaresort.com/. The hotel is planned for opening in the fall of 2021.
VAT on Tourism Suspended
In another effort to "reactivate" tourism the government recently announced that all businesses registered with the government's tourism institute will enjoy an exemption from the 13% VAT or sales tax for a period of two years. This includes hotels, car rentals, tours and other tourist related activities. On years three and four the rate will increase from 0 to 4% and then go up to 8% on the fifth year. What after that was not projected but the current prevailing rate is 13%.
Thirteen percent off the top eh? That might help offset the increase in testing and insurance costs concerning the Coronavirus mentioned above that non-residents are faced with.
¡Solo Bueno!
---
Latin America Updates

(Major Events In Neighboring Countries)
Argentina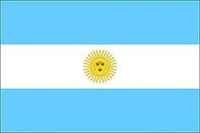 Just about every newsworthy article these days regardless of country has to do with COVID. This time it's Argentina's turn. The president of Argentina recently announced a cooperative agreement among the U.K., Argentina and Mexico to produce a vaccine that has shown great promise in countering COVID-19. The early studies (Phase 1 and Phase 2) show that the vaccine actually eliminates the virus and holds the body immune to infection for as much as one year.
The vaccine was developed by Oxford University in the U.K. and has shown efficacy in Phase 1 and Phase 2 clinical studies with Phase 3 studies now underway (see the definition of "Phases" HERE). After Phase 3 approvals, the vaccine might be ready for use in the first half of 2021 (still a slow process, eh amigos)?
With cooperative license agreements now in place the vaccine will be produced in Mexican Pharmaceutical company AstraZeneca's manufacturing facilities in Mexico and Argentina and would be expected to produce enough vaccine for Latin American consumption (hundreds of millions of doses). With backing by the Carlos Slim Foundation (Slim is the Mexican multi-billionaire telecom mogul) the projected cost of the vaccine is about $4 per shot and Slim promises to take no profits out the project. (that's pretty good Slim pickens)
Nicaragua
1. Humanitarian COVID-19 Testing at Border. We reported last month that some 600 Nicaraguan citizens had amassed in the "no-man's" zone between Costa Rica and Nicaragua at the northern border crossing at Peñas Blancas. This was a result of a new regulation by Nicaragua requiring a valid and negative COVID-19 test for entering the country, even for citizens of Nicaragua. The Managua government made no provision for doing the testing on their side of the Peñas Blancas border as their returnees entered their home country. Over two weeks passed as the number of detained people increased.
With the overcrowding situation rapidly worsening, a humanitarian appeal was made inside Costa Rica by the Fundación Arias para la Paz y el Progreso Humano (Arias Foundation for Peace and Human Progress). The reader may recall that Señor Arias was president of Costa Rica a few terms back (this writer remembers him as being in the forefront of a lot of the country's modern infrastructure improvements at the time like the Costanera Sur).
The appeal resulted in a number of contributions that permitted the organization to set up a temporary testing facility at the border (photo left) through the auspices of Hospital Clinica Biblica. The figures at this writing for testing so far, with regard to negative and positive results, were not available.
The situation begged the question of whether or not Nicaragua will accept those with positive results or would they be expected to become wards of Costa Rica for treatment? We didn't have to wait long for that answer. After testing was completed and 21 of the group tested positive, the following announcement was made by the Costa Rican Ministry of Health:
"...the 21 who tested positive for COVID-19 must remain quarantined on Costa Rican soil until they no longer have symptoms. They will be housed in a shelter prepared by the municipality of the border canton of La Cruz, where they will receive medical attention.

"People (who tested) positive are going to receive care through civil society (i.e., non-governmental sources - ed.), food and the medical service is going to be run by these organizations. (Costa Rica) Immigration has provided a place for civil society organizations to enter to attend to these people," said Raquel Vargas, Costa Rica's director of immigration.

"Tents will be installed with the right conditions. This approach will be carried out by the private company hired by civil society. They are in good health. They will remain there until the programmed new sampling. Food will be provided by Corner of Love, an organization that has been giving them food assistance throughout their stay at the border," said Vargas.
2. Nicaragua to Produce and Distribute Russian COVID Vaccine. On Tuesday, August
11 Russia announced that they had developed a vaccine against COVID-19, which they named "Sputnik V", that provides "long-lasting immunity". It is yet to be recognized by any international organization or undergone extensive testing - more to be revealed.
Mechnikov Factory in Managua
Less than a week later Nicaragua announced that it was entering into negotiations to be the Latin American producer and distributor of the vaccine. Purportedly it would be produced in the Russian Pharmaceutical factory in Managua called Mechnikov. According to Dr. Ernesto Medina Sandino, a member of the Nicaraguan Academy of Sciences, the vaccine has not been produced at the plant to date and significant modifications to the plant will be required.
Again, a developing story, even more to be revealed.
¡Pura Vida!
---

Rumble and Weather Talk

(Shaky Happenings and Weather Observations On or About the Pacific Rim)
Rumbling
And let there be quiet. We continue to have a low frequency of anything one might call an earthquake. The rains have been heavy so far this season, almost on a daily basis so we'll see if heavy rains can trigger future tremors as some meteorologists suggest.
It was true to form, i.e. weather-wise, that just as GG finished writing the paragraph above, we had a tremor that shook GG's nap short. It occurred at 3:50 PM on Monday, August 24 and was reported at magnitude 6.2 by the Costa Rica Red (seismological network) and 6.0 by the U.S. Geological Service.
Be sure to read the article below on the apparent difference in magnitude between the local (Costa Rica) ratings for earthquakes here and that published by the U.S. Geological Survey.
Weather
As mentioned we are currently seeing strong rains worthy of the season's name. It's keeping things nice and green (really green) and wet in just about all of Costa Rica.
A Tropical Wave - So That's What You Call It
It's that time of the year amigos when we are visited by the Inter-Tropical Convergence Zone. This annual weather pattern creates "tropical waves" of rain storms that usually come off the Caribbean and that can take one or several days to pass through a region.
On July 31 this year we noted that Costa Rica was experiencing its 22nd tropical wave of the year and by August 20 the count was up to 29. Sail on me heartys, damn the storm, full speed ahead!
¡Pura Vida!
Check Out Recent Earthquakes Around the World Posted by the

U.S. Geodetic Survey:
Recent Quakes
---
Search the Golden Gringo Chronicles Archives for Topics That Interest You
You can use our Archives to search for anything that has been written in more than 260 feature articles of the Golden Gringo Chronicles plus find Broken News items and ROMEO restaurant reviews. Enter your topic or item to search in the Google Search Routine below and follow the links offered from the search results. Suggestion: Enter only a simple, precise and unique as possible keyword or
two in order to narrow the number of references retrieved:
Golden Gringo Chronicles - Enter Search Here
Readers: Our publication is open to suggestions regarding future articles and will accept pieces written by others but we reserve the right to decline anything that the editorial staff (that's GG) thinks is inappropriate for this format. Send proposals, comments, suggestions, ideas, meaningless statements and jocular observations concerning the Chronicles to GG here: gg@goldengringo.com.
---
Precision Versus Accuracy
(Reconciling Tremor Measurements)
After twelve years living here I have experienced and reported on the Costa Rican experience with earthquakes. During this time I came to notice a small discrepancy between the force of a tremor as reported by the University Nacional "Red" (National University Network) and that reported by the USGS (United States Geological Survey - part of the Department of the Interior). In most cases the Red routinely reported numbers slightly higher than the USGS. GG has noted the difference to be on the order of 0.2 to 0.5 R (Richter Scale).
Japan March 2011 - R=9.0
Recall that the Richter Scale, one measure of the energy released in an earthquake, is not linear. It is a logarithmic scale which simply means that a 5.0 rating is not 25% stronger than a 4.0 rating; it is in fact ten times as strong. And a 6.0 is ten times as strong as a 5.0, etc.,etc.
At the low end of the scale a 2.0 rating is something not usually felt by humans whereas a 9.0 rating is strong enough to wipe out a city (photo left of Japan 2011 9.0 - and also remember Haiti 2010 - 7.2 - 220,000 fatalities). We have to remember that the damage that results from the energy release is not just a function of measured magnitude of the tremor - other important factors include distance from the epicenter, depth of the epicenter and the type of building materials used in the strike zone (Haiti was largely adobe or mud construction).
Evidently GG was not the only one to notice the discrepancy between the Red and USGS. A local resident, who shall go by the nom de plume of normanmoore also saw the discrepancy and investigated it in more depth. His article on the R discrepancy (and other differences) follows.
_________
by normanmoore © sep2019 all rights reserved

'Two strong earthquakes on both coasts were felt throughout the country' was the headline in The AM Costa Rica web daily.  I was interested in the one that hit me. I knew it was either big or close, but not both.
Yesterday, when the shaking stopped I opened the United States Geological Service (USGS) earthquake map and waited for the measurements. In 15 minutes the USGS had updated its reports and showed an earthquake with a magnitude of 4.7 had hit near Santo Domingo, 17 km east of Quepos. That's only 8 km south of me. Close, not very big, and only a river nearby that might change course.

I texted a few folks the results, discussed it once or twice during the day until it was eclipsed by the rescue of a toddler who had gotten his foot wedged into the bars of a storm drain in Quepos (Spoiler alert: It went well).

This morning I read in the Am Costa Rica that the second of those two headline earthquakes "happened on Wednesday, at 5:23 a.m. It was a magnitude 5.2 (after a review from a first data of 4.9 mag.), with a depth of 34 km, at 20 km south of Quepos town". The graphic and magnitude didn't match what I had found at the USGS site. This doesn't surprise me.  An initial data set sufficient for a solution is augmented and adjusted by more and better values. I went back to the USGS but found them still reporting the same solution as yesterday -M4.7 17 km East of Quepos.
Further into the same article we were supplied with a solution from the Observatorio Vulcanológico y Seismological de Costa Rica - Universidad Nacional, OVISCORI, - (M) 4.9 20 km Sur de Quepos. The differences in the numbers caught my eye. They are small discrepancies but it got me to thinking about the underlying data we use to make decisions.  Both of these government institutions are highly authoritative.  I do not question their readings and I am familiar enough with the concepts involved in collecting data to understand differences in precision.

The instruments and readings say that at that place and time they read those measurements - it is true - but the fact of where the event actually happened is not evident. Segal's Law tells us that a man with one watch knows what time it is, but a man with two watches is never sure. How can such authoritative sources publish disparate reports of the same event? How precise do we have to be in our facts in order to make good decisions?

I contacted Seismologist Marino Protti at Universidad Nacional, OVISCORI and discussed data aggregation and the precision of earthquake level events. This is what he had to say (nm=normanmoore):

nm: "Earthquakes are generally very large events; How big of an area did this actual subduction event involve?"
Professor Protti: "As much as tens of square kilometers (km2). These are expected values for larger events:magnitude > 9= several tens of thousand of km2, magnitude > 8= a few tens of thousand of km2, magnitude > 7= thousands of km2, magnitude > 6= tens to a few hundred of km2
nm: "Are the differences as reported (3 km, .2 M) significant in understanding this event for the layman?"
Professor Protti: "No, those are actually very small differences."
nm: "Why the difference in the reported event between these two respected scientific bodies?"
Professor Protti: "The precision in the location of earthquakes depends on the size of the event and density of the recording seismographic network (number of stations and coverage around the epicenter). For Costa Rica, the USGS and any other global network can only record events larger than 4.5 in magnitude; OVSICORI-UNA`s network, in some parts of the country, can locate events with magnitudes below 1.0 (tens of thousands more events than the USGS). For earthquakes occurring within Costa Rica and tens of kilometers offshore, OVSICORI`s locations will always be much better than those obtained by the USGS."
And Then There Might Also Be a Tsunami
nm: "Does OVSICORI have a consistent difference with the USGS reporting earthquakes?"
Professor Protti: "There is a well known and documented bias of the global networks to mislocate events in Costa Rica tens of km to the NE. Earthquake locations are very important and local networks will always get better locations than global networks."
nm: "That Costa Rica does good science does not surprise me. That the United States publishes data of less accuracy than is possible was surprising.  Why would the USGS report less accurate data over what they know to be more accurate data and who would use it?"
Professor Protti: They have an automated system that reports all the events that were recorded by enough stations; when the event is large (>7) they do a manual location and report a revised version. Errors depend on the size of the process we are monitoring and the density of instrumentation we are using.
nm: How are OVISCORI's (and other countries) results aggregated or normalized into the world body of knowledge as facts?
Professor Protti: OVSICORI-UNA keeps a catalog of earthquake parameters (origin time, latitude, longitude, depth, magnitude, and error bars) for earthquakes occurring in Costa Rica since April 1984, when our country-wide seismic network started operating.
nm: Is there a central (world) office responsible for earthquake data aggregation?
Professor Protti: There are several regional and global centers and they all have different magnitude thresholds.
nm: At some point the data will be aggregated and recorded as 'history'. Whose numbers do researchers use for authoritative citation?
Professor Protti: Depends on the region and networks.
nm: For those in the profession, these data differences are known and peer review verifies the source data. How can ordinary citizens be expected to fully participate in policy decisions when agreement on known facts is difficult to achieve amongst the professionals? 
Professor Protti: By searching for the best source of information.
Follow up comments by nm:
Rational Ignorance about an issue is when the cost of educating oneself about an issue sufficiently to make an informed decision can outweigh any potential benefit one could reasonably expect to gain from that decision, and so it would be irrational to waste time doing so.
In public discourse citizens are expected to elect representatives to address their needs. People have little enough time to become experts in their own and related fields to chase down minutia in esoteric fields and campaigning rhetoric. For that, we examine the credentials of the presenter and decide to accept or reject their assertions.
Luckily I am irrational enough to wonder at things and look for answers. Thanks to Seismologist Marino Protti, the Universidad Nacional, and OVISCORI for providing some small insight into why even respected institutions may not report the most accurate data on the size of the event that triggered the question.
_________
GG's Comments: Many thanks to both nm and Professor Protti for their input.
Just for fun GG sent a query to the USGS citing that we had picked up discrepancies between their ratings and the UCR-Red. They answered within a few hours and directed me toward a FAQ they had already developed on this topic, a key point in it being: "Attempts have been made to calibrate these magnitudes to the original Richter Scale, but since different techniques often measure different physical processes there can be large discrepancies between different magnitude types calculated for the same earthquake."
Their full FAQ can be read here: https://www.usgs.gov/faqs/why-do-usgs-earthquake-magnitudes-differ-those-published-other-agencies?qt-news
Depends on what you measure and what kind of equipment you measure it with. Interesting topic, not as simple as one would hope. GGC will continue to use the USGS ratings in an attempt to report some consistency.
For more articles on tremors go HERE:
---
¿Que es Eso? Department

(What is That?)
Finally, extraterrestrials vacationing in Costa Rica on the beach. If they start talking ("Take me to your leader..") call the Coast Guard and NASA.
Then again, maybe they're not extraterrestrials... but what could they be?
Answer in
What's-in-a-Word
section below.
¡Pura Vida!
---
The Coffee Story

(Part 3 - The Perfect Cup)
This is the third and last installment of the story of how coffee became the most popular beverage in the world and the second most valuable traded commodity after oil. As we shall see, the story of coffee has become an integral part of the history of Costa Rica as well, particularly in the last fifty years.
Turkish Coffee House...
And the Word Spread
In Part 1 (Issue 143) we reviewed the history of coffee, from its accidental finding and use as a medication in Ethiopia to the phenomenal blossoming of coffee houses throughout the Arab world and eventually across the entire globe. The Arab world gave birth to the drink and fell in love with coffee not only because it was a tasty, energy-giving brew but also because it did not go against their religious beliefs as did alcohol. Slowly but surely the love and availability of coffee spread throughout the world.
In Part 2 we discussed the business of coffee, how it grew through entrepreneurship and the effects, both good and bad, that it had on countries and people's lives.
In this issue we discuss "The Perfect Cup" and how the search for special tastes progressed in the 20th century with parallels similar to the global experience with wine. Periodic financial instability in the market led to great efforts to produce new and higher valued products and created the specialty flavors segment.
________
As mentioned in Part 2, the coffee industry prospered over the centuries as more people learned about it through caravans and trading ships which brought the beans and then the plants to northern countries. The Turks in particular, invented coffee houses and, being the nomads that they were, spread the word about coffee across much of lower Europe.
It was only a matter of time before the word about coffee reached northern Europe. By the 1500's and 1600's all of Europe, by hook or crook, had experienced and fallen in love with the brew. In the 1700's the bean and plant spread to the Americas, particularly to the Caribbean and Latin America where eventually Brazil would become the number one producer in the world (see chart above).
In the 1900's the industry had grown substantially but had at times suffered several financial collapses because of overproduction. Because of these difficulties, some coffee producers looked for ways to make the business more stable and profitable. That gave rise to product diversification in the 1960's when the first attempts at creating more recession-proof, higher profit margin coffee products were made. Many thought that specialization via production of higher quality products with unique tastes was one answer, as did Costa Rica. And so did some American entrepreneurs.
The Original Starbucks in Seattle
1912 Pike Place
It was during this period that three liberal arts students at the University of San Francisco met and came up with the idea of roasting and selling superior coffee. When it came time to name the operation and after debating the issue, their consensus was that words beginning with "St" were strong (OK, why not?). They decided to name their first store Starbucks after the first mate in the novel Moby-Dick (that's what happens when you get English and History majors together as founders).
The original Starbucks store was opened in Seattle, Washington March 31, 1971 on Western Avenue and then
moved a few years later to 1912 Pike Place where it still resides. As they say in the novels, the rest is history.
Starbucks now has over 6,000 stores, employs some 350,000 people and has an annual revenue of almost $30 billion. (Man, that's a lot of Mocha Lattes!) Not bad for a specialty company, eh? Starbucks has its own farms in Costa Rica and annually produces/purchases an amount to supply its stores worldwide that registers over 15% of the entire Costa Rican crop. Some of the coffee producers refer to Starbucks as "the big bully of the specialty producers" but it's hard to argue with their success.
Starbucks had the right idea. GG can remember the first time he returned to Florida from living in Costa Rica for a couple of years. I tried a cup of coffee at a restaurant in Florida and was shocked because it was thin, weak and bitter. A little later I went to a Starbucks and ordered a large cup of one of their dark roast specials (something about "Volcan Poas" on their label description) - it helped pass the mental derangement I had felt. I was back to normal - it tasted like Costa Rica - Pura Vida!
Mechanically Harvested Cherries
Hand Picked Costa Rican Cherries
It was in the late 1900's also that Costa Rica coffee farmers realized that changes were needed if they were going to survive. In an attempt to rationalize a business that had gone through serious depressions around the world, the large coffee producers were resorting to mechanization to harvest the coffee cherries (ripe beans) rather than traditional hand picking. That meant they got some of the unripe and partially ripe beans in the mix and the resulting coffee was lower quality, even bitter tasting. The subsequent post picking bean treatment process they went through only added to the problem.
Costa Rica realized that they, particularly the smaller farms, would never be able to economically compete with high volume countries like Brazil or Vietnam. The specialty companies sometimes refer deridingly to the majors as "the cans" (huge producers like Chase & Sanborn, Folger etc.). Specialization was the key for the small guys and local producers elected to go with high quality specialty tastes to achieve higher prices rather than high volume mechanization.
In 1989 Costa Rica passed a law that only Arabica coffee (the type of original plant from Ethiopia and which is rated for its great flavor) could be produced in Ticoland. During this period the country began the development of cooperatives that helped in the exchange of growing and marketing information based on higher priced specialty products. These products also provided a better wage for the staff and better return on investment for the growers, a movement which later became known as the "Fair Trade" movement.
The process of creating a great cup of coffee is more extensive than most people realize. The term "mountain grown" is not a myth or marketing ploy; the best conditions exist where there are warm, tropical or near-tropical mountain climates such as in Costa Rica. The map left shows that the coffee producing regions here are mostly snuggled up to the sides of the Cordillera Central, the central mountain range that bisects the country down its center.
Generally speaking, there are eight areas that are considered particularly good growing areas: West Central Valley (Naranjo), Los Santos (Terrazú), East Central Valley (Tres Rios), Orosi (Paraiso), Brunca (Coto Brus), Turrialba (Turrialba), North Central Valley (San Isidro) and Guanacaste (Tilarán). Each of these areas has striven to make their coffees a little different, and professional taste testers can usually tell which one of these areas it came from with one little sip.
It was originally thought that strong sun was necessary to achieve good production. This belief resulted in a great deal of deforestation in the higher production countries (Brazil, Vietnam). For higher quality, specialty production, experience has shown that shade grown plants can produce excellent beans and coffee flavors, particularly shade from certain trees (the Horku for example) that also provide their own fruit and leaves that naturally fertilize the coffee plants. This is one way a farm can attain the rating of being "organic".
Drying the Unroasted Coffee Beans
Once the cherries are (hand) picked they are washed and the hull removed in an extractor, then the mucilage on the outside of the bean is removed in a tumbling process. Any natural materials left over from cleaning the beans is sent, along with the unripe beans and leaves that were earlier separated at picking time, to the compostor and then recycled as fertilizer.
Lastly, the washed beans are laid out to dry for up to ten days. The moisture level in the beans is monitored until it reaches a specific level after which the unroasted beans are packaged in 60 kg (132 lb) bags, labeled and held for commercial customers who do their own roasting. Roasting, in itself is an art form that varies from producer to producer and coffee seller to coffee seller.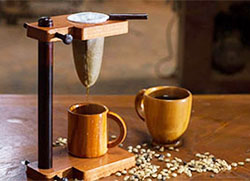 And when you get the roasted, ground Costa Rican coffee home you throw it in the percolator - hell no! The once- through drip is still the way to extract the best flavor. If you're really an aficionado, try the Costa Rica bag method.
Go into almost any Costa Rican home and you'll see a contraption (photo left) that is a simple stand that supports a cloth bag in which has been placed some of your best ground coffee. Now that's once through for real coffee. Better yet, try samples from all eight regions (you can buy them on the internet these days) and make your own vintage choice.
I say vintage because coffee has reached a sophistication of styles and choices much like the wine industry has realized over the centuries.
Cheers amigos!
________
Here's an index of previous Chronicles' scribbling on coffee.
Edition 43 March 2012: Coffee Versus Type II
Edition 82 June 2015: Coffee as Health Food
Edition 92 April 2016: Coffee Talk
Edition 97 September 2016: On Being a Catador
Edition 109: September 2017: Coffee Studies Again Positive
Edition 122: October 2018: Health Foods: Red Wine, Coffee, Chocolate
Edition 143: July 2020: The Coffee Story: Part 1 - The History of Coffee
Edition 144: August 2020: The Coffee Story: Part 2 - Coffee as Business
¡Pura Café!
---
Health Stuff
Note: The information given in this section is offered as news information only and does not indicate GGC confirmation or denial of the accuracy of the treatment or a recommendation to pursue it, nor can we or do we guarantee the efficacy of the results nor validity of the conclusions proffered. (How's that for a disclaimer amigos?)
Clinical Studies System for a Vaccine
If you've ever wondered what is involved in the process to get a vaccine, especially what the "Clinical Phases" mean, GG found this explanation in the www.cdc.gov website:
"The general stages of the development cycle of a vaccine are:
Exploratory stage
Pre-clinical stage
Clinical development
Regulatory review and approval
Manufacturing
Quality control
Clinical development is in itself a three-phase process. During Phase I, small groups of people receive the trial vaccine. In Phase II, the clinical study is expanded and vaccine is given to people who have characteristics (such as age and physical health) similar to those for whom the new vaccine is intended. In Phase III, the vaccine is given to thousands of people and tested for efficacy and safety. (Did everybody know how this process worked - I didn't?)
The Spike Progresses in Costa Rica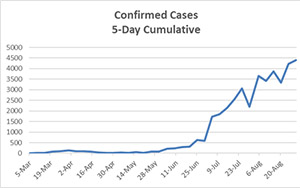 The new cases in Costa Rica chart as of 30 Aug is shown to the left. This particular chart shows accumulated cases within 5 day periods (makes it less spikey than a daily chart - less points to handle).
As you can see the growth in new cases continues upward. Even if the rate of increase in August is less than it was in July the number of new cases is still very substantial.
Aussies Claim a Cure for COVID
In the midst of all the other developments, the Australians have come up with something they think is a cure for Coronavirus. Not just a treatment, they claim it actually eliminates the virus.
It is an already known and produced chemical called Ivermectin. It is typically used for parasitic infections, and researchers say it can kill the COVID-19 virus in as little as four days. As if that weren't reason enough, the cost of this material is expected to be measured in cents per dose. The drug, like Hydroxychloroquine seems to be most effective if administered in the early stages of the virus. Here's the video announcement: New Aussie Drug. More to be revealed as clinical trials continue.
Russians Claim First Cornoavirus Vaccine
Not to be outdone by bourgeois capitalist countries, Russia, on Tuesday claimed they have developed the first COVID-19 vaccine. The vaccine is still in Phase 3 studies and only been administered to less than 100 people so far. Within a week of the Russian announcement, Nicaragua announced it was in negotiations to be the producer and distributor of the new vaccine for much of Latin America (see more on this in the Latin American Updates section above under Nicaragua).
U.S. Donates Three Field Hospitals to Costa Rica
In light of the ongoing surge in new Coronavirus cases here (new cases recently averaging better than 1,000 per day), the United States Southern Command has donated three field hospitals to Costa Rica. The timing is good as a number of these temporary hospitals have been or are being closed down in the States.
Each field hospital is equipped with water distribution and air conditioning systems, electricity generators, power distributors and can shelter up to 40 patients in each hospital.
The Command expects to deliver at least 24 of the hospitals to 12 countries in the region - Costa Rica and the Dominican Republic being the first two.
---
Travel Quote of the Month
¡A Cachete!
---
GGC Bookshelf
The latest book to hit the market is a new book by Robert A. Normand (aka GG, and yes, this is a plug) entitled Las Esferas, Mystery Spheres of Costa Rica. Check out the cover on the list below and click on the "Read More" button to review a synopsis of the work and to order.
GGC Publications is the parent organization that publishes the Golden Gringo Chronicles as well as a number of books and paraphernalia related to the Chronicles and Costa Rica. The GGC Bookshelf also includes works from a number of other authors that belong to various writers groups based in Costa Rica including the Quepos-Manuel Antonio Writers Group.
Here are the books currently on our bookshelf:
Las Esferas - English
Mariposa - Español
Mariposa - English
The Chronicles as Narrative
Read More
Leer más aquí
Read More
Read More
Small Business Guide
Making Time Count
Spiritual Love Connection
Murder or Suicide?
Read More
Read More
Read More
Read More
Getting Around the Capital
Retiring in Costa Rica
Investigate Living Abroad
What's the Sleuth Up To?
Read More
Read More
Read More
Read More

There's Room for
More on the GGC Bookshelf

Keep Writing Amigos!
Casa de Doloros
Overcoming Alcohol

World War II True Story

Read More
Read More
Read More
All of the above books are available on Amazon.com and the "Read More" links above will lead you to them. You can find more detail on all of them on our GGC Publications Page.
GGC Products Store
GGC Publications also offers some accessories and paraphernalia related to the Chronicles and with Costa Rican themes, to wit:
T-Shirts:

a. Golden Gringo Chronicles with Logo,
b. Official Golden Gringo with Monkey on Banana Hammock,
c. ¡Quepo en Quepos! ("I Fit In Quepos!") with Photo of Quepos,
d. Wanna Monkey Around? - Come on Down! (shown) with Photo of White Faced Monkey,
e. It's OK to be Slothful with photo of Three-Toed Sloth.
The t-shirts are available in several themes, colors, styles and sizes. See them all HERE.
Coffee Mugs:
a. Golden Gringo, b. Wanna Monkey Around?, c. It's OK to be Slothful
See them all HERE:
What's life without a great cup of Costa Rican coffee? And it tastes even better in a Golden Gringo Chronicles mug!
To see ALL the products available in the Golden Gringo Store go here: GGC Store.
---
What's-in-a-Word


"Tell me and I forget; teach me and I remember; involve me and I learn"
–

Benjamin Franklin

Answer to Que Es Eso?
They're sea urchins. Most of you who have lived around ocean shores, particularly tropical ones will have seen these little creatures in some form or specie before.
In Spanish they are called erizo de mar which is interesting because erizo is also the word for hedgehog. Hedgehogs of the sea, eh.
Precision Versus Accuracy
According to my handy-dandy online dictionary precision is defined as "mechanical or scientific exactness" whereas accuracy is defined as: "the condition of being true, correct or exact; freedom from error or defect". The last part of that accuracy definition (freedom from error or defect) implies there is an absolute value.
¡Pura Vida!
---
ROMEO Corner
(Retired Old Men Eating Out)
Restaurant: Mira Olas, Quepos
Location: Best Western Hotel, Front Street, Quepos
Hours: Breakfast, Lunch and Dinner
Parking: Street, In Front of the Hotel and Restaurant
Contacts: Tel: 2777 0811; Website: http://www.kamuk.co.cr/
Reviewing ROMEOS: Bob N., Charlotte H., Glen N., Jessie P., Joe M.
To Review Our Rating System Go Here: R.O.M.E.O. Rating System
This restaurant is on the third floor of the Best Western hotel on front street in Quepos which also includes the Casino Kamuk for our gaming fans.
The balcony overlooks the Malecón, the Pacific Ocean and Quepos Bay plus the shore running to the north. The table we had was an exact duplicate of the one to the left in the photo as was the view. The restaurant is open on two sides, providing a cool tropical breeze which we all appreciated.
This was a very pleasant atmosphere and we gave the Mira Olas a composite score of 4.4 sloths out of 5.0 maximum for ambiance.
The menu was fairly broad in its offering of seafood and burgers but we did note a narrow availability of beef, particularly steaks. This has been encountered in other restaurants here lately as deliveries on these items from the central valley has been inconsistent due to the transport limitations imposed by the Coronavirus.

GG and one other ROMEO chose an item called El Colado from the menu that is billed as having a Caribbean flavor, and indeed it did. The dish consisted of a piece of grilled chicken accompanied by gallo pinto (rice and beans) cooked in coconut milk. The sauce, which was over the chicken and also the rice, was flavored with thyme and (mild) Caribbean chili. Accompaniments included a chopped cabbage and fennel salad and patacones, those little deep-fried round disks made out of plantains. Yummy.

.3

$$$.7

Value Index= 115
One ROMEO selected a plate similar to the El Colado but with fish instead of chicken and commented that the fish had been a bit overcooked. Other ROMEOs selected burgers and
pronounced them tasty. The composite score for food quality came in at 3.8/5.0 sloths.
We were served by a gentlemen who was polite, helpful and attentive. I didn't realize until he dropped his mask later (from a more than respectable social distance) that I knew him from the local futbol arena as an avid fan like me - I love this small town stuff. Our composite score for service came in at 4.6/5.0 sloths yielding an average for ambiance, food quality and service of 4.3.
My El Colado plate, a fresh fruit batido and a ginger ale michalada with taxes and gratuity came in at just over 9,000 colones (about $15). Our composite score for cost came in at 3.7/5.0 sloths leading to a value index of 4.3/3.7 or 115 which puts Mira Olas right in the middle of our historical ratings system for value.
Comments heard from the ROMEOs: "Nice Caribbean flavor", "Fish overcooked, but the vegetables were perfect", "Chicken was grilled to perfection; coconut milk sauce was delicious, very fresh salad, great view with a nice ocean breeze", "nice view, good company".
The ROMEOS can declare that Mira Olas is a approved local option for a good meal at a reasonable price.
¡Solo Bueno!
---
Opt-In Here to Receive Your Free Monthly Copy Of
The Golden Gringo Chronicles

The Golden Gringo Chronicles is a free newsletter that is non-political, non-commercial and, hopefully, informative and entertaining. By signing up you will receive an email each month around the first of the month giving you the links to the latest edition as well as to each individual feature and departmental section.

CLICK HERE TO SIGN-UP FOR THE GOLDEN GRINGO CHRONICLES
or Email me at gg@goldengringo.com, or use our Website at: www.goldengringo.com

---
Bob Normand, Editor &
The Golden Gringo
Pura Vida!
To Contact GGC World Headquarters (yuk, yuk) to makecomments, suggest topics or criticize my bad jokes, just send an email to: gg@goldengringo.com.
Be pithy but kind; I'm sensitive.


Unsubscribe from the Golden Gringo Chronicles