Rumble and Weather Talk
Guatemala
Volcan De Fuego Erupting
The big rumble action this past month occurred way up the Central American volcano chain, this time in Guatemala. The volcano that blew its top is known as Volcan de Fuego (Volcano of Fire - aptly name) and is located only about 40 km southwest, as the ash flies, from the capital at Guatemala City. De Fuego has been periodically erupting since 2016.
The volcano had a major eruption on Sunday, June 3 and was described in the press as: "...spewing a river of lava and plumes of smoke almost 6 miles into the air". Early counts were that over 60 people had been killed and hundreds more injured but local residents reiterated that they expect the death and injury toll to increase more as many were actually buried by the fallout and lava flow and won't be discovered for some time. Later body counts came in over 115 with a significant number still missing.
The population in the immediate area affected by the eruption is about 1.7 million, not counting the almost three million in nearby Guatemala City. The major capital city airport, La Aurora, was also shut down by the eruption. The total population of Guatemala is about 17 million.
In Costa Rica, volcanoes Turrialba and Poas still continue to be on watch and the national parks associated with them closed. Mid-month the Costa Rican Seismological Institute Rinco de la Vieja to the "watch" list because of observed vibrations of a certain type that are sometimes a valid precursor to an eruption.
Check Out Recent Earthquakes Around the World Posted by the

U.S. Geodetic Survey:
Recent Quakes
---
Search the Golden Gringo Chronicles Archives for Topics That Interest You
You can use our Archives to search for anything that has been written in more than 220 feature articles of the Golden Gringo Chronicles plus find Broken News items and ROMEO restaurant reviews. Enter your topic or item to search in the Google Search Routine below and follow the links offered from the search results. Suggestion: Enter only a simple, precise and unique as possible keyword or two in order to narrow the number of references retrieved:
Golden Gringo Chronicles - Enter Search Here
Readers: Our publication is open to suggestions regarding future articles and will accept pieces written by others but we reserve the right to decline anything that the editorial staff (that's GG) thinks is inappropriate for this format. Send proposals, comments, suggestions, ideas, meaningless statements and jocular observations concerning the Chronicles to GG here: gg@goldengringo.com.
---
iRescue Animal Sanctuary


(Helping the Distressed Animals of Costa Rica)
Carol Vaughn is a resident of Costa Rica, an author (her latest book - Crazy Jungle Love - is listed below in the Publisher's Corner) and a member of our Quepos-Manuel Antonio Writers Group. She also started and runs an expat luncheon group that meets once per month in San Isidro where she presents people and topics of keen interest to the expat community.
One of her recent presentations (which I missed, unfortunately) was about an organization called iRescue that does a lot of good work helping injured animals in the southern quadrant of Costa Rica. I asked Carol if she could write an article for the Chronicles about this organization and what follows is Carol's response:
Blue Jay to Bubba
The Story of Costa Rica's Most Unique Animal Sanctuary

By Carol Vaughn
What happens in Costa Rica when a rescued feral animal is too injured to ever return to the wild, but is not at the end of its natural life?
iRescue Animal Sanctuary steps in. And what a blessing that is for both the animals and over-crowded animal sanctuaries throughout the country.

The sad truth is that Costa Rican animal sanctuaries are overwhelmed by wild animals, many too injured or handicapped to ever return to the wild and survive. These animals syphon off scarce and valuable resources — think veterinary care, food, living space, labor, and of course, money. The sanctuary becomes severely compromised in its operational resources. The animals find themselves disabled, confined to a small space, and often ignored due to overcrowding of the sanctuary combined with insufficient staffing, These animals usually do not live very long. These animals need a compassionate animal retirement "forever home".

The mission of iRescue is to save those doomed creatures who have nowhere else to go, and often have been harmed by humans, automobiles, or misguided pet owners who think a wild raccoon might make a fun pet only to lose interest soon thereafter. iRescue provides these animals with a comfortable existence for their final years, including healthy food, vet care, and a custom habitat where they can live out the remainder of their lives in peace and comfort. They are located in Pejibaye in Costa Rica's Southern Zone.
iRescue Animal Sanctuary is a nonprofit 501c3 organization, meaning that Americans can deduct any and all donations to them off their US tax returns, even though the sanctuary is operated in Costa Rica. The mission statement for the organization states:

"Here at the iRescue Sanctuary we are committed to providing permanent housing, care, and quality of life to a very special category of animals. These are the animals and birds that can never be released back into the wild because of permanent disability or severe over domestication."
"Bubba" the Coati
What a charming group of animals iRescue has collected! A standout example is "Bubba", a white-nosed Coati (known in Costa Rica as a pizote), who was found as a tiny baby, barely alive, and brought to iRescue in an empty mayonnaise jar. In the subsequent twelve years, Bubba has become an ambassador for his species, appearing on TV more than ten times. He now kicks back in his retirement enclosure with several raccoon buddies.

Also living a retirement Life of Riley are "Hook" the one-eyed Osprey, "Blossom" the Porcupine,"Jack" and "Jill" the raccoons, a Hawk, a white tailed deer and twin fawns, "Earl the Squirrel" & buddies, and birds too numerous to count. The birds live in twin geodesic domes, which need to be replaced soon due to tropical corrosion. The food preparation area of the sanctuary needs to be updated and moved —funds are needed for this project — food prep is an endless task with so many animals with special diets.
Some More Residents of iRescue Animal Sanctuary

Even more amazing at iRescue is the staff who keep the place functioning smoothly, despite the challenges of unique animal diets, living space needs, and animals just not meant to cohabit.
Mike Graeber
Mike Graeber is the Managing Director and visionary force behind iRescue. Mike is a craggy faced outdoors-man with an animal whisperer aura which allows him to walk into the hawk enclosure holding only chunks of raw chicken, and emerge unscathed. He manages all facets of the operation with ease and kindness toward both the animals and his staff. Mike began his animal rescue mission at age ten when he found an injured Blue Jay, and nursed it back to full health. He has operated two other animal rescue organizations prior to his involvement in iRescue.

The on-site veterinarian is a Tica named Dr. Pricilla Ortiz, who is doing amazing stem cell research, as well as miraculously curing blind and handicapped animals as part of her regular pet care. Flavia Fiorillo, an Italian student of animal care, is on site feeding and caring for animals and keeping the sanctuary running seamlessly and happily. Juan Luis Torres Vargas is General Manager of the mother farm on which iRescue operates and master of all upkeep and maintenance. This is an incredibly small, yet powerful team, who keep the 5OO-acre Sanctuary functioning.
It's a Jungle Out There
iRescue is funded completely through donations. The land was donated seven years ago by American philanthropist John Merritt, who still visits and supports the Sanctuary. He has built a mansion made entirely of bamboo on the property where distinguished visitors may soon be able to stay. The Sanctuary has launched a new website, and is planning a fundraising drive to support their Animal Kitchen Project, Dome Project, vet clinic and animal bodega, Perico Project, Jaguar Project, and other needed additions and improvements to the Sanctuary. These are ambitious goals, but ones Graeber plans to achieve with the help of community donations, and corporate sponsorships. And of course, his amazing staff.
The Sanctuary works closely with MlNAE, Costa Rica's Ministerio de Ambiente y Energia, the government organization in charge of the environment and animals. MlNAE brings many animals they find injured or in distress directly to iRescue knowing they will be well attended.

Want to help iRescue in their animal rescue mission? The easiest way to support this wonderful endeavor, is by going to https://irescuewildlife.org and clicking the Donate button. At least look at the photos of the animals enjoying their recycled lives in the mountains high above Ojochal enjoying their own Pura Vida paradise. It will surely warm your heart, and hopefully inspire you to give generously to support this vital nonprofit organization, saving injured animals of the jungle and rain forest.
___ ___ ___ 
Thanks so much Carol for an excellent article on a very worthy cause. Our readers should take note that the link to the iRescue website, https://irescuewildlife.org, works quite well and the Donate button is obvious. Also, check out many more animals in the photo gallery on the site.
¡Solo Bueno!
---
¿Que es Eso? Department (What is That?)
Maybe it's a feral puppy?
It's a coyote cub? (but wait a minute, the snout's wrong)
Answer in What's-in-a-Word section below.
¡Solo Bueno!

---
Tico Nostalgia
(Costa Rica Seventy Years Ago)
That would make it 1948. GG was five years old. World War II had been over only three years and everyone was excited about peace and new prosperity.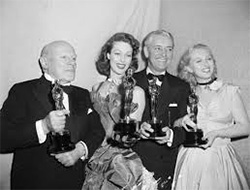 And the Winner Is...
This was the year the LP record (33-1/3) was introduced, remember those? Among the many recording hits in the U.S. that year were "Ballerina" (Vaughn Monroe), "I'm Looking Over a Four Leaf Clover" (Art Mooney), "Mañana Is Soon Enough for Me" (Peggy Lee), "Nature Boy" (Nat King Cole) and Buttons and Bows (Dinah Shore).
The the 20th annual Oscars went to 20th Century Fox's Gentleman's Agreement for Best Picture, Ronald Coleman for Best Actor in a "A Double Life" and Loretta Young for Best Actress in "The Farmer's Daughter". (What, no "action" movies with multiple scenes of wanton slaughter; how boring?)
And in Costa Rica the country was just getting over a bitter, but short civil war that lasted 44 days (from 12 March to 24 April 1948). It would be the last war that Ticos would be involved in. In 1949 a new constitution was drawn up beginning the Second Republic (the first republic had been formed a few years after independence from Spain was declared in 1821). The constitution of the second republic established a democratic state, eliminated the army and set term limits on all executive officers of the government, a status still retained today. (read more on the history of Costa Rica HERE)
What was life like during the 1940's in Costa Rica? GG came across the following 1947 video in a report by local press (The Costa Rica Star) that answers much of that question. The style of the video is akin to what we used to see in movie theaters long ago (you older amigos will recognize that). It's a bit schmaltzy and tends to over sell most things but the scenes are fascinating. The video shows the original airport near La Sabana park that is now the Costa Rican Museum of Art.
I found some of the statements in the video interesting, for example:
The population of San José was estimated at 70,000 in 1947. The current population of the GAM (Gran Área Metropolitana or greater metropolitan area) of San José today is estimated to be 2.2 million which, about 45% of the total country population concentrated in about 4% of its land area. The total population of Costa Rica in 1947 was about 726,000 vs 4.9 million today, an increase of 569% (as a point of reference, the U.S. grew 129% during that period from 141 to 323 million.

the video stated that William Walker, the infamous adventurer (and Philadelphia lawyer) who tried to make himself king of Central America and who was defeated at the Battle of Rivas in 1856 at the hands of the young hero who later would have the current airport named after him, Juan Santamaria, was shot. My information is that Walker escaped from Nicaragua and was caught by the British in Honduras where he was hung. Different story, same result.

the video stated that Costa Rican roads were among the finest in the world at the time. Okey dokey, so what happened?

the main industries at the time were bananas and coffee. Still important today but the country has a much more diversified industrial and technical base than in 1947.
The video doesn't mention it but the forties were also the time of the significant banana blight in Costa Rica, particularly in the Pacific coastal areas north and south of Quepos. Unable to eradicate the disease at the time, the banana companies in the area replaced banana plants with African palm trees that are much more resistant to disease and which yield dates from which food grade oil can be extracted. (see Palma Tica) Palm Oil plantations are now the primary agricultural crop in southwestern Costa Rica.
Still, the video is a fascinating walk through time.
¡Pura Vida!
---
Health Stuff
Note: The information given in this section is offered as news information only and does not indicate GGC confirmation or denial of the accuracy of the treatment or a recommendation to pursue it, nor can we or do we guarantee the efficacy of the results nor validity of the conclusions proffered. (How's that for a disclaimer?)
Traveler's Diarrhea
It is not unusual for travelers to experience some mild form of stomach upset after being here for a few days. This is usually not due to food poisoning or bad tap water (Tico Revenge?). In almost all areas of Costa Rica the tap water is safe to drink but be wary of unpurified sources in the countryside.
The upset is usually caused by your system trying to compensate for differences in what biologists call "entero-bacteria", the natural bacteria that exists in your intestines to properly digest food. Different food can require a different type of entero-bacteria to process it. The first year that GG was here I had two or three bouts of upset stomach and ran for the Imodium. Then a Tica mother suggested I go buy a fresh, ripe papaya, cut it open and consume a couple of table spoons of the seeds whole. Le Voila! No more problem. Every time I process a papaya to get fruit for breakfast, which usually means a big fruit every two weeks, I take a spoonful of the seeds for precaution.
Be aware that this problem can reverse itself. The last time I visited the States, after about three days I got Gringo Revenge. Probiotics seemed to do the trick on that one (the papaya I saw in the supermarket was green and raw and I deemed it good only for cooking a Thai dinner).
¡Pura Vida!
---
Travel Quote of the Month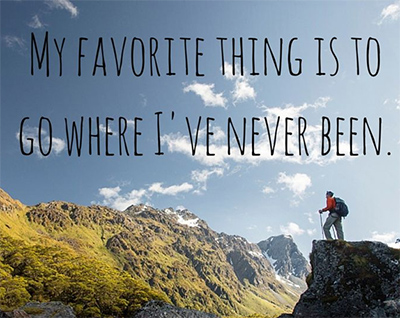 ---
GGC Bookshelf
GGC Publications Group is the parent organization that publishes the Golden Gringo Chronicles as well as a number of books and paraphernalia related to the Chronicles and Costa Rica. The GGC Bookshelf also includes works from a number of other authors that belong to the Quepos-Manuel Antonio Writers Group in which GGC has been a founding member.
Here are the books currently on our bookshelf:
All of the above books are available on Amazon.com and the "Read More" links above will lead you to them. You can also find them all on our GGC Publications Page.
GGC Publications also offers some accessories and paraphernalia related to the Chronicles and with Costa Rican themes, to wit;
T-Shirts:
a. Golden Gringo Chronicles with Logo,
b. Official Golden Gringo with Monkey on Banana Hammock,
c. ¡Quepo en Quepos! ("I Fit In Quepos!") with Photo of Quepos,
d. Wanna Monkey Around? - Come on Down! with Photo of White Face Monkey,
e. It's OK to be Slothful with photo of Three-Toed Sloth.
The t-shirts are available in several colors, styles and sizes. See them HERE.
Coffee Mugs: a. Golden Gringo, b. Wanna Monkey Around?, c. OK to be Slothful
See them all HERE:
What's life without a great cup of Costa Rican coffee? And it tastes even better in a Golden Gringo Chronicles mug!
---
What's-in-a-Word



"Tell me and I forget; teach me and I remember; involve me and I learn"
–

Benjamin Franklin

Answer to Que Es Eso?

No, it's not a feral puppy or a coyote cub.
This is a "bush dog", a new species of carnivore to Costa Rica but not to Latin America. Until now this animal was found only from as far north as eastern Panama but ranged as far south as Argentina and Paraguay.
Much is often made of the fact that Costa Rica's biodiversity represents approximately 6% of the total species in the world while the land area here is only 0.03% of the total globe, a biodiversity intensity ratio of two hundred to one.
The animal was first spotted by way of a camera trap in the Talamanca mountains about 130 km (80 miles) southeast of Quepos. This animal expands the number of known mammals in Costa Rica to over 250 and the number of carnivores to 25. Other living natural wonders that can be seen in Ticoland (approximate number of species): 1,251 butterflies, 8,000 moths, 175 amphibians (85% are frogs) and 225 reptiles (70+ lizards, 120 snakes, 5 of 7 species of sea turtles in the world) and 250 mammals.
Nice to meet you Bushy, woof, woof, welcome to Costa Rica.
---
ROMEO Corner
(Retired Old Men Eating Out)
This month we have the pleasure of presenting two restaurants of interest, one in San José in the burgeoning Barrio Escalante region and one in Manuel Antonio.
Uncle Charly, San José
Location: Barrio Escalante, Calle 33, Avenida 1, San José
Hours: Monday through Sunday, Lunch and Dinner
Parking: Street Parking (usually sufficient)
Contact: Tel: 4030-3248; Fax: N/A; Email: N/A; Website: N/A;
Facebook: https://www.facebook.com/unclecharlycr/
Reviewing ROMEOS: Bob N., Michael M.
To Review Our Rating System and Procedure, go here: R.O.M.E.O. Rating System
GG was in San José for a couple of days to see an oftalmólogo (ophthalmologist) with the intent of getting a treatment for a lens that gradually became boroso (blurry or foggy) over the three years since I had cataract surgery. I got an appointment for the following week during which I had a 15 minute laser treatment that solved the problem. It's good to see again, especially menus.
Uncle Charly's Dining Room
While in town I thought I'd ring up an old friend, Michael Miller, a fellow writer and member of the Costa Rica Writers Group. Michael has been a guest writer in the Chronicles several times over the last few years and publishes an English guide to San José. Michael was the guy that originally put me wise to the wealth of restaurants now available in Barrio Escalante.
The restaurant is a long rectangular shape furnished with polished wooden chairs and tables, place-mats and silverware. The subdued lighting and gentle artwork on the walls give the place an immediate feeling of comfort and a 4.5/5 for ambiance.
The owner/chef of this restaurant, a fellow named Marco Caldi, enjoys a good reputation. The menu was quite extensive with Italian style dishes of meats, seafood (they claim specialty here) and pastas.

Michael and I ordered a bruschetta with a custom mix of cheeses, fresh tomato and spices that was simply delicious. We also both ordered linguine with seafood, Michael's with a different sauce than mine, both interesting and tasty. The pasta was fresh, the sauce excellent but I took one point off for finding two unopened mussels in the seafood which I pushed aside. (I've seen what shellfish poisoning can do in a previous life). The rest of the dish was excellent.

A couple of sinful chocolate desserts topped it all off. 4.0 sloths for food quality.

.3

$$$$

Value Index= 108
Our waiter was friendly, courteous and not a bit uneasy when we custom ordered the bruschetta. For service let's call it 4.5 giving an overall rating of 4.3 sloths.
The meal for the two of us for the bruschetta, main courses, two drinks and dessert came to just over 22,000 colones including tax and required gratuity, about $38 or $19 for each of us. That equates to a cost rating of about $4 and a value index of 4.3/4x100=108.
If you're in San José near the center take a short cab ride out to Barrio Escalante and try Uncle Charly's or one of the many other fine restaurants in that area.
___ ___ ___
El Lirio, Manuel Antonio
Our second offering this month is a place off the beaten path, a hotel restaurant that many don't know exists unless you happen to have stayed at the hotel.
Location: From Quepos, head to the top of Manuel Antonio, Villas Lirio Hotel is just 50 meters before the MA football field on the left.
Hours: Monday through Sunday, Lunch and Dinner
Parking: Some, inside the hotel compound.
Contact:Tel.: 2777-1182; Email: See website; Website: http://www.bwvillaslirio.com/
Reviewing ROMEOS: Alma L., Bob N., Glen N., Jerry C., Julia C.
To Review Our Rating System and Procedure, go here: R.O.M.E.O. Rating System
This restaurant was last reviewed in December, 2015 and the review can be seen here: http://www.bobnormand.com/GGC/e77january2015.html#romeo.
This is the restaurant for the Hotel Villas Lirio located on the main Manuel Antonio road at the top of the hill next to the school and futbol field. The restaurant is not apparent from the street, nor is there a sign; it's situated at the back of the hotel compound and accessed by a path to the left of reception that goes through some jungle growth.
This is still one of the most pleasant dining rooms in the area. The heavy use of wood, the drapes, the carefully decorated tables, the comfortable seating (yeh!) and the openness to the jungle play together to make a a very attractive place to have a meal.
For atmosphere the group gave a composite score of 4.4/5.0 sloths.
The menu does not seem to have been changed at all since our last visit some three years ago. There is a good selection of meat, fish and some vegetarian selections.
GG ordered a Sopa Azteca (obviously a Mexican derivation) and a plate called Coco Fish, coconut breaded fish fillet, deep fried. Deep, deep fried methought because it was a little too crisp for me. It was served with plain boiled rice and a shredded chayote (squash) that was uninteresting. Two of us had this dish and thought we had read the menu to include a sauce on the fish but re-reading the menu later proved that was a mis-read.

Other ROMEOS ordered a fish salad (good), a steak (half of it was tough) and one diner stuck with two appetizers.

The composite score for food quality from the five ROMEOS was 3.1/5.0.

.4

$$$$

.2

Value Index = 82
Service was the low point of the evening. The place was surprisingly busy for a Tuesday night in mid-rainy season, about 3/4 full and that the two wait staff (one actual table server) may have accounted for that. It took over an hour to realize our dinners prompting me to forgo the Aztec soup but they brought it anyway; it was devoured as an appetizer with tortilla sticks (at least they didn't try to charge us for it. Some noted the lack of table attention including water and drink refills. The composite score for service came in at 2.8/5.0, the lowest ranking of the three categories we use.
That gave the restaurant a rating of 3.4/5.0 for atmosphere, food quality and service.
My bill for the fish plate and a "gin" machalada (limone over ice with ginger ale, no gin) with salt around the top like a Margarita, was $25, not inexpensive for that plate. The group gave El Lirio a composite score of 4.2$ out of five possible. That made the Value Index 3.4/4.2x100=82, putting the restaurant in the lower brackets of our rating system for value.
Always an optimist, GG hopes another visit to El Lirio sometime will produce a better result.
¡Pura Vida!
---
Opt-In Here to Receive Your Free Copy Monthly
The Golden Gringo Chronicles is a free newsletter that is non-political, non-commercial and, hopefully, entertaining. By signing up you will receive an email each month around the first of the month giving you the links to the latest edition as well as to each individual feature and departmental section.

CLICK HERE TO SIGN-UP FOR THE GOLDEN GRINGO CHRONICLE
or Email me at gg@goldengringo.com, or use our Website at: www.goldengringo.com

---
Bob Normand, Editor
& The Golden Gringo
Pura Vida!
To Contact GGC World Headquarters (yuk, yuk) to make comments, suggest topics or criticize my bad jokes, just send an email to: gg@goldengringo.com.
Be pithy but kind; I'm sensitive.


Unsubscribe from Golden Gringo Chronicles