Broken News
(All the News That's Fit to Reprint)
Mea Culpa
You may recall that GG wrote an article in last month's Chronicle that discussed the government's plan to raise taxes on real estate. In that article I stated that a property valued at $100,000 would end up paying an additional $5,000 in their taxes annually.
I made a slip of the decimal point error; the amount is really $500 (.5% = .005 x 100,000 = 500). My apologies and my thanks to three astute readers, probably Costa Rica home owners, who picked up the error.
Mea Culpa.
Dragging for Croquettes
President Carlos Alvarado
in Better Times
Our president, Carlos Alvarado, seems to often find himself in the middle of opposing factions these days. First there was the conflict with the IMF who demanded new taxes before they granted a loan and which the Prez agreed to pursue. The move was to get a $1.7 billion loan from the IMF to relieve the pressure of low government income and high expenses that resulted from the Covid recession. But the proposal spawned a strong and sometimes violent anti-tax resistance movement that resulted in road blockages all over the country. Then the Constitutional Court (known here as Sala IV) chimed in and said the government administration was not doing its job in keeping freedom of movement around the country (easy for them to say, but they were constitutionally correct).
Now, Señor Alvarado finds himself in the middle of another controversy: whether or not to permit the restart of the pesca de arrastre industry. Literally translated that stands for "fish dragging"; elsewhere it is known as trawling.
There had been many fishermen, particularly in the Gulf of Nicoya region, who lost their business or were severely limited in what they could catch as a result of the ban on trawling. Trawling as a fishing technique was banned here by the Constitutional Court (same one as mentioned above) in 2013.
The other side of this controversy involves shrimp fishing which is the goal of most of the area fisherman; shrimp being plentiful and bringing the best price for seafood. Trawling is very efficient as it nets just about everything in its path including tons of small fish and even crustaceans (see photo left). And there lies the problem, it can have a significant effect on reducing future fishing, both sport and commercial by taking many of the young fish before they have a chance to mature. And then there's the problem of what do you do with all that extra catch the net brings up? One person sarcastically offered this explanation: "You make that into fish croquettes for cats". More likely it's thrown to the seagulls and other fishing birds like in the photo above.
Another legislator recently changed her side on the issue, from anti to pro-bill, because she had come to realize that much of the local industry has been cut way back and thus impoverishing families. She cited many women in the area who do not now have enough food for their children during the Covid period as a result of reduced income from fishing. Said she: "Since they do not have a job, they either have to engage in prostitution or sell drugs and there is no prostitution because there is no tourism, so they have to dedicate themselves to selling drugs." Now that's plain talk amiga.
So this controversy is not going to end soon until maybe a more creative method for shrimp fishing is found.
Gulf of Nicoya
A bill was recently passed by the Assemblea (legislature) that was an attempt at balancing environmental concerns and an effort to bring more fishing employment to the region. At first, Señor Alvarado seems to have created false expectations among the trawling industry people because they believed that the bill, after passing the Assemblea and being reviewed by the Constitutional Court which declared it "does not contain constitutional defects of a substantial procedural or substantive nature" was a sure thing. But when the bill was passed by the Assemblea, President Alvarado promptly vetoed it.
Understandably, the people and government of Guanacaste Province were shocked. To show their displeasure, the The Nicoya Municipal Council voted unanimously to declare President Carlos Alvarado as "persona non grata" in Puntarenas for not keeping his word. "We presented the motion to declare Carlos unwelcome for failing to keep his word to Puntarenas and vetoing legislative decree No. 9909 corresponding to the Law for the Sustainable Use of Shrimp Fishing in Costa Rica". Sounds like Carlos won't be eating shrimp in Guanacaste any time soon.
Bad vibes seem to be adding up regularly these days for Señor Alvarado. He started his term in April of 2018 with a flurry of salary cuts for senior government officials that brought him notice. His popularity soared (highest for a Costa Rican president for the last six terms in the high 60's); Time Magazine chose him for their 100 Next stars list (photo above). The Prez was on a roll.
But in 2020 things went against him, starting with a strong surge of Covid-19 in June, then the IMF tax plan controversy and then the trawling controversy.
Now he's struggling to keep the count of provinces designating him persona non grata down to one and his popularity rating has virtually reversed to a high of 60%+ negative (photo left).
Ah, the vagaries of politics.
Throwing the Bull Covid Style
Christmas week is traditionally a time of vacation (the beaches are usually packed). One other tradition here during Christmas week is "bullfighting" especially that done in the Zapote area of San José. I put the word in quotes because it doesn't mean the stereotypical wounding and killing of a bull like in Spain or a few other Latin countries. In Costa Rica the killing of any animal is only allowed for food but even then it is very restricted to food processors and farmers.
Agile, Isn't He?
Bull fighting in Costa Rica is more like an effort to taunt the animal and drive the bull wackerdoodle. It may take several persons to do that well. They`re usually men but now more women participate. A "bullfighter" runs up and slaps the bull on its behind or yells at it or does any other thing they can to unnerve it. When the bull swerves around to charge the irritator, the latter (usually and hopefully) runs away or to a shelter similar to a matador shelter.
The score at the end of this game includes no dead bulls but numerous injuries to the fighters (I'm sure it has nothing to do with the intoxicated state of many of the bullfighters). For example check out the stats for 2018 HERE and for a more detailed look at how the bullfighting process works here as it happened last year, go HERE.
The Covid Pandemic, of course, has managed to change this activity also. The municipality of San José is going ahead with the bullfights but there will be no fans in the bleachers and it will instead be televised locally. It will occur each day from December 25 to January 3 but there will be only one bull fight each day from 8-10pm. The number of "fighters" will be limited to 50 total and each person must have a negative Covid-19 test not older than 48 hours to qualify (we don't want the bulls getting Covid, do we?).
But are the bulls wearing masks?
Hiking Volcanoes
Rescuers Aiding Injured Lady - Volcano Caldera Steaming in the Background
One of the many natural attractions in Costa Rica is its many volcanoes. When you stand on the rim of a volcano, particularly one that is periodically active, it is hard not to feel the power and splendor of such a natural wonder. Some think that it can be even more awe-inspiring by wandering off the indicated hiking routes. But that can also be dangerous as a visiting couple recently found out.
They managed to reach the rim of the crater but in the process the lady fell and fractured her arm. Fortunately they were able to make telephone contact with emergency services and members of the local fire department and Red Cross who dispatched rescuers. Because of the rough terrain, these first responders had to walk several kilometers on foot to reach the rim where the lady was. It took a total of several hours to successfully retrieve the lady and get her back to the first aid station and hospital.
Mountain trails that lead around a volcano and to the rim can be risky walking. Just ask GG who thought he was a mountaineer a couple of years ago and went along with his daughter and her beau on a hike in the mountains about 20 miles east of Quepos. They were kind to me in choosing a guided tour and selecting a trail that was rated "easy". That didn't stop me from slipping and puncturing my right leg on a rock which got infected. I spent a week in the hospital taking three different antibiotics intravenously - read the account HERE.
The point is that we can enjoy the wildness that is Costa Rica but we must respect that wildness for its potential danger. It helps to use a professional guide on a hike like this.
Fatal Landslide in Nicaragua
This rainy season has been plagued by heavy tropical storms and hurricanes (see Weather section below). Central American countries have a great deal of mountainous areas and put those two together there is potential disaster. Nicaragua, reeling from the heavy rains of hurricanes Eta and Iota experienced a major landslide that (so far) has been attributed to the death of 12 people and a toll of 15 missing.
Aftermath of the Slide
The slide occurred in the Macizo Peñas Blancas region about 140 km, as the eagle flies, north-east of Managua (map above). This region is very mountainous and subject to large mudslides. Over 100 first responders from the Army, Police, Fire Department, Minsa (Ministry of Health) and other agencies were sent to the area. At least 19 people were rescued from the situation where access was very difficult. The slide scene is shown at the right.
The government made what amounts to a told-you-so or CYA statement saying that the families living there in "previous years received a proposal to relocate to another place because they were in a risk zone, but they did not accept; they were also advised to evacuate before the arrival of the hurricane, but they decided to stay."
New Miss Costa Rica
Miss Costa Rica Contestants With Masks
Ivonne Cerdas Cascante
Some things keep going along even during Covid times. One of those here was the annual contest for Miss Costa Rica, sponsored be Teletica. Of course there were some very significant modifications like the absence of an audience, the wearing of masks and social distancing for all contestants when they were together. The masks, of course, were created by a fashion designer but for one of the judges that didn't matter because she is blind. Her focus was on how the contestants came across in their mind and heart - GG likes that.
Running, and finally winning, was a lady named Ivonne Cerdas Cascante (photo above left). This was the third time she had been in this competition and she finally emerged the winner. Ms. Cerdas is a 27 year old software engineer who lives in San José (living there makes her a Josefina - if she lived in Quepos she would be a Quepeña). Muchas felicidades Ivonne!
My oh my how the computer systems industry has advanced since the early days (1980"s) when GG was playing and working in it. Back then the software engineers all looked like Mark Zuckerberg.
New Blockades Fail
Recall that a large number (40? 90? even more) of road blockades were set up last month as a protest in response to a plan by the government to significantly raise various taxes. The protests eventually ended and the bloqueos were all lifted. This month a number (12?) of new bloqueos were suddenly initiated near several towns (Térraba, Bagaces, Cañas, Bajo los Rodríguez, San Ramón and Upala) in places ranging from the southern zone up to the the northwest quadrant.
The Fuerza Publica (national police) took quick action and cut short the plans of the protestors. In the process they arrested 11 people and seized various materials including the kind used to make Molotov cocktails. In the action that ensued several police vehicles were damaged. Following the arrests, one violent protestor was quickly found guilty by a local court and sentenced to nine months in prison.
By the next day all bloqueos had been eliminated. Good work FP!
¡Pura Vida!
Economic Drumbeat
(Costa Rica Business and Economic Happenings)
What's Flying Into Costa Rica?
As of 7 November here's the LINEUP of airlines servicing Costa Rica? We're back on track for a fairly robust high season barring surprises (which we always seem to get anyway).
Migrant Workers Deal
Coffee Beans Are Ripe and Ready For Picking
We are in the harvest season for coffee and other agricultural products. It is (was) normal for many temporary agricultural workers to come across the border, particularly the one with Nicaragua, to help with the harvest. The two countries recently signed an agreement that permits this migration under the following stipulations: 1) entry only through the Peñas Blanca border (northeastern Costa Rica border crossing), 2) a negative 48-hour-fresh Covid-19 test, 3) issuance of a work card and 4) housing/shelter at the expense of the grower.
The cost per migrant is expected to run about $300 in addition to their wages and is to be picked up by the grower. The press report said it is likely that many small to medium size growers will be unable to pay this expense. That sounds also like we'll be seeing some hikes in prices para verduras (vegetables) at the supermarket amigos.
3M Drops Manufacturing Here
3M Headquarters Santa Rosa
3M announced that they will be closing their manufacturing operations for consumer business products such as cleaning tapes, fibers and abrasives (sandpaper sheets and rolls) at their Santa Rosa location which is just north of San José. Only eight direct employees will be let go but the number of supporting personnel also to be let go was not announced. Manufacturing of these products will be consolidated into other Latin American plants.
The change is in view of an 11% drop in 3M profits here in the first nine months of this year although recent improvement of same has occurred in the last two months.
3M enjoys a 47 year history of operations in Costa Rica and employes over 1,300 here.
Aguinaldos Will Be Lower This Year
Costa Rica has a system that by law requires the employer, public or private, to pay a 13th month of wages and salaries to every worker by December 20 of each year. This is essentially a Christmas Bonus required by law. The amount is determined by adding up all of the wages and salaries of a worker paid to them between December 1 of the previous year and November 30 of the current year and dividing by 12. The extra payment is called an aguinaldo.
During the Covid recession many workers in the private sector took salary cuts, either to keep their jobs going or by way of cutbacks in their schedules. This of course means that their aguinaldo will be proportionately cut back from previous years and some people believe that will be another blow to the economy. It also means a trimming down of family celebrations compared to before. An interesting sidelight is that public employees did not participate in the time or wage cutbacks (GG didn't know that) so their aquinaldo will still be 100% including any upward salary adjustments that have occurred during the year.
Really Carlos? And we wonder why there is a certain antagonism towards the government.
¡Solo Bueno!
---
Latin America Updates

(Major Events In Neighboring Countries)
Cuba
In recent years there has been a significant number (tens of thousands) of people migrating into Costa Rica from other Latin American countries, particularly Cuba, Nicaragua and Venezuela. Many of these simply were passing through Central America to the Mexico/USA border with intention of applying for refugee status in the United States. Others looked upon Costa Rica as their final destination or became frustrated with the process of going north and decided to apply for refugee status here. Hundreds were automatically refused refugee status here and have been in a no-man's land status since as far back as 2016.
Now the Costa Rican government has instituted a "special temporary category" for Cubans, Nicaraguans and Venezuelans who had been formally refused refugee status. They will be able to stay for two years and be able to work. They will still need verification of their identity and that they do not have a criminal record in Costa Rica or in any other country.
Why Cuba? According to the press release the government rationale was because "...considerations were weighed that it is the only country in the hemisphere in which there are no guarantees of any kind for the exercise of the right to freedom of expression". For Nicaragua, "Costa Rica considered forced migration due to the political and social crisis that erupted in the neighboring country since April 2018, and that, so far, has caused the death of 325 people, 2,000 people injured, 700 people arrested and tried". And for Venezuela, it was because "the Inter-American Commission on Human Rights (IACHR) called on the member states of the Organization of American States (OAS) to adopt measures to reinforce shared responsibility mechanisms in relation to the situation of migrants from that country".
No data was given on just how many people fall into this new category but it is likely that that number is at least in the hundreds.
Peru
The new President of Peru is a naturalized citizen of Costa Rica just like GG except I was never asked to be president of Peru (darn, I would have taken the job too).
President Francis Sagasti Hochhausler
The new President, whose name is Francisco Sagasti Hochhausler, and who was born in Lima, found himself, as President of Congress, in third position to succeed to the presidency of the country. Then the unthinkable happened; the president of Peru was impeached and the Vice President who succeeded him resigned, opening up the path to the presidency for Sagasti.
Sagasti was no stranger to Costa Rican politics either. In 1993 he married one Silvia Charpentier, a former legislator of the Partido Liberacion Nacional (PNL) and current director on the Board of the Central Bank of Costa Rica (BCCR). They had one daughter born in Costa Rica before separating later, according to Costa Rican Civil Registry records. Sagasti has maintained his active citizenship here having voted in local elections as late as 2019.
Sagasti at His Peru Inauguration November 17
One other interesting aspect of Sagasti's record is the fact that in 1996 he was kidnapped and held hostage for 48 hours with other diplomats and ambassadors at the residence of the Japanese Ambassador in Lima. The kidnapping was done by the Túpac Amaru Revolutionary Movement (MRTA), a leftist guerilla group long active in Peru (I take back my comment about wanting to be president).
Good luck Senor Sagasti.
¡Pura Vida!
---

Rumble and Weather Talk

(Shaky Happenings and Weather Observations On or About the Pacific Rim)
A Typical Shaker
It wasn't twelve hours after the November Chronicle was published on October 31 that a tremor hit San Juan de Tibás just north of San José center in the Central Valley Metropolis. The epicenter was placed at a depth of 77 km and tagged by the University of Costa Rica Seismology Department (UCR Red) at a strength of 5.7. The U.S. Geological Survey (USGS) on the other hand pegged it at 5.2, a typical difference in strength measurement between the two organizations that we have noted before. The quake was felt throughout Costa Rica, even in Quepos.
It was almost 11 pm on the nose. GG had just gotten into bed and was expecting some soft jungle slumber when the bed and the room started to wobble to and fro. When that motion starts you spend the next seconds wondering if it's going to get worse or better and praying for better. After about 10-15 seconds of constant shaking (fairly long) this one dissipated. Chock up another modest shock for we (Pacific) rim-dwellers.
Weather In Hurricane Season
Hurricane Eta
The (U.S.) National Hurricane Center maintains a list of names to designate tropical storms as they develop each year. When they run out of names, which they did this year, they revert to the Greek alphabet: Alpha, Beta, Gamma, Delta, Epsilon, Zeta, Eta... That last one was the name of the hurricane that hit Central America in early November. That tells you how far they had to dip into their lexicon to keep up with the slew of storms that came this way during this hurricane season.
Tropical Storm Eta turned into a Cat 4 hurricane before smashing into the border area between Honduras and Nicaragua. Eta was the 28th named storm and 12th hurricane of the 2020 Atlantic hurricane season. It dissipated thereafter but not before dumping huge amounts of rain in the region from southern Costa Rica up to Honduras.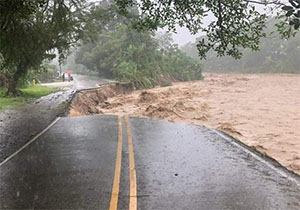 On the Road to Ciudad Neily
In addition to Nicaragua and Honduras, warnings were issued for Jamaica, southeast Mexico, El Salvador, southern Haiti, and the Cayman Islands that they would likely have flash flooding and high river levels. Costa Rica experienced flooding of several rivers in both the northwestern corridor in Guanacaste province all the way down to the southern zone (San Vito and Ciudad Neily areas). Rains there caused mud slides putting several roads and bridges out of service (see photo left).
Impassable Without Repair
The worst period was from November 1-4 when parts of Guanacaste and the Southern Zone received at least 530 mm (about 21 inches) of rain. Over 1,300 people were evacuated to shelters and a house was buried by a landslide in Coto Brus (southern zone) killing two people. By early November the canton of Quepos was included in a list of ten cantons under Red Alert.
Sure enough we had enough rain here to reactivate a major slide on the main beach road to Manuel Antonio (photo right). This area, located in front of the Hotel Mimos is less than a mile up from Quepos and seems to be prone to mud slides, having also washed out in 2010. The slide closed the main route to the beach as it did in 2010 and cars and trucks had to use the old road from Quepos. It's interesting to note that this year's storm (edge effects of a hurricane) and the tropical rain storms of 2010 occurred on virtually the same days of the year, November 1-5.
Within a couple of days MOPT (Ministry of Public Works and Transports) had one dirt lane open through the slide area while they began repairs. To see what happened to this same patch of road in 2010, which was another banner year for rain storms, go here: http://www.bobnormand.com/GGC/e28december2010.html#landslide.
By Friday, November 6 the hurricane driven rains seemed to
have abated to a slow rainfall. And in Cartago just south of San José, a large, beautiful rainbow appeared giving thought to that old Latino saying: "Donde termina el arco iris, en tu alma o en el horizonte? - "Where does the rainbow end, in your soul or on the horizon?" - Pablo Neruda, from The Book of Questions.
Are we finally over the hurricane season? Who knows, we should be by now but as the Ticos say: "vamos a ver" - we'll see.
And Then There Was Iota
Iota Damage on the Nicaraguan Coast
Not yet having run out of Greek names, hurricane watchers christened another Hurricane in the Caribbean that followed right behind Eta. This one would be named Iota, leaving only 15 more names in the Greek alphabet that haven't been used this year (by November 18, the National Hurricane Center was monitoring two other Caribbean tropical storms with the potential of growing to hurricane strength).
Iota, like Eta, would smash into Central America but somewhat father north and were reported dissipating over northern Nicaragua and Honduras. "Dissipation" still leaves heavy rainfalls that caused severe damage, particularly since it followed the earlier hurricane Eta closely. Costa Rica received additional rainfall from Iota but not as severe as that produced by Eta.
Hurricane Signs
If hurricane season is finally over I guess we can put away our warning signs:
¡Pura Vida!
Check Out Recent Earthquakes Around the World Posted by the

U.S. Geodetic Survey: Recent Quakes
---
Search the Golden Gringo Chronicles Archives for Topics That Interest You
You can use our Archives to search for anything that has been written in more than 260 feature articles of the Golden Gringo Chronicles plus find Broken News items and ROMEO restaurant reviews. Enter your topic or item to search in the Google Search Routine below and follow the links offered from the search results. Suggestion: Enter only a simple, precise and unique as possible keyword or
two in order to narrow the number of references retrieved:
Golden Gringo Chronicles - Enter Search Here
Readers: Our publication is open to suggestions regarding future articles and will accept pieces written by others but we reserve the right to decline anything that the editorial staff (that's GG) thinks is inappropriate for this format. Send proposals, comments, suggestions, ideas, meaningless statements and jocular observations concerning the Chronicles to GG here: gg@goldengringo.com.
---
Experiencing Costa Rica - I
(10 SIGNS YOU WERE BORN AND RAISED IN COSTA RICA)
This gem appeared in the Costa Rica Star newspaper recently and GG thought it was interesting, particularly in light of the comments in the article following this one. The few comments in Italics are GG's.
We're Not the Happiest on the Planet for Nothing
1. You had your first coffee before you were 5 years old. Your mom would mix it with extra milk so it wouldn't taste so strong. She's the reason you developed an addiction to it and now drink at least 3 cups a day. (But their also have been numerous articles in the press in recent years on the health benefits of coffee)
2. You don't refer to someone as a person, you say "mae" (pronounced my). 'Mae' is everyone and anyone, either feminine or masculine (esa mae or ese mae). When talking to your friends, it's not uncommon to hear the word mae at least 50 times in one conversation. (especially among teenagers, the closest modern equivalent to "mae" in English being "dude")
3.
You include partying in your monthly budget.
It doesn't matter if there's nothing going on, you will find a reason to celebrate. You double your party budget if La Sele (the national soccer team) is playing that month. (in Covid times you can still watch the Sele on TV)
4. You don't say 1000 colones, you say "un rojo." (rojo, a "red" or un mil)
In Costa Rica the 1000 colon bill is red in color (rojo in Spanish), so you denominate money as un rojo, dos rojos, diez rojos, and so on. For example, you say "I paid diez rojos for that ticket." One million is "un melón," just because it rhymes.
5. You use trees and house colors to give directions.
From the mango tree, turn left and keep going 2 apples (blocks), it's the third house on the right, watermelon color with a palm tree in the front. Street names — who needs them?
Running on Tico Time
6. You know about Tico time.
If someone says: "I'll meet you at 4," you know it probably means the person might be leaving the house at that time. Not proud of this one, but we Ticos are not exactly known for being punctual.
7. You say Pura Vida for everything.
Used a hundred times a day to say hi, goodbye, thank you, you're welcome, to express well-being, or to say something is good or nice, Pura Vida (pure life) is your mantra.
8. You eat tamales for breakfast, lunch, and dinner on Christmas and New Year's Eve.
Your mom makes a huge batch of traditional tamales for the holidays and you are responsible for eating half of them, it's your duty.
9. You honed your salsa dancing and merengue skills in family reunions.
Your aunt, uncle, mom, or cousin made you dance with them at all family gatherings. You might have hated it back then, but at least now you can dance.
10. You secretly speak Pachuca (street slang).
Even though you might not use it often, you can speak it fluently. You know that tuanis means good, that mopri (a mix of the letters of primo) means mae, that the police are los pacos, your car is la nave watched over by el guachi, and your job is el yugo. En 'toas…it's good, mae!
¡Pura Vida!
---
¿Que es Eso? Department

(What is That?)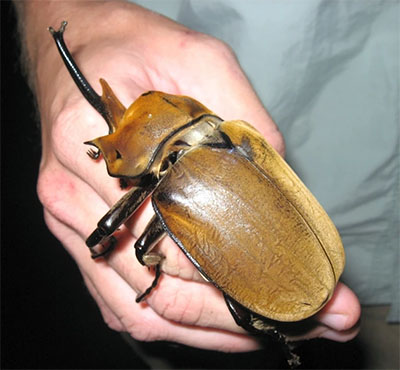 What an interesting toy beetle?
A toy finger ring for bug lovers maybe ?
Answer in
section below.
¡Pura Vida!
---
Experiencing Costa Rica - II
(20 WACKY WAYS THAT YOU KNOW YOU'RE IN COSTA RICA
)
OK, we gave due course to Ticos born here in the first feature article above. It's now time to look at it from the visitor and expat point of view. The list below was originally published in a local electronic newspaper over a year ago. It humorously points out some of the things that surprise visitors and expats (the comments in italics are GG's):
1. You pay $9 for a small block of cheddar cheese. (the larger, U.S. made block GG buys is about $18 for Cheddar or Pepper Jack - add $2 for Swiss)

2. A man in a horse drawn buggy picks up your recyclables and isn't afraid to walk onto your patio to retrieve those couple of extra empty beer cans you forgot to bag.

3. You get excited that your water, internet, and electricity all work during the course of an entire day. (Yes! although in recent times it's getting better; more like four days to a week that everything works without interruption)

4. The local pulperia's (small grocery store) credit card machine won't work so they tell you to take your groceries home and just come back later to pay. (the technical, or old definition of a pulperia is a small grocery store where you buy on credit and pay monthly - they are slowly disappearing here just like they did decades ago in the States)
5. You buy room temperature milk and eggs. (a natural brown egg shell will protect the contents from bacteria intrusion; the milk they're talking about is a highly pasteurized version in a box)
6. Your shower head is rigged with electricity and has exposed wiring to heat the water (also known as a suicide shower) from ice cube cold to slightly less than ice cube cold.
(the newer ones are wired better and I've GG has not heard of anyone being electrocuted - yet)
7. Shirts are optional. Everywhere. (footwear too)
8. Mosquito slapping becomes second nature. (or any small thing that can fly)
9. No one thinks it's strange that there was a vampire bat in your house. (yuk, yuk; I'll settle for my live-in pet gecko Gerry; he helps me by eating ants, roaches and things)
Now That's a Gallo Pinto Breakfast
10. You eat black beans and rice (aka gallo pinto) for every single meal. (minimum twice per week to keep your resident qualification)
11. Wild scarlet macaws watch you eat lunch on restaurant patios instead of pigeons. (and you may get visited during your repast by a white-faced or squirrel monkey)
12. Strange skin rashes appear in places they've never been before and for no apparent reason. (yes, but so far not life-threatening)
13. A hammock can be considered a legitimate guest bed. (of course)
14. The internet installation guy is "scheduled" to show up sometime between now and 10 days from now. (that goes for any service agent)
15. You shake all your clothes for scorpions before you put them on. (as well as spiders and other creepy-crawlers)
16. Red wine goes in the refrigerator. (they just don't understand)
17. Sand traps – which you thought only existed in cartoons – are an actual threat. (They're not talking golf here amigos)
18. Markets have community machetes available for cutting your own fruits and vegetables down to size. (also, ask the coconut vendor to prepare one just for the coconut water inside (pipa); their technique is artful and the juice is healthful and delicious - read more on pipa HERE)
19. Few people need the community machete because they brought their own. (I always display deference to anyone holding a 30 inch machete)
20. Despite all the craziness, you've never been happier in your life to experience these nutty little differences. (Amen!)
---
Health Stuff
Note: The information given in this section is offered as news information only and does not indicate GGC confirmation or denial of the accuracy of the any treatment or a recommendation to pursue it, nor can we or do we guarantee the efficacy of the results nor validity of the conclusions proffered. (How's that for a disclaimer amigos?)
Covid Surge Tapers Off Then Starts Slow Decline
The surge began in late June and peaked in early October (3+ months) and since then it has been declining slowly. The average new cases per day went like this: June - 75, July - 451, Aug - 763, Sept - 1,202, Oct - 1103, Nov - 956. The chart left shows this graphically.
The break came just it time as the health resources of the Caja were being strained badly. The Ministerio de Salud recently added 4,000 new workers, both professional and administrative, to fight the rise.
Another factor measuring this positive change is the R-rate or re-infection rate. A rate over 1.00 enforces a surge while dropping below 1.00 indicates a slowing in new infections. Recently the R-rate dropped to 0.96 and some periods were even lower than that. Let's hope we're now getting ahead of this damned pandemic.
Planning for the Vaccine
In another anti-Covid move the Costa Rican government announced they are planning to set up a fund of some $84 million to buy vaccine when it becomes available, hopefully in the next month or so. The first $12 million has been included in the new budget with the rest expected as later budget add-ons.
The government expects the new vaccine to cost about $11 per dose and if everyone had one dose that would equal $55 million. Some health experts suggest it may take more than one dose, particularly for the already infected.
In addition to the funds, planning for the vaccine includes establishing a team of 200 health professionals to administer the vaccine to some three million Costa Ricans; that's 60% of the population. Expectations are that injections will begin, assuming arrival of the vaccine before the end of the year, throughout the first quarter and well into the second quarter of 2021.
---
Travel Quote of the Month
¡A Cachete!
---
GGC Bookshelf
The latest book to hit the market is a new book by Robert A. Normand (aka GG, and yes, this is a plug) entitled Las Esferas, Mystery Spheres of Costa Rica. Check out the cover on the list below and click on the "Read More" button to review a synopsis of the work and to order.
GGC Publications is the parent organization that publishes the Golden Gringo Chronicles as well as a number of books and paraphernalia related to the Chronicles and Costa Rica. The GGC Bookshelf also includes works from a number of other authors that belong to various writers groups based in Costa Rica including the Quepos-Manuel Antonio Writers Group.
Here are the books currently on our bookshelf:
Las Esferas - English
Mariposa - Español
Mariposa - English
The Chronicles as Narrative
Read More
Leer más aquí
Read More
Read More
Small Business Guide
Making Time Count
Spiritual Love Connection
Murder or Suicide?
Read More
Read More
Read More
Read More
Getting Around the Capital
Retiring in Costa Rica
Investigate Living Abroad
What's the Sleuth Up To?
Read More
Read More
Read More
Read More

Waiting Room
for
New Books
Casa de Doloros
Overcoming Alcohol
World War II True Story
Murder Mystery
Read More
Read More
Read More
Read More
There's Room for More on the GGC Bookshelf
Keep Writing Amigos!
All of the above books are available on Amazon.com and the "Read More" links above will lead you to them. You can find more detail on all of them on our GGC Publications Page.
GGC Products Store
GGC Publications also offers some accessories and paraphernalia related to the Chronicles and with Costa Rican themes, to wit:
T-Shirts:

a. Golden Gringo Chronicles with Logo,
b. Official Golden Gringo with Monkey on Banana Hammock,
c. ¡Quepo en Quepos! ("I Fit In Quepos!") with Photo of Quepos,
d. Wanna Monkey Around? - Come on Down! (shown) with Photo of White Faced Monkey,
e. It's OK to be Slothful with photo of Three-Toed Sloth.
The t-shirts are available in several themes, colors, styles and sizes. See them all HERE.
Coffee Mugs:
a. Golden Gringo, b. Wanna Monkey Around?, c. It's OK to be Slothful
See them all HERE:
What's life without a great cup of Costa Rican coffee? And it tastes even better in a Golden Gringo Chronicles mug!
To see ALL the products available in the Golden Gringo Store go here: GGC Store.
---
What's-in-a-Word


"Tell me and I forget; teach me and I remember; involve me and I learn"
–

Benjamin Franklin

Answer to Que Es Eso?
Rhinoceros Beetle (Dynastinae)
No folks, that's a real beetle called the Rhinoceros Beetle (Dynastinae). Dynastinae are a sub-family of scarab beetles and can be up to six inches in length.
From Wikipedia:  Rhinoceros beetles are completely harmless to humans because they cannot bite or sting. Some species have been anecdotally claimed to lift up to 850 times their own weight. Their common names refer to the characteristic horns borne only by the males of most species in the group. Each has a horn on the head and another horn pointing forward from the center of the thorax. The horns are used in fighting other males during mating season, and for digging. The size of the horn is a good indicator of nutrition and physical health.
The species can be found from southern Mexico down to northern Colombia and northern Venezuela. The Rhinoceros Beetle lives in Costa Rica's lowland rainforest, in younger stages they are found inside large fallen trees. 
Dios Te Bendiga
A simple phrase often heard around Tico conversations, particularly when the subject is congratulatory: "God Bless You".
¡Pura Vida!
---
ROMEO Corner
(Retired Old Men Eating Out)
Sunset From the Runaway Grill Restaurant
Restaurant: Runaway Grill
Location: Marina Pez Vela
Hours: Breakfast, Lunch and Dinner Daily, Closes at 10 PM.
Parking: Ample in the Marina Parking Garage
Contacts: Tel: (506) 2519-9095
Reviewing ROMEOS: Bob N., Davis H., Dennis R., Gaye X., Lori T.
To Review Our Rating System Go Here: R.O.M.E.O. Rating System
This restaurant has been part of the Marina since its opening which I believe was in 2010. It was originally opened as El Gran Escape and later changed owners and became the Runaway Grill. One of my friends who works at the Marina told me that the restaurant is now owned by the Marina corporation. From its inception, this restaurant on the second level of the main building above the Marina, as well as its adjoining Malecon park walk, have been a marvelous place to catch the Pacific sunset. And before sunset, just sitting there relaxing while viewing the dozens of gleaming white yachts with the Pacific in the backdrop is very peaceful and pleasant.
Despite the rather basic wooden tables with hard chairs and cumbersome table supports (in one case a wooden barrel) the group gave Runaway a composite score for ambiance of 4.9/5.0, nearly perfect - it was the view folks.
It happened to be Thanksgiving on the day of our ROMEO Review and we knew they would be serving something close to a gringo turkey dinner. Four of the five of us took advantage of the special and were served a large plate with a few slices of baked white turkey with light gravy, corn bread stuffing, broccoli, parselied potatoes and a dollop of cranberry sauce in the center. We ended the meal with a small wedge of pumpkin pie with whipped cream. General agreement pronounced the special as ample in size, tasty and reminiscent of our old world personal experiences if not a direct match.

The fifth ROMEO elected seafood as his choice which included fried squid strips and a Poke Bowl (fresh tuna cubes or strips over a salad with dressing). He must have liked it as he gave the meal a 5.0/5.0 for food. Group composite score for food came in at: 4.2/5.0.

.5
$$$.7

Value Index= 123
We were served by two ladies who were both polite and attentive. We also were kept in the view of the restaurant manager who also was attentive and who accommodated our changing table arrangements. Our composite score for service came in at 4.5/5.0, yielding an average for ambiance, food quality and service of 4.5/5.0.
The bill for a batido of papaya and mango, a Gin Michalada (limone juice and ginger ale in a salted glass) and the turkey dinner came to ₡16,300 or about $27.
The ROMEOs composite score for cost came in at 3.7 and resulted in a Value Index of 4.5/3.7 = 123 which puts the Runaway Grill in the top one third of the restaurants we have visited in this area for value (at least at Thanksgiving).
The ROMEO group can confirm that the Runaway Grill is still a spot for a good meal at a reasonable price with an outstanding view.
¡Solo Bueno!
---
Opt-In Here to Receive Your Free Monthly Copy Of
The Golden Gringo Chronicles

The Golden Gringo Chronicles is a free newsletter that is non-political, non-commercial and, hopefully, informative and entertaining. By signing up you will receive an email each month around the first of the month giving you the links to the latest edition as well as to each individual feature and departmental section.

CLICK HERE TO SIGN-UP FOR THE GOLDEN GRINGO CHRONICLES
or Email me at gg@goldengringo.com, or use our Website at: www.goldengringo.com

---
Bob Normand, Editor &
The Golden Gringo
Pura Vida!
To Contact GGC World Headquarters (yuk, yuk) to makecomments, suggest topics or criticize my bad jokes, just send an email to: gg@goldengringo.com.
Be pithy but kind; I'm sensitive.


Unsubscribe from the Golden Gringo Chronicles